Blue Yoga T-shirt Dakar collection – nanosilver® BAT2
Code:
4074/S
4074/L
Choose variant

The largest seller of nano products
More than 400 nanotechnology products under one roof.

Czech production
We manufacture nanoSPACE brand products in the Czech Republic
Related products
Product detailed description
Black Yoga T-shirt Dakar collection – nanosilver® BAT2
Antibacterial effect thanks to nano silver inside the fibers.
Eliminates odor when sweating.
It reduces the risk of acne on the back.
Light weight, suitable for travel.
Breathable and flexible material.
Tested:
"Dakar", South America: 2011 Dakar Expedition, 2012 Dakar Expedition
Sweden, Norway: Nordkapp Motorcycle Expedition 2011
Tasmania, Australia: 2011 World Championship Adventure race, 700 km, 10 days NON STOP
California, USA: Customer testing at ambient temperatures above 38°C
Material
52% polyester (Coolmax®)
48% polyester nanosilver (antibacterial fiber nanosilver®)
Coolmax® fiber - cooling
Coolmax® shaped fibre distributes moisture and sweat over a larger area of the fabric, from which it evaporates faster. The socks dry quickly and thus allow better heat exchange between the body and the environment, which favourably promotes heart rate and thus physical performance.
nanosilver® - antibacterial
Silver molecules are firmly attached to the polyester fibres. Silver is known for its antibacterial effects - it eliminates bacteria produced in sweat, which are the source of odour. Once the socks are dry, they do not smell. However, this process is not endless. After the first few uses, the odor is suppressed, but after multiple uses, it may appear. Therefore, these materials also need to be washed. However, compared to conventional socks, the intensity of the odour is incomparably lower, as is the speed of its onset.
Maintenance and washing
Nanosilver® does not require any special treatment. We recommend washing at 40°C and the following gentle washing aids, for example. Ironing or subsequent chemical treatment is not needed. Dry up to 60°C.

Softener
In order to maintain the functionality of nanosilver® technology, we do not recommend the use of fabric softener.The fabric softener forms a thin film on the fibres, which creates a barrier preventing direct contact of the skin and the material. The silver molecules need to be in direct contact with the skin for perfect effectiveness.
However, if you happen to accidentally treat your laundry with fabric softener, nothing happens. The film will disappear in the next wash.
Additional information:
We would like to notify the customers of possible negative reactions and damage to the material of nanosilver garments by aggressive components of sweat, anti-perspirants and creams before and after sunbathing. For example, anti-perspirants containing DEET can dissolve synthetic fibres, including PES.
Sizes
| | | |
| --- | --- | --- |
| Size | width | length |
| S/M | 55 | 67 |
| L/XL | 62 | 71 |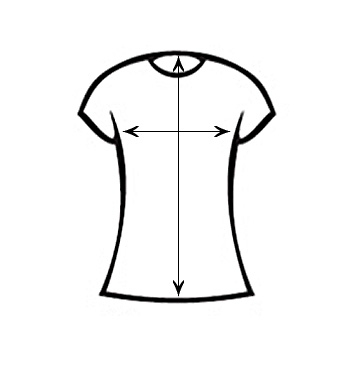 Be the first who will post an article to this item!