TePe
TePe is a private Swedish company that has been operating in the field of dental care since 1965. It focuses on the development, manufacturing, and sale of high-quality and functional products for proper oral hygiene. To achieve the highest possible quality and effectiveness, TePe collaborates with leading dental experts. The Swedish brand TePe is now a symbol of healthy teeth, and its high-quality products are sold in more than sixty countries worldwide.
About the history of the TePe brand
Over its more than fifty-year history, the TePe brand has globally contributed to improving the quality of dental care and to significant social education on the importance of cleaning interdental spaces.

The development of meaningful high-quality tools is led by their own expert team, always with an emphasis on collaboration with universities and local professionals.

The production of all TePe products is exclusively concentrated in Sweden, and production quality is strictly controlled.
The road to success.
In 1965, the journey of the TePe brand began with a wooden interdental stick that allowed for more efficient and gentle cleaning of interdental spaces. The flexible thin tool made of soft wood that doesn't splinter was given a triangular shape and impregnated with fluoride, which is released through saliva. Today, TePe enjoys the position of one of the most respected brands among professionals and has high customer trust.
Well-designed and highly functional toothbrushes.
The brand has been producing well-designed and highly functional toothbrushes since the mid-seventies. TePe toothbrushes have been recommended by dentists around the world for more than twenty years.
Eco-friendly production
TePe focuses on eco-friendly production, which is mainly concentrated in Sweden. It continues to innovate products to offer customers not only the best toothbrushes for their teeth, but also those that impose the least possible burden on nature.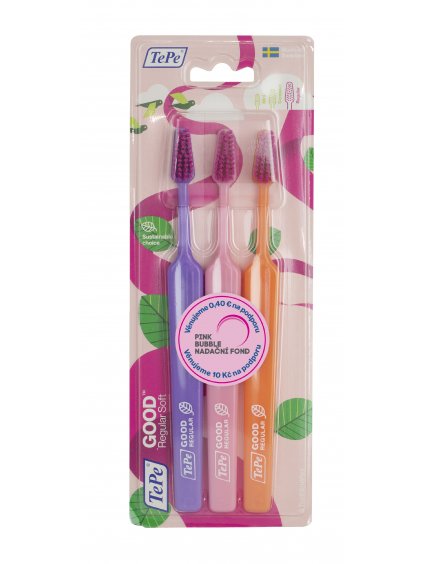 The perfect blend of environmental consciousness and oral care. This toothbrush is made from 96% bio-based plastic and produced using only renewable energy sources, making it...
3959
Page 1 of 1 - 1 items total