Iron ODT complex
Microencapsulated iron form AB Fortis, mouth dissolving tablet
Code:
MCE3056

The largest seller of nano products
More than 400 nanotechnology products under one roof.

Czech production
We manufacture nanoSPACE brand products in the Czech Republic
Related products
Product detailed description
Enhanced absorption formulation and synergistic effect with B vitamins (B12, B9, B6, B2):
to produce red blood cells and support energy utilization and vitamin C to support the absorption.
Iron is an important mineral required for a number of essential cell functions, yet iron deficiency is still the most prevalent micronutrient deficiency in the world today. AB-Fortis is produced using a patented microencapsulation technology, which provides highly stable encapsulation preventing release of free iron in the food matrix. 
Amazing taste combining strawberry and lemon, in the form of orodispersible tablets for fast and efficient absorption.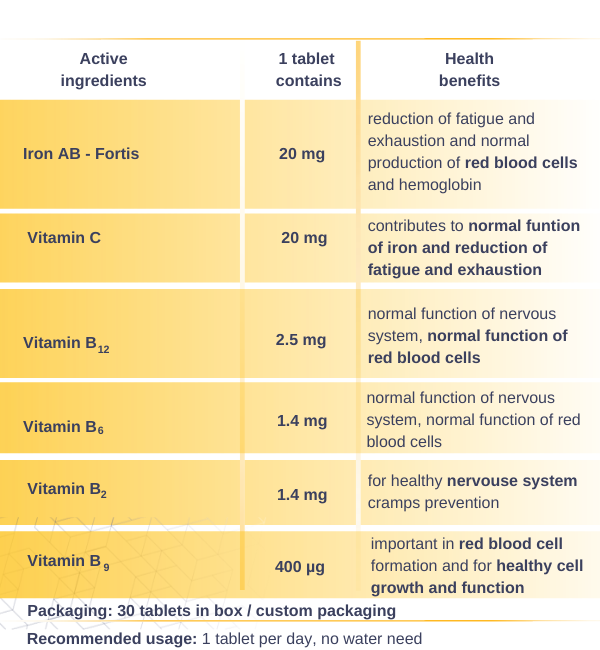 Ingredients
mceODT excipient ((bulking agent (starch, cellulose), sweetener (erythritol), bulking agent (modified starch), anti-caking agent (silicon dioxide), stabiliser (mono- and diglycerides of fatty acids), sweetener (steviol glycosides)), Iron AB-Fortis (ferrous carbohydrate 20%), vitamin C (L-ascorbic acid), flavourings, anti-caking agents (silica, magnesium salts of fatty acids), aroma, pyridoxine HCl (vitamin B6), riboflavin (vitamin B2), sweetener (sucralose), folic acid (vitamin B9), cobalamin (vitamin B12)  
Warning: Store in a dry and dark place up to 25 °C. Do not exceed the recommended daily dosage. Keep out of reach of children. Do not use as a substitute for a varied diet. Not suitable for children under 6 years of age. If necessary, consult your physician for suitability. 
Additional parameters
Category

:

Immunity
Active ingredients

:

Vitamin C, Iron
Form

:

Mini tablets
Intended for

:

Adults, Men, Women
Product characteristics

:

No preservatives, On a natural basis, No colorants
The item has been sold out…
K
Koza
I am satisfied.
McePharma is a Czech company producing cosmetics and food supplements for humans and pets since 2007. In addition to the Czech Republic, it operates in 5 other countries. The company's preparations use compounds based on nanotechnology for better absorption.
McePharma has patented its production processes. On their development, it cooperates with the Biotechnology and Biomedical Center of the Academy of Sciences (BIOCEV), Charles University or the Veterinary and Pharmaceutical University in Brno.
mcePharma's products are certified by the State Institute for Drug Control. Food supplements for dogs and cats are registered with the Central Agricultural Inspection and Testing Institute.
Which mcePharma product to choose?
Choose food supplements according to your health problems and needs:
► insomnia – Fast sleep ODT (30 pills),
► anxiety and stress – No stress ODT (30 pills),
► migraines – Migraine stop ODT (60 pills),
► chronic inflammations – Neo Curcumin supplement ODT (60 pills),
► cramps, fatigue (magnesium deficiency) – Magnesium complex,
► vitamin D deficiency – Vitamin D ODT,
► bladder problems – Uro Help Forte,
► weakened immunity – Immunity complex.
Choose cosmetic products according to the intended effect:
► radiant skin – Collagen repair matrix,
► healthy hair and nails – Beauty hair complex,
► slowing down skin aging – Trans-resveratrol stick,
► elimination of wrinkles – Beauty booster with vitamin C.
Food supplements for dogs and cats choose based on your pet needs:
► weakened immune system – MiniTabs IMMUNITY dog nebo MiniTabs IMMUNITY cat,
► weakened immune system to accelerate healing after injuries and operations – Immunity Lysine cat,
► supporting the healthy development of joints and a sore hip – MiniTabs JOINTS dog nebo MiniTabs JOINTS cat