Appetite Blocker
Code:
MCE4719

The largest seller of nano products
More than 400 nanotechnology products under one roof.

Czech production
We manufacture nanoSPACE brand products in the Czech Republic
Related products
Product detailed description
The Patented Substance DNF-10 Has Been Proven To Reduce Hunger and Cravings.
One of the main causes of overweight or obesity, which are becoming increasingly common problems nowadays, is a sedentary lifestyle and excessive food consumption - overeating.
The unique ingredient of this exceptional product is DNF-10, which is a special extract from hydrolyzed brewer's yeast Saccharomyces cerevisiae. The effect of this substance on satiety mediators, along with the regulation of ghrelin hormone levels and the production of leptin hormone, has been clinically proven. Ghrelin is responsible for appetite, and leptin is considered the satiety hormone.
The second ingredient that is certainly suitable for inclusion in a weight-loss diet is green tea extract, which helps control body weight, promotes fat oxidation, and maintains normal blood glucose levels.
Specific Study Results:
Another study found that when taking 250 mg of DNF-10 twice a day, overweight women were able to significantly reduce their daily calorie intake after just 8 weeks of supplementation, along with a decrease in cravings for sweet foods and other treats. This also resulted in a reduction of body fat and a decrease in waist circumference by up to 5 cm!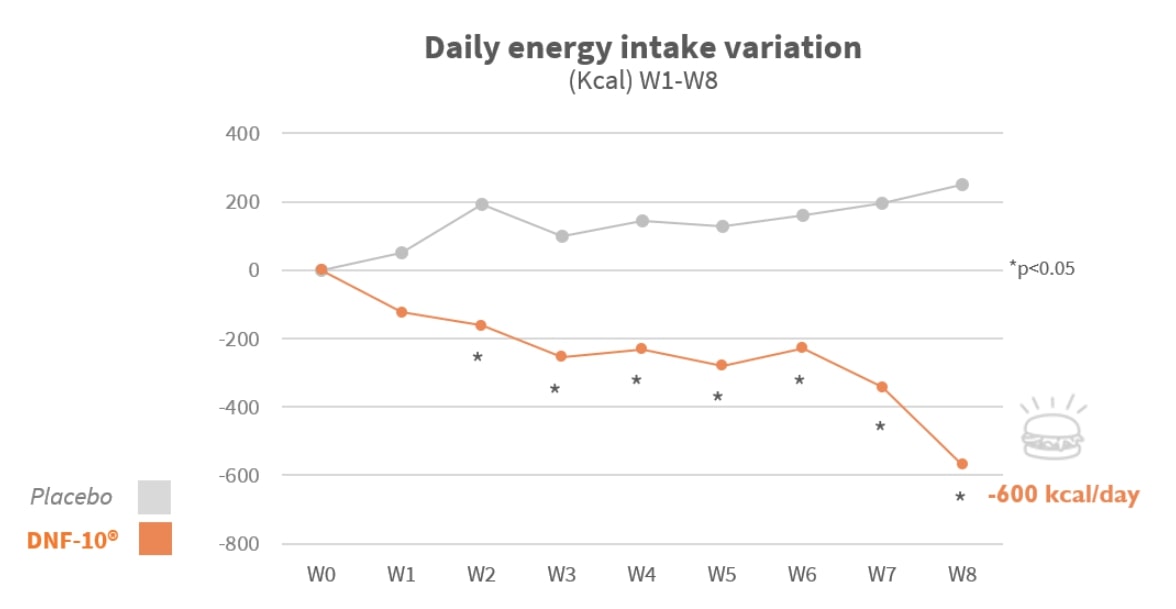 The effects of the product may vary among individuals and may differ from the effects described on the website.
| | | | | |
| --- | --- | --- | --- | --- |
| Daily dose contains | Amount / 1 capsule | % GDA* | Amount / 2 capsule | % GDA* |
| DNF-10 | 250 mg | n.a. | 500 mg | n.a. |
| 98% Green tea extract | 50 mg | n.a. | 100 mg | n.a. |
*GDA Guideline Daily Amount
Recommended Dosage:
Take 1 capsule twice a day, 30 minutes before a meal, with a sufficient amount of water.
Composition:
DNF-10, 98% green tea extract, microcrystalline cellulose
May contain traces of sulphur dioxide and sulphites.
Caution
Store in a dry, dark place at a temperature of up to 25 °C. Do not exceed the recommended daily dosage. Keep out of reach of children. Do not use as a substitute for a varied diet. The product is not suitable for children under 3 years of age, pregnant and breastfeeding women. If necessary, consult your doctor or pharmacist about the suitability of use.
Additional parameters
Category

:

Dietary Supplements
Weight

:

0.026 kg
Active ingredients

:

L-Theanin
Dietary supplement for

:

Slimming
Form

:

Capsules
Intended for

:

Adults, Men, Women
Be the first who will post an article to this item!
McePharma is a Czech company producing cosmetics and food supplements for humans and pets since 2007. In addition to the Czech Republic, it operates in 5 other countries. The company's preparations use compounds based on nanotechnology for better absorption.
McePharma has patented its production processes. On their development, it cooperates with the Biotechnology and Biomedical Center of the Academy of Sciences (BIOCEV), Charles University or the Veterinary and Pharmaceutical University in Brno.
mcePharma's products are certified by the State Institute for Drug Control. Food supplements for dogs and cats are registered with the Central Agricultural Inspection and Testing Institute.
Which mcePharma product to choose?
Choose food supplements according to your health problems and needs:
► insomnia – Fast sleep ODT (30 pills),
► anxiety and stress – No stress ODT (30 pills),
► migraines – Migraine stop ODT (60 pills),
► chronic inflammations – Neo Curcumin supplement ODT (60 pills),
► cramps, fatigue (magnesium deficiency) – Magnesium complex,
► vitamin D deficiency – Vitamin D ODT,
► bladder problems – Uro Help Forte,
► weakened immunity – Immunity complex.
Choose cosmetic products according to the intended effect:
► radiant skin – Collagen repair matrix,
► healthy hair and nails – Beauty hair complex,
► slowing down skin aging – Trans-resveratrol stick,
► elimination of wrinkles – Beauty booster with vitamin C.
Food supplements for dogs and cats choose based on your pet needs:
► weakened immune system – MiniTabs IMMUNITY dog nebo MiniTabs IMMUNITY cat,
► weakened immune system to accelerate healing after injuries and operations – Immunity Lysine cat,
► supporting the healthy development of joints and a sore hip – MiniTabs JOINTS dog nebo MiniTabs JOINTS cat