Introducing the är Style Designer Nanofiber Respirator - the perfect combination of fashion and function. This innovative respirator boasts a premium Italian fabric with ViralOff®️ antibacterial properties, a hydrophobic DWR treatment, and a high-quality European reusable nanofiber membrane. With its FFP2 filtration efficiency, this respirator is designed to provide superior protection against airborne contaminants, including viruses, bacteria, and fungi.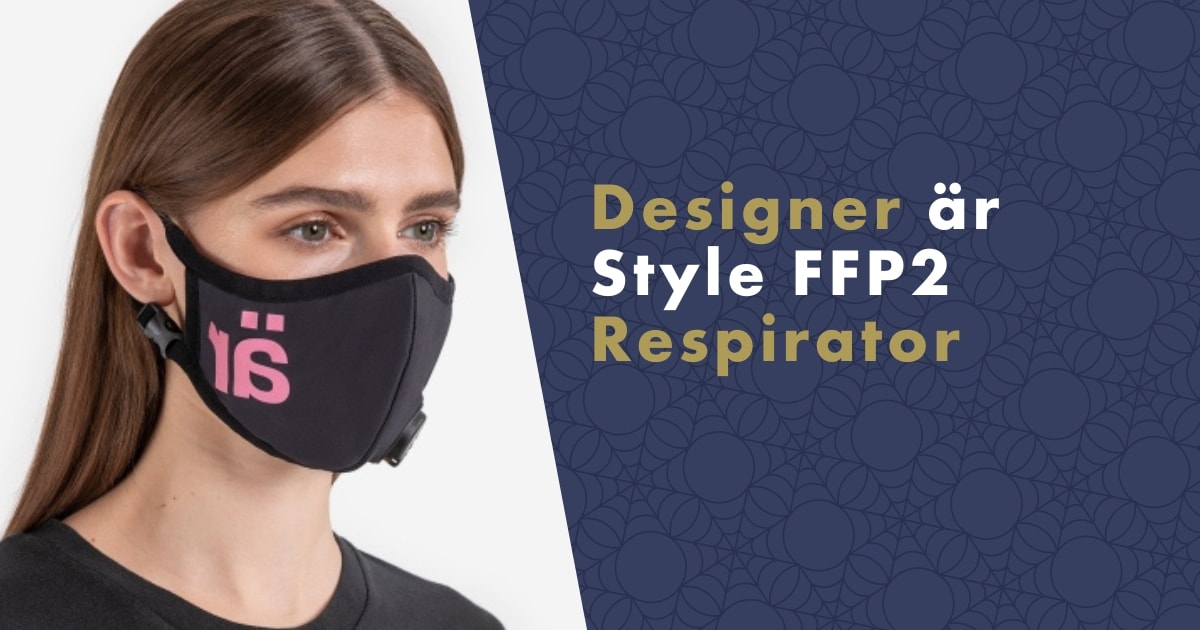 The är Style respirator is incredibly light, weighing only 5.5 grams, making it a comfortable and breathable choice for all-day wear. With its antifog properties, glasses will not fog up when worn, making it ideal for anyone who needs clear vision. The ViralOff®️ treatment provides a self-cleaning function, reducing 99% of viruses, bacteria and fungi, while the nanomembrane has been tested to capture 99.9% of viruses and bacteria, making it an excellent choice for allergy sufferers, people with acne and eczema, and anyone who wants to breathe cleaner air.
This respirator is CE and Nelson Labs certified, ensuring that it meets the highest standards for safety and quality. Designed for cumulative use for 2 weeks or no more than 40 hours, with proper disinfection and nanomembrane capability, you can use the FFP2 mask up to 5x longer than a regular respirator. The är Style Designer Nanofiber Respirator is a stylish, comfortable, and effective way to protect yourself and those around you.
Key Features of Designer är Style FFP2 Respirator
Italian Designer Fabric: The är Style nanofiber respirator is designed with premium Italian fabric for an elegant and comfortable look.

Antibacterial and Hydrophobic: The ViralOff®️ antibacterial treatment and hydrophobic DWR finish provides a self-cleaning function that reduces 99% of viruses, bacteria, and fungi.

Lightweight Design: The respirator is incredibly light, weighing only 5.5 grams, making it easy and comfortable to wear for long periods of time.

Nanofiber Filtration: The nanofiber membrane of the respirator is tested and certified to capture 99.9% of viruses and bacteria, providing high-quality filtration for those who suffer from allergies or respiratory problems.

Reusable and Long-Lasting: With proper disinfection, the är Style nanofiber respirator can be used up to 5 times longer than a traditional respirator, with a cumulative use of 40 hours or 2 weeks.
What is Nanofilter?
Nanofilters are innovative air filtration systems that harness the power of nanotechnology. These filters are designed to provide maximum protection against viruses, bacteria, dust, and other harmful airborne contaminants, blocking up to 99.8% of these particles. Their unique design is what sets them apart from traditional HEPA filters.
Each nanofilter is comprised of three layers of ultra-thin nanofibers - 1,000 times thinner than a human hair - which enables it to capture even the smallest particles in the air. This advanced technology has been developed to meet the growing demand for better protection against airborne pollutants and contaminants.
Tests have shown that nanofilters are far more effective than traditional air purifiers in reducing respiratory health risks, thus helping to alleviate allergy symptoms and improve indoor air quality. These innovative filters are an excellent investment for anyone looking to enjoy clean, fresh air in their home or workspace.
Revolutionary ViralOff Technology: Unmatched Protection Against Covid-19
ViralOff is an innovative solution that provides unbeatable protection against a range of viruses, including Influenza A (H1N1 and H3N2), BirdFlu, Norovirus, and SARS-CoV-2 (Corona). Certified by ISO 18184:2019 and ATCC VR-1679 (H3N2) tests, ViralOff has been proven to offer 99% protection within just two hours of exposure.
At the core of ViralOff's effectiveness is a biocide reaction mass of titanium dioxide and silver chloride. This powerful combination provides a barrier against airborne pathogens, without compromising the natural bacteria that exist on the human skin. The result is a product that is both safe and effective, and one that provides peace of mind in the face of a pandemic.
ViralOff was developed in Scandinavia, where it has been embraced as a lifesaver. With its ability to self-clean and provide long-lasting protection, ViralOff is the ultimate solution for those who want to live life worry-free.
Eco Acqua Zero A cutting-edge fabric that lets you enjoy your daily life comfortably.
The Eco Acqua Zero treatment of fabric has revolutionized the way masks can protect their wearers from airborne diseases. This unique technology works by making the surface of the mask water repellent, so that any droplets coming into contact with it will flow off and not be absorbed. While this won't provide protection against heavy rain, it does help remove water from inside the mask and transport it to the surface where it can evaporate.
In comparison to older methods, Eco Acqua Zero is significantly more environmentally friendly and doesn't pose a health risk to its wearer. Not only is this fabric treatment safe, but it also forms a first line of defense against aerosols released during coughing and sneezing or even regular verbal communication. It's no wonder why many people are choosing this eco-friendly product over other traditional treatments for their masks!
Overall, Eco Acqua Zero and Nanofilter technology offer an innovative solution for those looking for a comfortable, eco-friendly and effective way to protect themselves from airborne diseases and pollutants. The water repellent fabric and the adjustable aluminum strip provide maximum protection, while the nanofilters ensure clean air. And with the adjustable straps, är Facemask can be tailored to your unique needs for the ultimate comfort.
In conclusion, the Eco Acqua Zero and Nanofilter technology is a game-changer in the world of masks, providing a comfortable and efficient solution to keep you and your loved ones safe and healthy. So, if you want to enjoy your daily life comfortably while staying protected, consider investing in this cutting-edge technology.
Nose-fitting PieceSitting comfortably with no leaks.
When you invest in a Nanofilter mask, you're getting the best protection money can buy. The top part of every Nanofilter is equipped with an aluminum strip that lets you adjust the shape of the mask so that it sits perfectly on your nose. This ensures a snug fit while still allowing for maximum comfort and breathability. The foam along the edge of the nose piece adds extra comfort, preventing any leaks or sliding around when you move.
The adjustable aluminum strip allows users to create a custom fit that is tailored to their face, making it one of its most appealing features. It also provides an extra layer of protection by forming a secure seal between your skin and the outer material for maximum filtration efficiency. Additionally, this feature helps ensure that no air escapes through any gaps at the sides or top of your mask when wearing it properly.
Nanofilters Breathe cleaner air and nothing but the air.
Nanofilters are the latest technology to help people breathe cleaner air. With nanofilters, users can enjoy an air filtration system that is more efficient than ever before. Not only do these filters remove impurities from the air, but they also eliminate odors and other airborne contaminants.
The best part about nanofilters is the fact that they are incredibly small in size – much smaller than traditional filters which means that it takes up less space in a room or home. This makes them ideal for anyone who wants to enjoy clean air without taking up too much real estate. Furthermore, nanofilters can filter out particles as small as 0.3 microns so you know you're getting the highest level of protection against allergens and pollutants in your environment.
Where to Buy Designer är Style FFP2 Respirator
The Designer är Style FFP2 Respirator is now available at nanoSPACE.Store. This online store offers a convenient and easy shopping experience for all your protective gear needs. You can purchase the är Style Respirator with confidence knowing that you're getting a top-quality product that has been certified and tested to meet industry standards. Visit nanoSPACE.Store today to place your order and start breathing easy with the Designer är Style FFP2 Respirator.
There are two types of Designer är Style FFP2 Respirators available in the market, both of which come in either black or white color. The first type is the 5-piece pack, ideal for those who need a sufficient supply for daily use or for families. The second type is the 2-piece pack, ideal for individuals who want to keep a few respirators on hand for emergency situations. Regardless of the pack size, both options provide the same level of protection and premium features, making them suitable for a wide range of individuals and situations.
#produkty#https://www.nanospace.store/ar/