Choosing the right face mask can be overwhelming, with so many options available on the market. It's important to remember that not all masks are created equal, and different masks are formulated to address specific skin concerns. Whether you're looking to brighten your complexion, reduce signs of aging, or treat acne, a quality face mask can provide the extra boost of nourishment your skin needs.
In this article, we will guide you through the process of finding the perfect face mask for your skin, from understanding the different types of masks available to identifying the key ingredients to look for. With the right face mask, you can achieve the healthy, glowing skin you've always wanted. Discover the best face mask for your skin type with our comprehensive guide on how to choose the perfect skin solution. From ingredients to application, we cover everything you need to know to find the perfect face mask for your needs.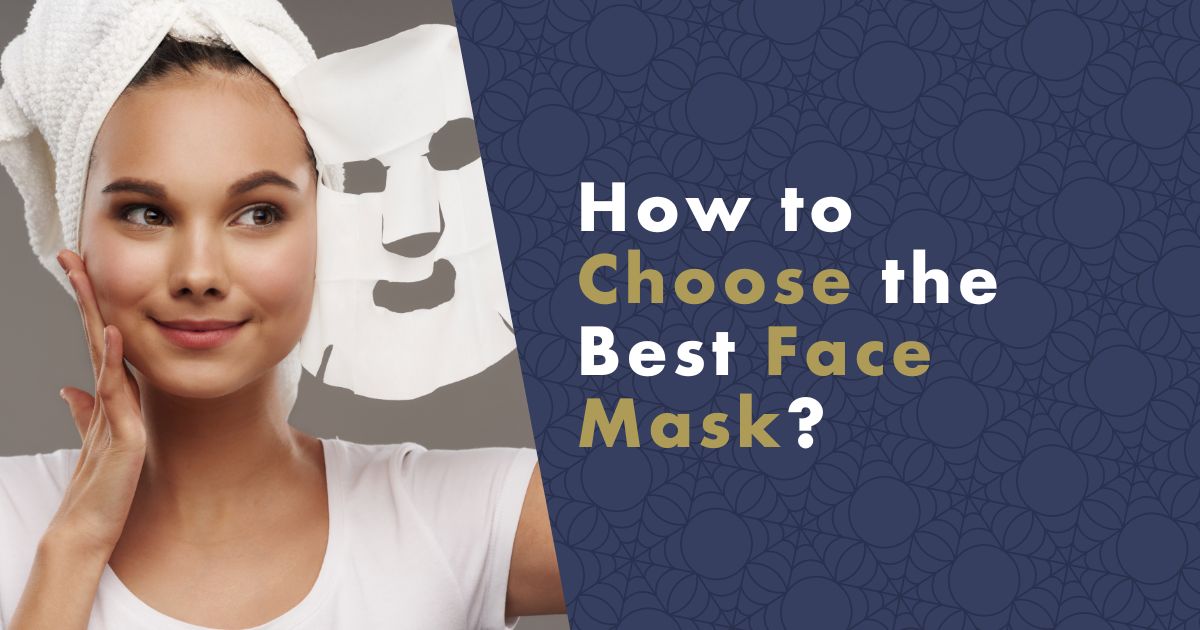 How Face Masks Work
Skin care masks are designed to provide the skin with a high concentration of active ingredients in a short period of time. While a night cream may take several weeks to show results, a face mask can work in as little as a few minutes. This is because masks have a much higher concentration of active ingredients than other skin care products. With the use of Nanofiber masks, you can extract up to 90% of active substances, compared to the 50-70% absorption rate of traditional products. This makes masks an effective and efficient way to target specific skin concerns and achieve visible results quickly.
The Benefits of Nanofiber Masks
Nanofiber textile masks are a Czech patent and the technology used in them is also used for plasters and bandages to accelerate wound healing. The active substances in these masks are spun into nanofibers, which eliminates the need for preservatives and allows for a mask that is made of pure active ingredients. When the nanofibers come into contact with moistened skin, they dissolve and quickly penetrate the skin barrier to the deeper layers. There, they continue to work for several hours after the application, allowing up to 90% of the active substances to be extracted, compared to 50-70% with traditional masks. Additionally, the use of nanofiber masks is more environmentally friendly as it eliminates the need for preservatives and packaging materials.
#produkty#https://www.nanospace.store/face-masks/
Discovering Different Types of Facial Masks
Cream and Gel Masks:
Cream or gel masks are a staple in skincare, providing deep nourishment for dry skin or targeting acne-prone skin. These masks are typically left on for 15-30 minutes before being rinsed off, making them a convenient and effective option for those looking to improve the appearance and health of their skin. Whether you're looking to moisturize dry skin or combat blemishes, cream or gel masks offer a wide range of benefits.
Sheet Masks
Sheet masks are a type of face mask that come in the form of a sheet, typically made of fabric or paper, that is saturated with a serum or other active ingredients. These masks are designed to be placed on the face and worn for a period of time, usually 15-20 minutes, to allow the skin to absorb the active ingredients. The sheet material helps to keep the mask in place and prevent it from drying out, while also providing a cooling and soothing sensation on the skin. Sheet masks are a popular choice among skincare enthusiasts because they are easy to use and can be a convenient way to target specific skin concerns, such as hydration, brightening, or anti-aging. They also come in a wide variety of options, from paper-based sheet masks to fabric masks, and even dry sheet masks.
Traditional wet sheet masks often contain preservatives in addition to active ingredients, but nanofibre dry sheet masks are activated with water and made preservative-free. These masks use nanofibre membranes, originally developed for wound healing, as active ingredient carriers. There are a variety of sheet masks available, including anti-aging, moisturizing, and anti-acne varieties, making them a versatile and effective solution for a variety of skin concerns. For dry nano fiber mask, 8 minutes is sufficient for effective results.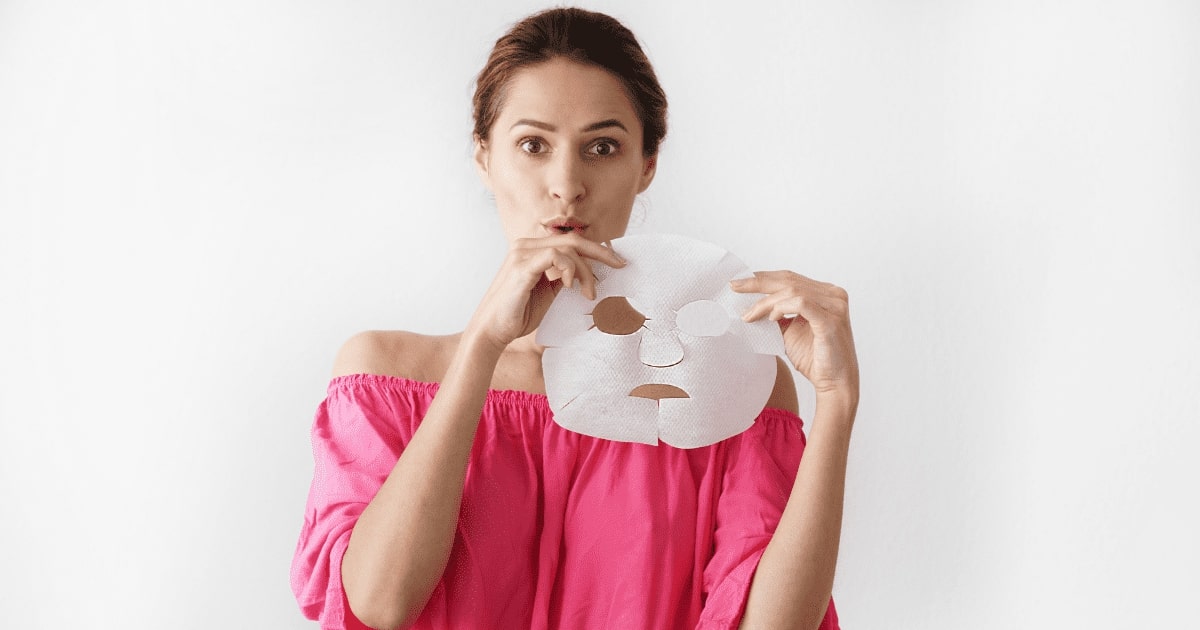 Best practice: To achieve the best and fastest results, use a sheet mask at least once a week, ideally 3 times a week. This will provide your skin with consistent nourishment and help to target specific concerns. Remember to choose a mask that is formulated for your skin type and concerns.
Peeling Masks: The Secret to Brighter, Smoother Skin
Peeling masks, also known as peel-off masks, may seem like just a marketing gimmick but they are a powerful tool in skin care. These masks work by physically removing dead skin cells and impurities from the surface of the skin, leaving you with a brighter, smoother complexion and cleaner pores. They are particularly popular for tackling acne and blackheads. In recent years, black peel-off masks have become a favorite among women. However, it is important to be cautious when using these masks, as the cheaper ones on the market can damage the skin. To ensure safe and effective results, choose peeling masks that contain ingredients such as bamboo charcoal.
Anti-aging Face Masks: Say Goodbye to Wrinkles
Wrinkles are a natural part of aging, but that doesn't mean we can't do anything about them. If you're starting to notice wrinkles under your eyes or under-eye circles, consider using under-eye masks based on nanofibers and hyaluronic acid. Hyaluronic acid binds water perfectly and can effectively eliminate wrinkles. According to studies, nanofiber masks can smooth out up to 75% of wrinkles, with the greatest effect occurring within 48 hours of application. Dry Sheet Masks with vitamin C and vitamin E are also great options, as they help to prevent premature skin aging and loss of moisture.
Amino acid arginine is a common active ingredient in anti-aging face masks. It is an excellent moisturizing agent and is compatible with most other cosmetic ingredients. Arginine works by helping to hydrate and plump the skin, making it an effective tool in the fight against wrinkles and fine lines. Another interesting ingredient that is often added to anti-aging masks is lactobionic acid, which supports the skin renewal process and strengthens the skin's defense barrier. If you have dry skin, masks that also contain provitamin B (panthenol) or hyaluronic acid can be especially helpful in providing extra moisture.
Moisturizing Mask for Dry Skin: A Guide to Choosing the Right Ingredients"
Dry skin can be a frustrating and persistent problem, but the right moisturizing mask can provide relief. When choosing a face mask for dry skin, look for masks that contain hyaluronic acid. This powerful ingredient can bind a large amount of water, keeping the skin hydrated for an extended period of time. It also stimulates the growth of skin cells, supports the formation of collagen and elastin fibers, and ensures firmness, elasticity, and softness of the skin.
Another popular and effective ingredient for dry skin is gluconolactone, which actively hydrates the skin, fights acne, enlarged pores, and excessive sebum production. It's also suitable for extremely sensitive skin. Face Masks with Myramaze® which contains an extract from South African shrub Myrothamnus flabellifolia, are also good for extremely dry skin or "desert" skin. Myramaze® protects skin from dehydration and preserves the most important skin lipid, linoleic acid, from oxidation. The effect of the mask can last up to 48 hours.
If you're looking for an alternative to the ingredients mentioned above, consider a mask that contains pearls of vitamin E in combination with a blend of skin-strengthening minerals. Vitamin E is a powerful ingredient that can nourish and protect the skin from free radicals at the same time, making it an effective choice for those looking to improve the overall health and appearance of their skin. The addition of minerals can further enhance the benefits of the mask by providing essential nutrients to the skin and helping to strengthen its natural defenses.
Face Masks for Acne Prone Skin
Alicylic acid and azelaic acid are both effective ingredients for treating acne. Salicylic acid, derived from white willow bark, offers natural anti-inflammatory properties and helps to heal existing inflammation and small wounds. Azelaic acid, also known for its antibacterial and anti-inflammatory properties, plays a key role in healing acne. Incorporating face masks containing these ingredients can be beneficial for those struggling with acne.
When searching for ingredients to combat acne, panthenol and gluconolactone are both great options to consider. Panthenol supports the healing process of acne, while gluconolactone is particularly effective for sensitive, acne-prone skin. Not only does it calm the skin, but it also actively hydrates, reduces enlarged pores and excessive sebum production, lightens pigmentation spots and combats aging. If you have widespread acne and irritated skin, gluconolactone may be the ideal ingredient to incorporate into your skincare routine.
For a dull and tired looking skin
If you're experiencing dull, tired-looking skin that lacks elasticity and color, consider incorporating masks containing Vitamin C into your skincare routine. This powerful antioxidant supports collagen synthesis and the formation of new skin cells, helping to brighten and rejuvenate the complexion while unifying skin tone.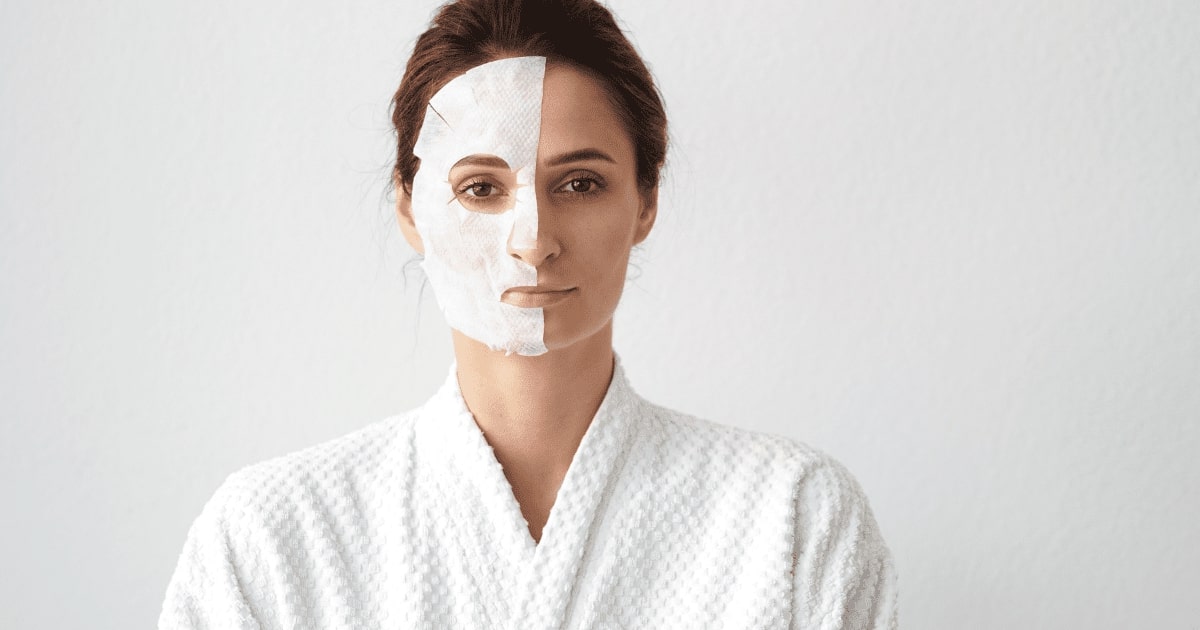 Hyaluronic acid masks are a great way to nourish and revitalize the skin. These masks not only moisturize but also promote cell growth and support the formation of fibers, resulting in firmer, more elastic and smoother skin.
Bringing Professional Skincare to Your Home: Tips and Tricks
Do you want to treat yourself to professional care like in a cosmetics salon? Try inert nano fiber mask, the most popular product among beauticians. How to do it?
Treat yourself to the professional care of a cosmetics salon with the highly popular Beauty–Boost Inert Dry Sheet Nanofiber Face Mask [n]fibrecare. To achieve optimal results, start by thoroughly cleansing your skin using a warm water-moistened makeup remover cloth or a award-winning no-soap cleanser or tonic cleanser, making sure to rinse your face thoroughly with water. Next, apply your favorite serum and then the nanofiber sheet mask. To ensure proper fit, wet your face before applying the mask and re-moisten it during the 8-minute treatment. Once removed, follow with your favorite day or overnight moisturizer. For best results, use the mask 1-2 times a week or as part of your daily skincare routine.
Do peel-off masks work for removing blackheads?
Peel-off masks can be effective in removing blackheads by cleaning pores and removing sebum from the skin without the need for rinsing. However, it's important to be cautious when choosing a peel-off mask, as some may contain harmful ingredients. To ensure the best results, opt for high-quality masks made with bamboo charcoal.
DIY Face Mask: How to Make Your Own at Home
Creating homemade face masks can be a fun and effective addition to your skincare routine. While they may not provide the same level of nourishment as professional masks, they can still be effective in addressing different skin concerns. Although you may not save money compared to purchasing ready-made masks, the process of making your own can be enjoyable and can add a personal touch to your self-care routine.
When making homemade face masks, it's important to be mindful of potential allergic reactions to the ingredients and to use the highest quality ingredients possible to ensure effectiveness.
Making your own face masks at home can be a fun and effective way to take care of your skin. Here are a few recipes for homemade masks that can help with different skin concerns.
For acne-prone skin: Mix together 2 tablets of activated charcoal, 1 spoon of French white clay, 1 spoon of Dutch cocoa, 1 spoon of almond oil, mandarin juice, and aloe gel to create a thick consistency. Apply to the face and leave on for 20 minutes, then wash off.
For an anti-aging mask: Mix 1 tsp of pink or white clay, 2 tsp of coffee, and 2 tsp of Dutch cocoa. Add warm water to create a thicker consistency. Apply to the face and leave on for 20 minutes, then rinse gently with lukewarm water and clean with a cotton pad.
For dry skin: Mix 2 tsp of matcha tea powder, 2 tsp of almond oil, and mashed avocado. Apply to the face and leave on for 30 minutes, then rinse.
For dry skin: Mix 1/2 mashed avocado, 1 tbsp of sour cream, and 1 tbsp of honey. Apply to the face and leave on for 30 minutes, then rinse and clean your face with a makeup remover pad.
For a yeast mask: Mix classic yeast or brewer's yeast. Apply to the face and leave on for 15-20 minutes, then rinse.

Sources
Efficacy and safety of a facial serum and a mask containing salicylic acid and lipohydroxy acid in acne management: A randomized controlled trial
Boucetta, K., Charrouf, Z., Derouiche, A., Rahali, Y., and Bensouda, Y. (2014). Skin hydration in postmenopausal women: argan oil benefit with oral
and/or topical use. Menopause Review/Przegląd Menopauzalny, 13(5), pp.280-288. https://doi.org/10.5114/pm.2014.46470
Papakonstantinou, E., Roth, M., & Karakiulakis, G. (2012). Hyaluronic acid: A key molecule in skin aging. Dermato-endocrinology, 4(3), 253-258. doi: 10.4161/derm.21923
Jiang, D., Liang, J., & Noble, P. W. (2007). Hyaluronan in tissue injury and repair. Annual review of cell and developmental biology, 23, 435-461. doi: 10.1146/annurev.cellbio.23.090506.123337
Boregowda, S. V., Booker, C. N., & Smith, M. K. (2019). Topical Hyaluronic Acid as a Dressing for Dermal Wounds. Advances in wound care, 8(6), 250-257. doi: 10.1089/wound.2017.0765
Pullar, J.M., Carr, A.C., & Vissers, M.C.M. (2017). The Roles of Vitamin C in Skin Health. Nutrients, 9, 866.
Caritá, A.C., Fonseca-Santos, B., Shultz, J.D., Michniak-Kohn, B., Chorilli, M., & Leonardi, G.R. (2020). Vitamin C: One compound, several uses.
Advances for delivery, efficiency and stability. Nanomedicine: Nanotechnology, Biology and Medicine, 24, 102117. ISSN: 1549-9634. DOI: 10.1016/j.nano.2019.102117
Richelle, M., Steiling, H., & Castiel, I. (2009). Bioavailability and Skin Bioefficacy of Vitamin C and E. In A. Tabor & R.M. Blair (Eds.), Personal Care & Cosmetic Technology: Nutritional Cosmetics (pp. 115-138). William Andrew Publishing. ISBN: 9780815520290. DOI: 10.1016/B978-0-8155-2029-0.50013-2.