Have you decided to invest in your health and quality sleep and get antiallergic nano bedding? Amazing. In that case, you've done the best thing for your safe and hearty rest. Effective prevention is the ideal way to avoid the unpleasant manifestations of dust mite allergy and wake up to a new day full of energy and in a good mood.
But do you know how to take proper care of your bedding so that it gives you reliable protection for as long as possible? Learn a few simple principles of maintaining your anti-dust mite bedding with a nanomembrane and enjoy a restful and relaxing sleep every day.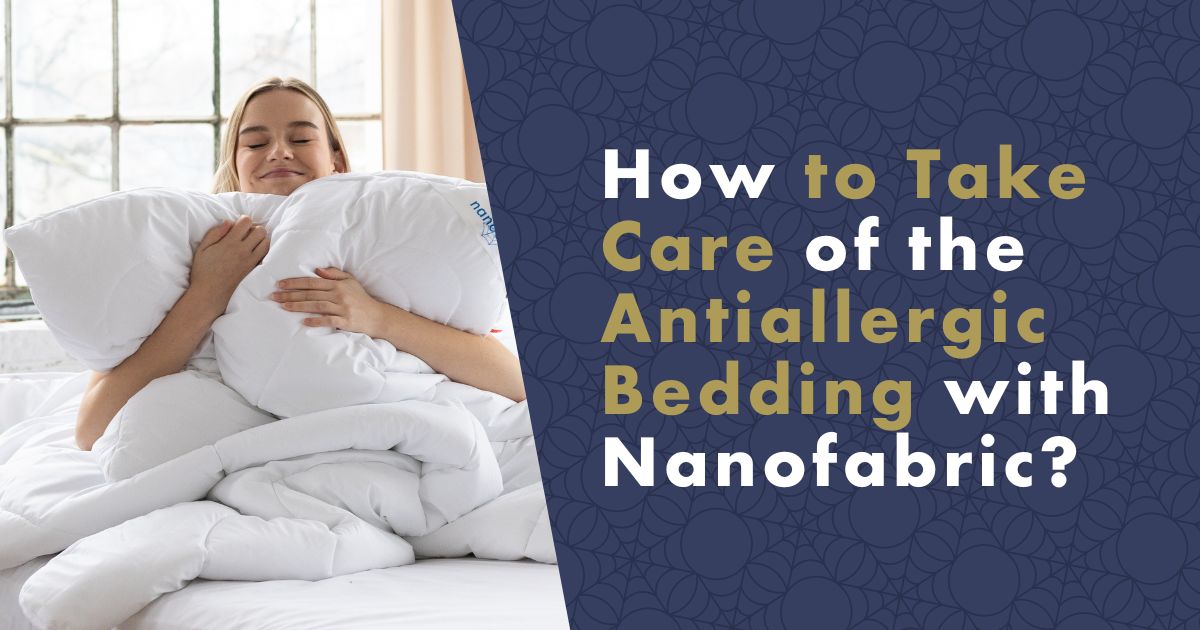 Principles of Maintaining Your nanoSPACE® Bedding
If your or your loved ones suffer from allergy to dust mites, asthma or other respiratory diseases, our antiallergic nano bedding is your best choice. Thanks to nanofabric woven of tiny nanofibers, dust mites and other allergens do not have the slightest chance to get to you. Moreover, they cannot accumulate and proliferate in such equipped bed to cause you problems. And you can be sure that you are totally protected while you sleep.
In order to enjoy this first-class protection of our bedding for as long as possible, you need to take care of it properly. Not only will you significantly extend its lifetime, but more importantly you will ensure 100% effectiveness in catching allergens for many years.
Mattress Encasements, Pillowcases and Duvets
Antiallergic covers are one of the options for effective protection of your bed from uninvited guests – dust mites. Have you decided to get yours? See how to take proper care of them.
We recommend that you vacuum the mattress thoroughly before putting the encasement on it. Then pull a regular sheet over it. For pillows and duvets, it is a good idea to wash them at 60 °C first - this temperature kills the dust mites inside. Once dry, put an anti-dust mite cover on them and cover them in your favourite bedding.
Tip: When you need to change the bedding or sheets, you can vacuum the covers or wipe them with a damp cloth.
Wash the mattress encasement, duvet cover or pillowcase no more than once or twice a year at 40 °C using a chlorine and phosphorus free washing gel or powder. If you have bought a Nanocotton® cover, wash it at 40 °C. Also suitable as well as environment and wallet friendly are these detergents. Do not use a softener.
Do not tumble dry or iron!
#produkty#https://www.nanospace.store/anti-dust-mite-bed-sheets/
Duvets and Pillows
Another option to effectively protect yourself from dust mites and their allergens are anti-dust mite duvets and pillows. If you have decided to invest in them, you will never regret it. In addition to being totally safe, you will enjoy a peaceful and undisturbed sleep.
We recommend washing nanoSPACE® and Nanocotton® bedding 1-2 times a year in a washing machine at 40 °C (60 °C if necessary). Wash without fabric softener and in chlorine- and phosphorus-free gel or powder. These products are great for washing nanofiber materials - they save not only the bedding, but also nature and your wallet.

Tumble drying is not recommended, even at low temperatures.
#produkty#https://www.nanospace.store/anti-dust-mite-nanofiber-bedding/
Nanocotton® Bedding
Have you bought a luxurious Nanocotton® bedding and cannot wait to get into it for the first time? No wonder. Because you'll sleep like a child. A worry-free, dust mite-free sleep won't be long in coming.
However, before you lie down in it and curl up happily, wash it. We recommend washing Nanocotton® bedding as needed at 40 °C. Without softener and in a chlorine- and phosphorus-free washing gel or powder – these washing products are great as they are gentle on the bedding as well as your skin and the nature.
In order to extend the lifetime, do not tumble dry, even at low temperatures.
#produkty#https://www.nanospace.store/favourable-sets-duvets-pillows/
Bed Sheets
Instead of a mattress encasement, you can choose the anti-dust mite bed sheet that is equally uncompromising to dust mites and allergens. How to take care of it?
Before using the nanoSPACE® sheet, we recommend vacuuming the mattress as best as possible and then stretching the sheet on top. Place a regular sheet over it as you are used to. If you need to change the regular sheet, you can treat it with a damp cloth.
Wash the anti-dust mite sheet once a year without fabric softener at 60 °C, in the case of Nanocotton® sheets at 40 °C, in chlorine- and phosphorus-free detergent gel or powder – these washing products are perfect. If possible, do not use the dryer for drying.
Gentle Care = 100% Protection for Many Years to Come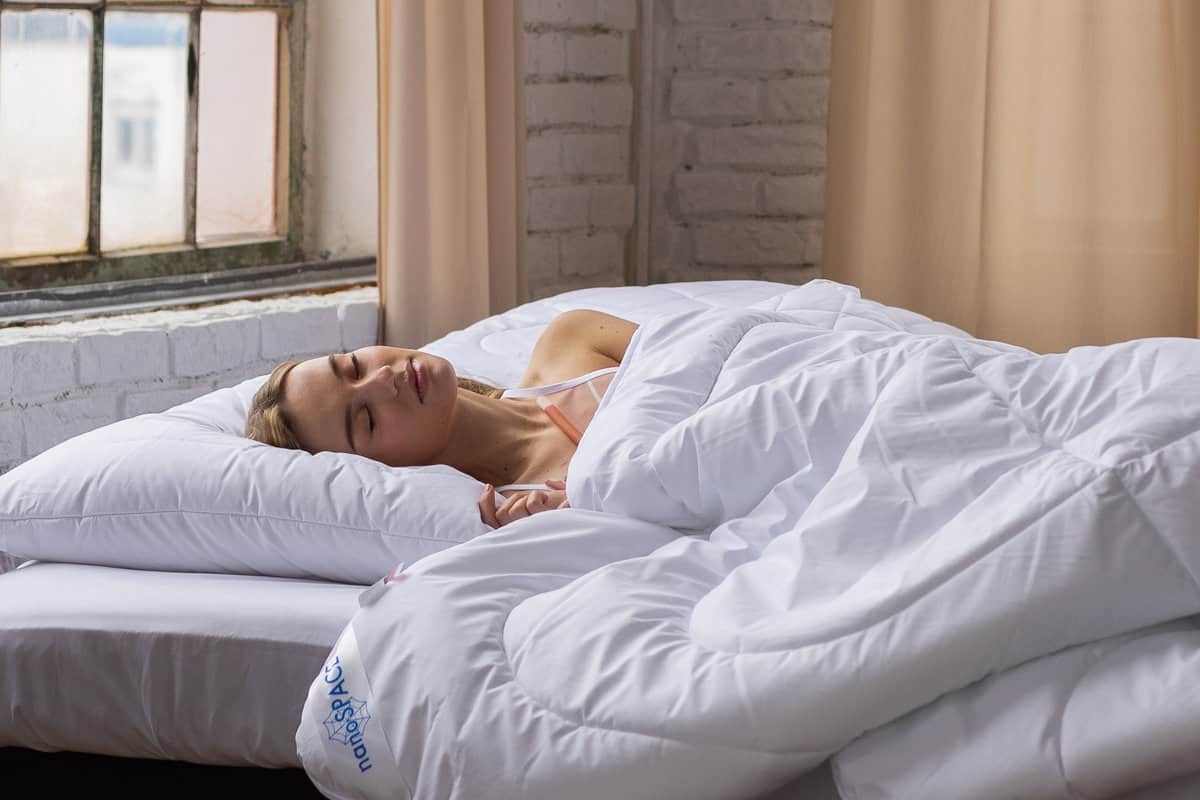 Take proper care of your nano bedding. In return, you will get many years of the best care for your health and sleep. No more waking up with a cold, cough and unexplained fatigue. Enjoy restful, quality rest without uninvited fellows in your bed, in comfort and safety with antiallergic bedding from nanoSPACE®.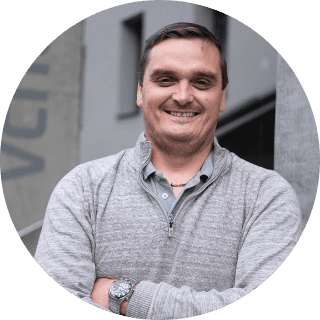 Josef Handrejch from nanoSPACE
Josef Handrejch is a graduate of the Technical University of Liberec. At nanoSPACE, he is in charge of research and development of new nano products. He has extensive experience in textile production and application of nanofiber materials.