Although it's a relatively small piece of fabric, the choice matters a lot because it can significantly impact the quality of our lives. And this is not an exaggeration. Improper socks can cause excessive sweating, fungal infections, poor blood circulation in the extremities, painful blisters, and other health problems. Fortunately, nowadays, you have a wide selection of high-quality socks to choose from. The trend of recent years is antibacterial socks with silver nanoparticles. Why? Because socks with silver are excellent at countering the odor caused by microorganisms during sweating.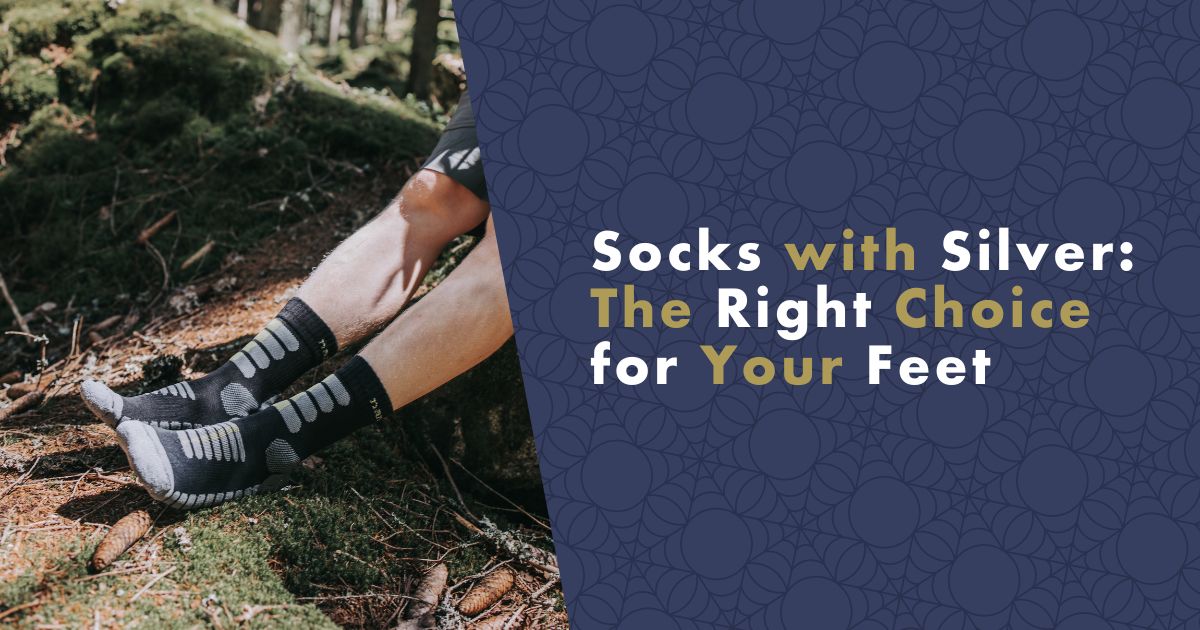 These are mainly due to the unique properties of this modern material. Natural cotton supplemented with other components is perfectly breathable and effectively wicks away moisture. As a result, your feet remain comfortably dry even in demanding conditions. The addition of elastane provides the necessary elasticity and snug fit, preventing annoying bunching.
Socks with Silver – Freeing You from Bacteria and Odor
And why is silver used in socks? Certainly not for appearance. The real reason lies in its natural antibacterial properties, which our ancestors knew about. Even in the times of our grandparents, a silver coin or spoon was commonly placed in milk jugs to keep it fresh for longer. If you delve into historical materials, you will find that people knew about the antimicrobial effects of silver even in ancient times.
Currently, silver nanoparticles are used in various fields, including industrial production, cosmetics, food industry, pharmacy, and of course, in the textile industry.
Silver nanoparticles are especially popular in sportswear and socks for combating sweating. Silver applied to polyester fibers has broad-spectrum antibacterial and antifungal effects, naturally mitigating the unpleasant body odor caused by bacteria thriving in sweaty fabric.
Tip: Nanosilver and 5 Ways to Use It
The silver in the material actively prevents the multiplication of these bacteria and fungi, resulting in much less intense odor compared to regular clothing without special treatment with silver nanoparticles. Even after a demanding sports performance, such clothing won't smell. Simply let the socks dry, and the unpleasant odor will be minimal. That's why you can wear socks with silver without any sign of odor for several days in a row.
Although the anti-odor effect of silver socks can last a long time, you will, of course, need to wash them occasionally.
The great news, however, is that the antibacterial treatment of socks is permanent according to the manufacturer. So, throughout the lifespan of the socks, you can rely on the excellent properties of the material.
Main Benefits of Socks with Silver
Extremely comfortable to wear
Silver particles naturally inhibit the growth of bacteria and fungi
Effectively suppress odor
Have exceptional thermal regulation properties
The material is highly resistant to mechanical wear, so silver socks will reliably serve you for a long time
Available in many variants - you can choose sports socks, medical socks, work socks, compression socks, thermal socks, etc.
Save Nature – No Need to Unnecessarily Buy Socks from the Other Side of the World
In 2020, approximately 21 billion pairs of socks were produced worldwide. It's probably not surprising that a large portion of socks comes from Asia, specifically China. The Czech Television website reveals that more than a third of the world's sock production is done in a single enormous factory. We should more accurately call it the Huazhong Socks mega-complex rather than a factory.
From this place, socks from mass production flow to all corners of the world. Socks, against common sense and ecology, travel thousands of kilometers in shipping containers to reach end customers.
And we all know very well the quality of such products. Cheap socks imported from Asia don't fit comfortably, often cause sweating, and fall apart within a few weeks.
For those who want to save the environment, it's better to buy socks from local manufacturers that don't travel across the world. The difference in price is usually not that significant, but the quality is usually much higher. This is also because the Czech Republic has a long tradition of textile production, including socks.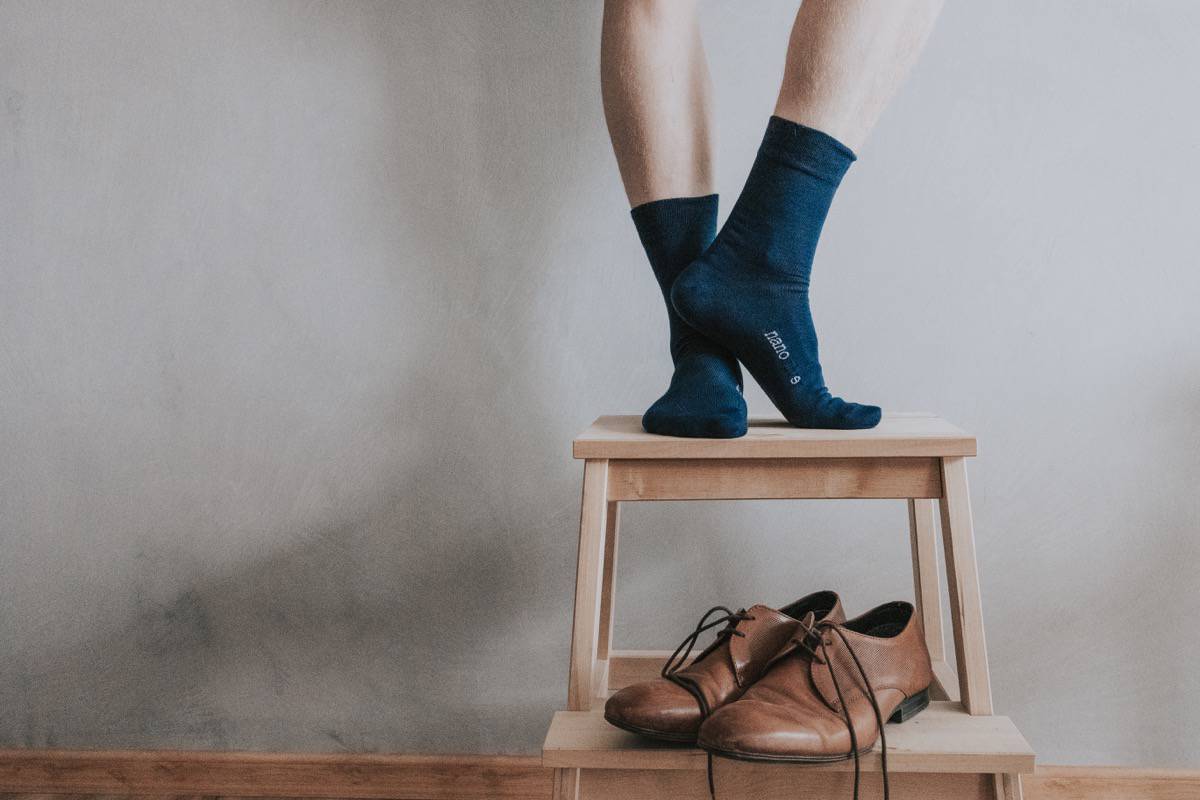 How to Choose the Best Socks with Silver?
Previously, socks were divided into men's and women's. Today, you have a wide range of special socks available on the market. Thus, you can provide your feet with maximum comfort in every situation. According to experts in this field, there are over 40 types of socks.
Now, let us briefly introduce you to several main types.
Work Socks
Every profession places different demands on people, and consequently on their feet. Managers, sales representatives, administrative and cultural workers will certainly appreciate high-quality formal socks in various color variations, perfectly suitable for representing the company in a suit or in a smart casual style.
For service and manufacturing workers, comfortable ankle socks with silver can be the right choice. They are beautifully breathable and fit snugly on the foot, making them easy to handle even during demanding shifts.
For any type of work, it's worth reaching for Czech socks with silver due to the natural antibacterial properties of silver nanoparticles. You won't have to worry about fungi, mycosis, or eczema. Especially during hot summer days, you will also appreciate their special anti-odor effect.
#produkty#https://www.nanospace.store/formal-socks/
Sport Socks
Even during recreational sports, people often sweat a lot. That's why it's good to have special sports socks with high breathability and exceptional ability to prevent blisters from shoes.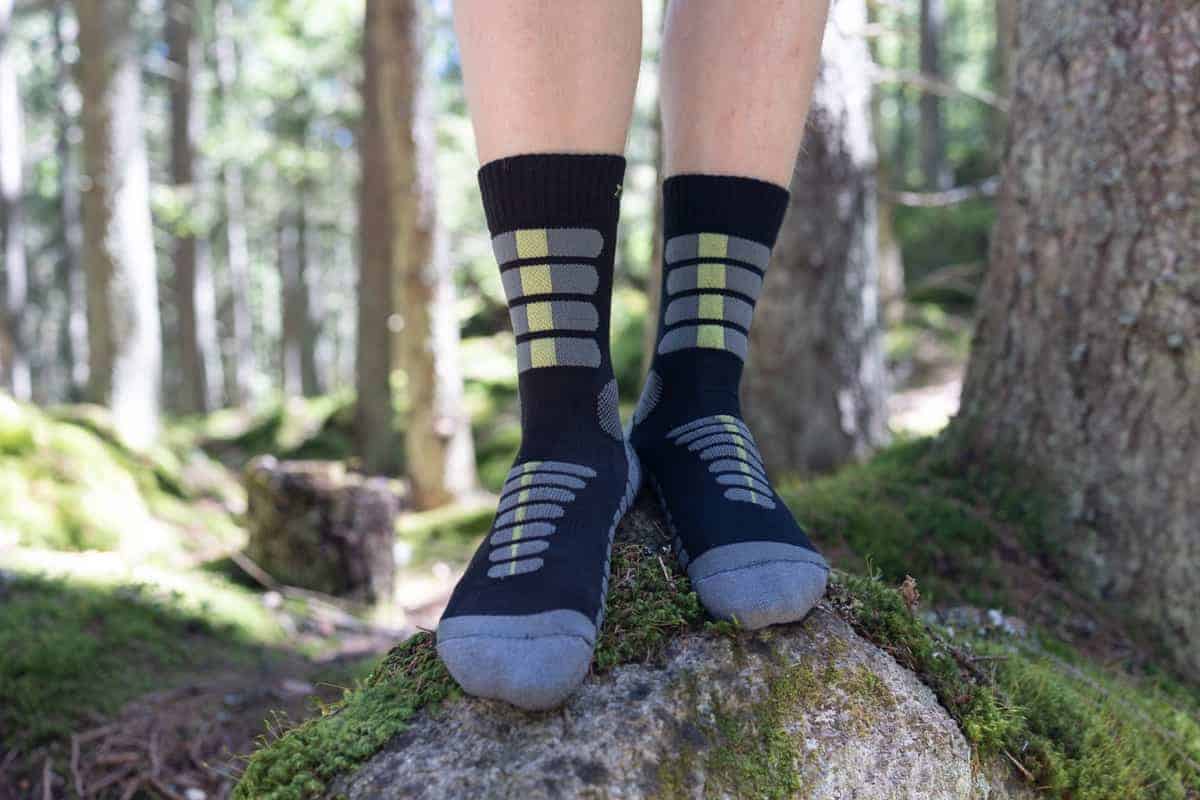 For running, it's worth getting compression knee socks with silver, which help to better remove lactic acid, improve blood circulation, and also contribute to faster muscle recovery during running. They are also available in reflective colors, so no driver will overlook you even in poor lighting conditions.
There are also sports socks designed for cycling, motorcycling, or long treks. You probably know very well that for a multi-day trek across mountain ridges, you need really high-quality socks that won't wear you out or bunch up annoyingly in the mountains.
If you plan to exercise in winter months, thermal socks will be the right choice to keep you warm even in deep freezes.
There are many variations of sports socks with silver available on the current market, so you can choose happily.
#produkty#https://www.nanospace.store/sport-socks/
Medical Socks
Swelling of the legs troubles quite a few people for various reasons. The culprit may be (advanced) pregnancy, old age, various post-traumatic conditions, poorly functioning thyroid gland, vein problems, venous thrombosis, overweight, liver disease, kidney disease, bone, and tendon diseases, side effects of medications, extremely hot weather, sedentary jobs, and many other reasons.
However, in each case, fluid accumulates in the extremities, making wearing regular socks a very uncomfortable matter. For some, it can even be a nightmare.
That's precisely why there are special medical socks that fit well on the legs but do not constrict anywhere. A wide medical cuff usually takes care of perfect elasticity in problematic areas. A lower pressure on the leg also helps to prevent the occurrence of diabetic ulcers.
Another common problem for diabetics is fungal foot disease. If they wear medical socks with silver nanoparticles, the risk of fungal infection is reduced to a minimum.
Medical socks can, of course, be worn by all healthy individuals who want to provide their feet with maximum comfort.
#produkty#https://www.nanospace.store/medical-socks/
How to Wash Silver Socks Properly?
If you want to wash silver socks gently, ecologically, and affordably, we definitely recommend using the 100% natural Ecoegg detergent. It is a modern laundry solution that received the Queen's Award for Innovation in 2016. Ecoegg laundry egg is based on mineral pellets, so no residual chemicals remain in the laundry, which could potentially irritate the skin. That's why it's perfect for allergy sufferers, eczema patients, and people with sensitive skin.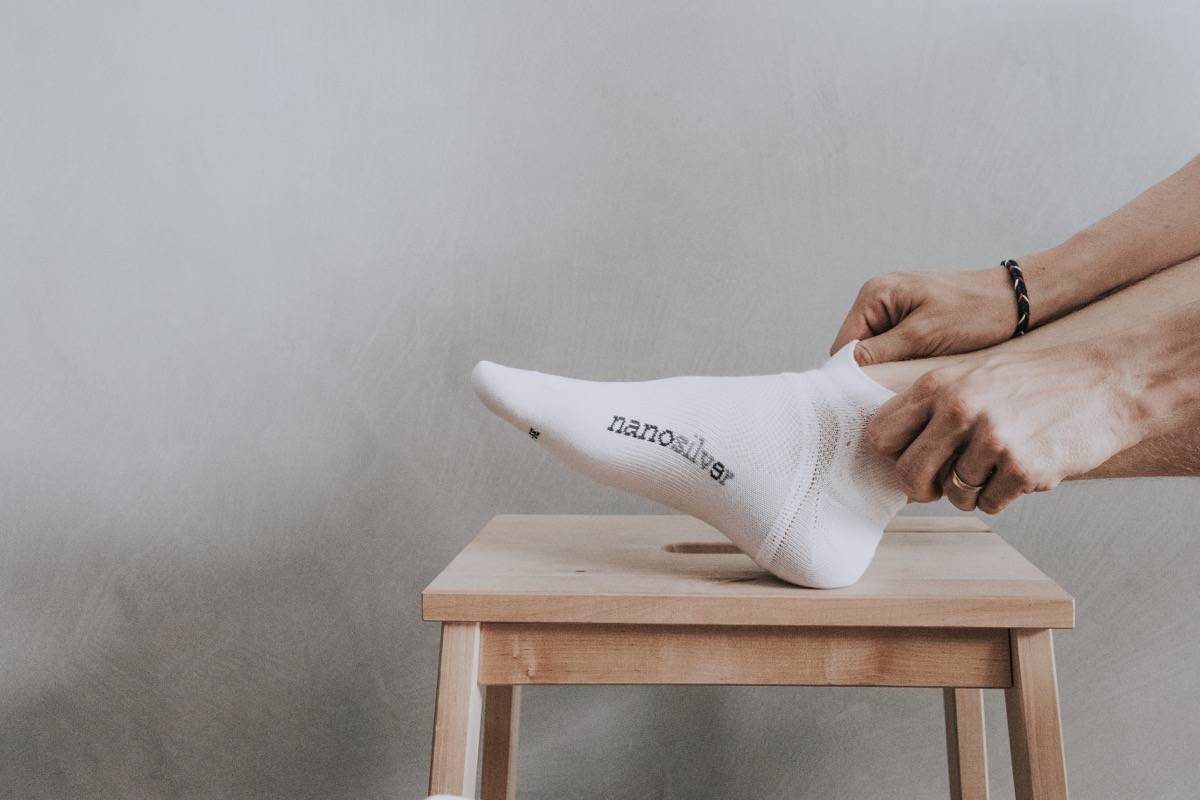 Afterward, you won't need to iron or chemically treat the socks. The manufacturer recommends washing the socks at 40 °C and drying them at a maximum temperature of 60 °C.
If you feel that your socks are extremely soiled, you can add a bit of regular bile soap to the Ecoegg and run a longer washing cycle. In such a case, it's better to wash the socks separately from other laundry to avoid unnecessarily damaging T-shirts and other clothing.
#produkty#https://www.nanospace.store/ecological-detergents/
Finally, we want to give you one warning. Always wash silver socks without fabric softener. Fabric softener creates a thin coating on the surface of the fibers, preventing silver molecules from coming into direct contact with the skin. This contact is crucial for 100% effectiveness. If you accidentally washed silver socks with fabric softener, don't worry. Just wash them without fabric softener next time, and the special properties will be restored.
Sources:
Nowack, B., Krug, H.F., & Height, M. (2010). 120 years of nanosilver history: Implications for policy makers. Environmental Science & Technology, 45(3), 1177-1183.
Hendren, C.O., Mesnard, X., Dröge, J., & Wiesner, M.R. (2011). Estimating production data for five engineered nanomaterials as a basis for exposure assessment. Environmental Science & Technology, 45(6), 2562-2569.
Edwards-Jones, V. (2009). The benefits of silver in hygiene, personal care and healthcare. Letters in Applied Microbiology, 49(2), 147-152. ISSN: 0266-8254. DOI: 10.1111/j.1472-765X.2009.02648.x.
Windler, L., Height, M., & Nowack, B. (2013). Comparative evaluation of antimicrobials for textile applications. Environment International, 53, 62-73.
Fabrega, J., Luoma, S.N., Tyler, C.R., Galloway, T.S., & Lead, J.R. (2011). Silver nanoparticles: Behaviour and effects in the aquatic environment. Environment International, 37(2), 517-531.
Walser, T., Demou, E., Lang, D.J., & Hellweg, S. (2011). Prospective environmental life cycle assessment of nanosilver t-shirts. Environmental Science & Technology, 45(13), 4570-4578.
Geranio, L., Heuberger, M., & Nowack, B. (2009). The behavior of silver nanotextiles during washing. Environmental Science & Technology, 43(21), 8113-8118.
Hemmati, A., Scott, K., & Davis, J. (2009). Nano Analysis of Silver Nanoparticles in Commercial Socks. Microscopy and Microanalysis, 15(S2), 552-553. doi:10.1017/S1431927609094902
Deshmukh, S.P., Patil, S.M., Mullani, S.B., & Delekar, S.D. (2019). Silver nanoparticles as an effective disinfectant: A review. Materials Science and Engineering: C, 97, 954-965. ISSN: 0928-4931. DOI: 10.1016/j.msec.2018.12.102.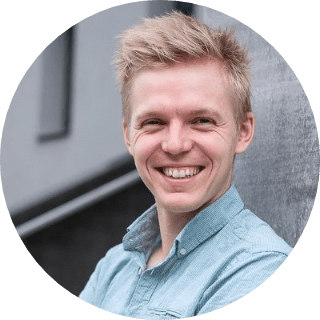 Lukáš Konečný, Strategy and business development, nanoSPACE
Lukáš Konečný has been active in the nano field since 2015. He graduated from the University of Economics and Business and has long been involved in digital marketing, digitisation and automation of advertising for technology companies and online projects. At nanoSPACE, Lukáš has been in charge of strategy and business development since May 2020.