Do you enjoy taking care of your skin and want to give it the best possible treatment? Why not. You have a huge selection of quality cosmetics that work wonders. However, are these common cosmetic products the real deal for nature as well? Do you have any idea how much impact they have on the environment? How much do they burden it?
Most of us already know that the way we live, consume and produce waste is unsustainable. Our planet has its limits, which have been made very clear to us for several years now. It is therefore necessary to treat it accordingly. The best way to maintain your standards while taking care of your body in harmony with nature, with care, mindfulness and purpose, is through circular cosmetics.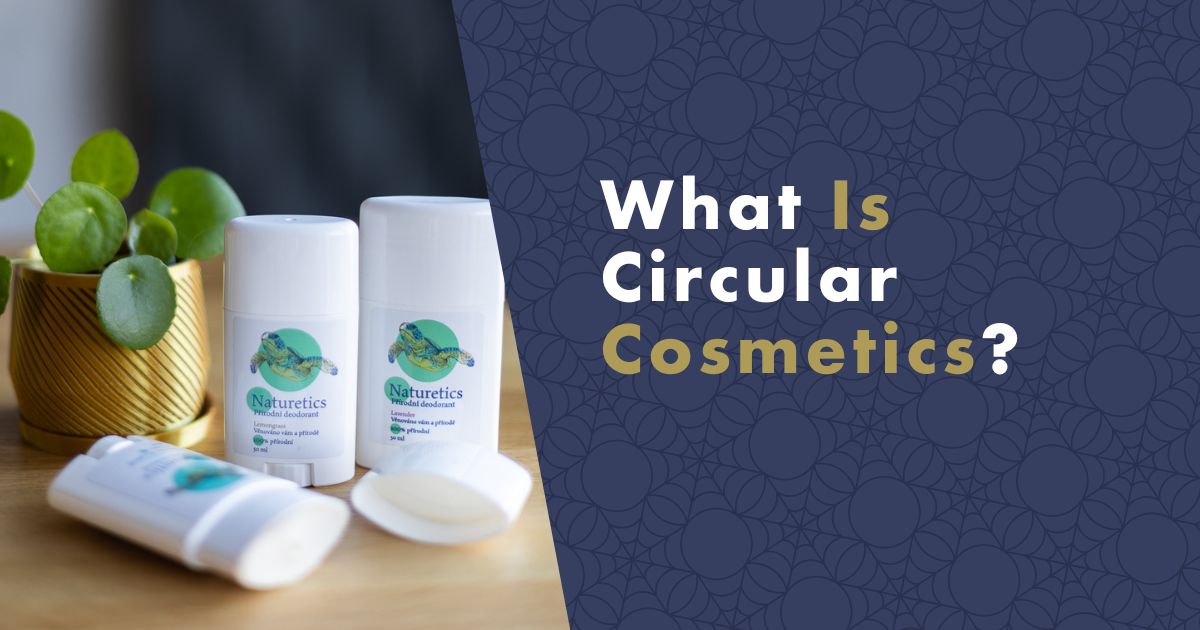 What Is Circular Cosmetics
Circular cosmetics is based on the principles of circular economy. Its goal is to keep the resources used in the product manufacturing in circulation instead of using linear cosmetics. Therefore, they are reused, recycled or upcycled. What many of us consider to be waste can actually be valuable material that can be returned to life.
In circular cosmetics, active substances from already used raw materials, such as natural oil or coffee grounds, are used to make new, effective and eco-friendly cosmetic products. Thanks to this, waste and other by-products that cannot be used are eliminated, significantly reducing their impact on the environment.
Benefits of Circular Cosmetics
Saves the planet.
Uses only what is really necessary.
Is truly natural.
Circular cosmetics efficiently utilize ingredients, thus relieving the planet of carbon dioxide (CO2), not burdening it with additional waste, and saving natural resources. Each product contains only what the skin and the product truly need. During its design, manufacturers remove all elements that have no purpose other than aesthetics and would create unnecessary waste.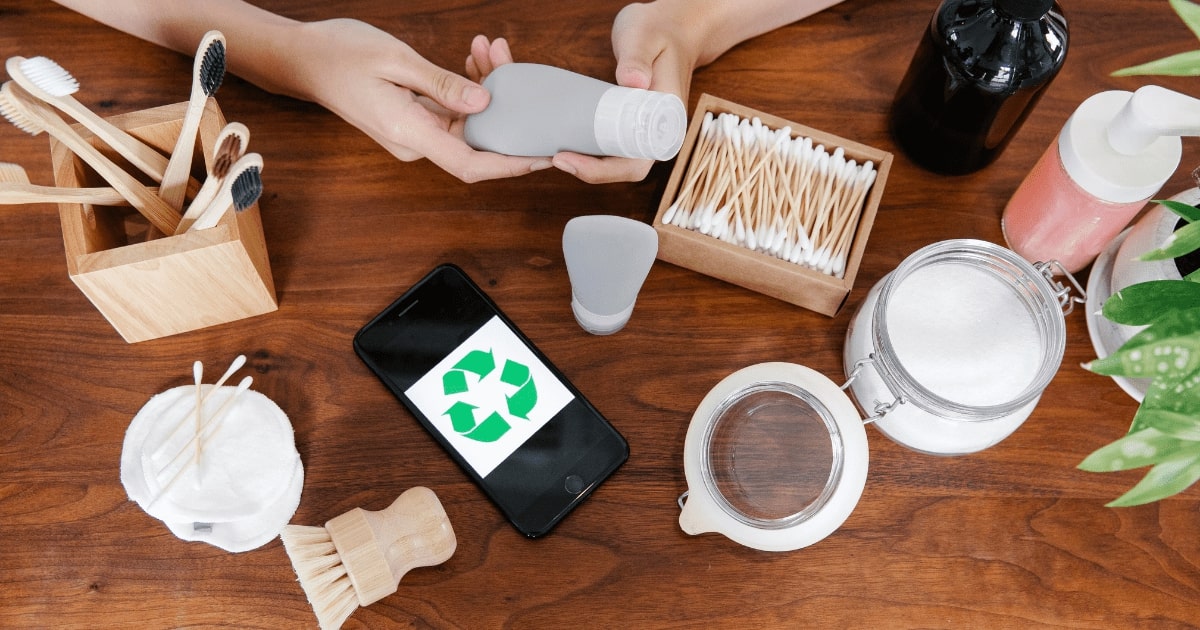 Circular ingredients fully replace synthetic and harmful ingredients that are commonly used in the production of cosmetic products.
What Is the Difference between Linear and Circular Cosmetics?
Linear (standard) cosmetics are typically developed by an expert who creates a product formula with a focus on functionality. A packaging specialist selects a suitable packaging based on its function and design, and a product manager ensures the labels, package inserts, and boxes. Then the finished product is launched.
Once a customer purchases it, they usually immediately throw away the box. After reading it, they get rid of the package insert in the same way, and after using the product, the product packaging ends up the same way. As a result, an incredible amount of cosmetic waste ends up in landfills.
In the case of circular cosmetics, the expert focuses not only on making a cosmetic product work great, but also on ensuring that it does not harm the environment. Key ingredients must, therefore, have what is known as an LCA (Life Cycle Assessment), which proves that they really have no negative impact on nature. Packaging experts then determine what material the packaging is made of and choose a label that does not hinder the recycling of the package, as well as the substances in the label's printing and adhesive. Recycling experts check everything and remove any elements that could disrupt the recycling process, if necessary.
The resulting product has no paper box or printed package insert. Instead, it has a fully recyclable package that can be used in the future for the production of other packages. Therefore, no additional waste is generated.
What Is LCA?
LCA, which stands for Life Cycle Assessment, is a method used to evaluate the potential environmental impact of a product or service.
It thoroughly examines the entire life cycle of a product, from the initial acquisition of raw materials to transportation, production or use, and ultimately disposal. LCA works with data that allows for the assessment of both energy and material consumption, as well as the amount of pollution generated, including solid waste and emissions released into the air, water, and soil.
The goal is to eliminate all negative production impacts and to ensure that waste is predominantly of organic origin. Any synthetic materials should be subsequently reusable as raw materials of the same quality.
Naturetics Circular Cosmetics
One of the Czech pioneers in circular cosmetics is NAFIGATE Cosmetics, a.s. The Naturetics brand won first place in the Green Award category at the InCosmetics Global trade fair in Paris. It embarked on the path towards long-term sustainability several years ago and successfully continues it to this day, thanks to the breakthrough biotechnology HYDAL, which fully complies with the principles of circular economy.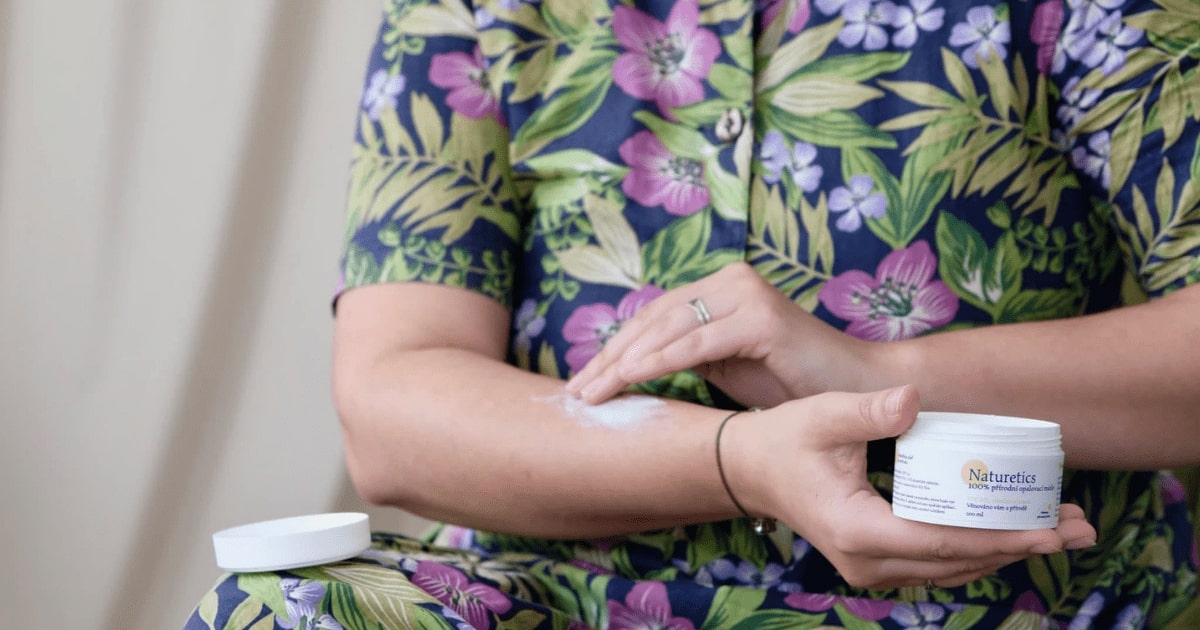 Naturetics® is the only cosmetic company in the world that produces circular cosmetics from used natural oil. Unlike others, they see this waste as a valuable material that can be processed and returned to circulation. They literally save used materials and give them new life in products from the popular Naturetics® brand. So, you can enjoy truly natural cosmetics that are not only effective but also gentle and considerate to your skin and the environment.
Naturetics® products:
do not burden the skin or the environment,

contain active ingredients from nature,

are highly effective in small quantities,

do not contain any aluminum salts, microplastics, or parabens.
Many scientific studies and numerous satisfied users of this circular cosmetics confirm this, which by the way you can also find on our e-shop.
Natural Solid Deodorants
You can choose from popular natural deodorants that have been loved not only by women but also by men for their effectiveness, gentleness, and beautiful scent. They contain natural ingredients that greatly neutralize odor and absorb sweat. Just apply a thin layer and you will feel fresh for a long time afterwards.
#produkty#https://www.nanospace.store/deodorants/
Sunscreen
As summer approaches, you will certainly appreciate 100% natural Naturetics® sunscreen butter, which is made on the principle of natural circular nano zinc oxide and circular poly-3-hydroxybutyrate with SPF 20 protection. It works immediately after application, spreads well, and does not leave a white layer on the skin.
#produkty#https://www.nanospace.store/sunscreen/
It spreads easily, leaving no white residue on the skin, and perfectly shields the skin from harmful UV rays right after application. Additionally, it's suitable for allergic and sensitive skin.
TIP: Read the article on what to look for when choosing sunscreen creams.
After-sun Hydrating Milk
During the summer months, you'll definitely want to reach for after-sun hydrating milk with Panthenol like this one. This after-sun milk takes care of your skin after sunbathing, provides hydration, and relieves unpleasant effects of excessive sun exposure. Not only will your skin be treated after sunbathing, but it will also have a light coconut scent.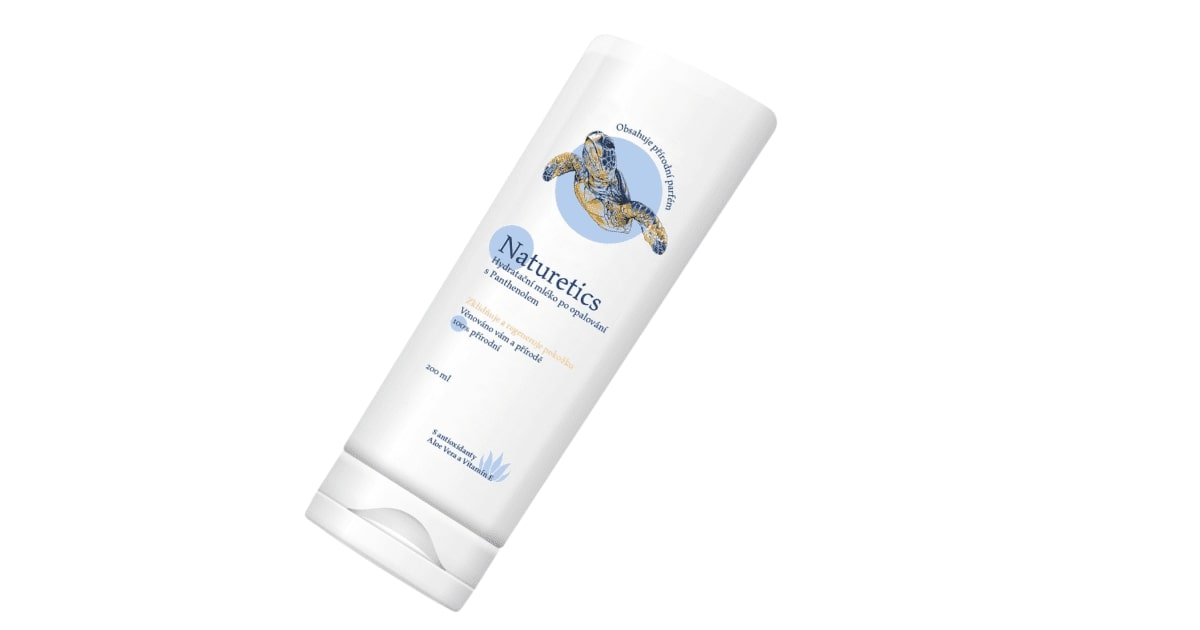 The upcycled ingredient in the product is organic apple water, which is produced as a byproduct during apple drying. Through cutting-edge technology, active ingredients full of vitamins and minerals are preserved in the apple juice.
Natural Toothpaste
From the circular cosmetics brand Naturetics®, try the natural whitening toothpaste with Hydroxyapatite, which has disinfectant and anti-inflammatory effects and whitens teeth excellently.
Or reach for the unconventional black toothpaste with activated charcoal, which effectively removes unwanted tooth discoloration. Besides taking care of your teeth, it also perfectly cares for your gums and oral cavity, leaving a fresh breath.
#produkty#https://www.nanospace.store/toothpastes/
Exfoliating Soap
Naturetics® gives a chance not only to natural oil but also to coffee grounds in their circular cosmetics. They have created a 100% natural cinnamon coffee exfoliating soap, which gently cleanses, hydrates and softens the skin, and also smells great.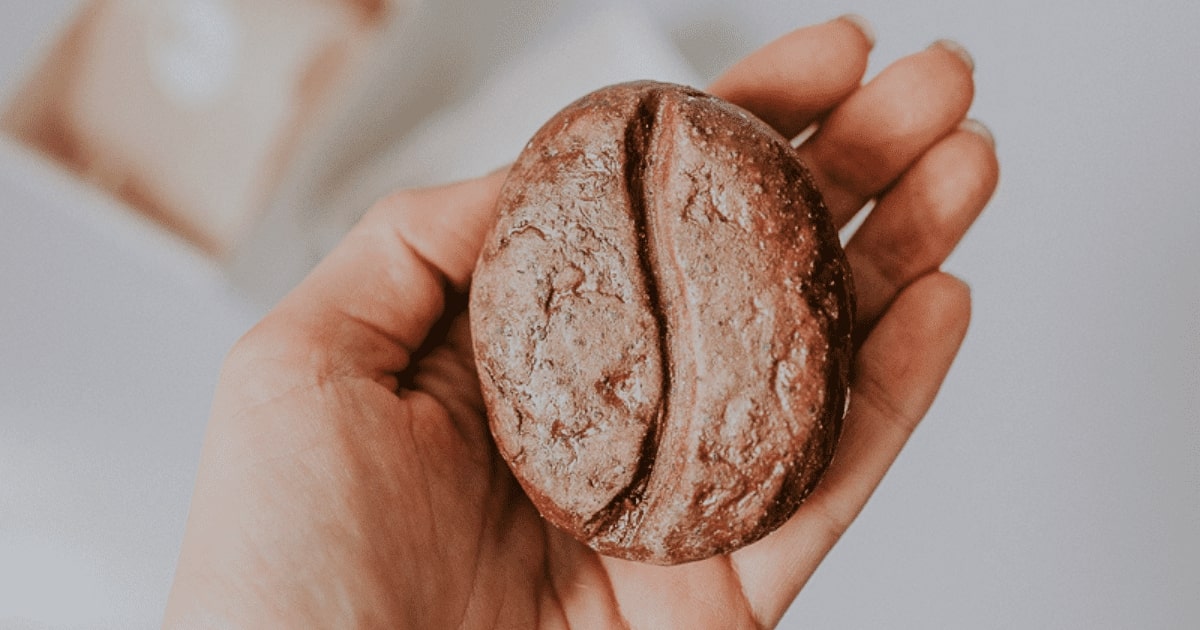 Let's Help Restore Earth to Normal
By purchasing Naturetics® cosmetics, we reduce CO2, the most common greenhouse gas. CO2 traps sunlight and causes global warming, leading to air pollution, respiratory problems, and extreme weather fluctuations. By using circular raw materials, we reduce its amount and save the planet.
30 billion tons - that's how much CO2 humanity emits into the atmosphere in one year. In such a situation, every gram counts.
Care for Your Body in Harmony with Nature
We believe that the fate of our planet is not indifferent to you either. That's why you should definitely try truly natural cosmetics that not only works great and pampers your skin but is also considerate and gentle to nature. Circular cosmetics is not so much a new trend as it is a necessity to meaningfully and thoughtfully use already used raw materials and not to burden the environment with unnecessary waste. Because the best waste is the one that never gets created.
Frequently Asked Questions
What is circular poly-3-hydroxybutyrate?
A form of calcium mineral apatite. In sunscreen, it supports UV protection. It is a completely biocompatible and non-toxic substance.
Why do you use circular nano zinc oxide?
This nanooxide is typically very energy-intensive to produce, so Naturetics obtains it by recycling various zinc wastes. Nano zinc oxide is suitable for use in sunscreen creams as it effectively protects, but is also 100% safe since the nano-particles of zinc oxide do not penetrate through the top layer of the skin. Nano-particles are used in sunscreen cream because it requires much less zinc oxide to achieve a higher UV effect than when using standard particles.
What does Hydroxyapatite mean in toothpaste?
Hydroxyapatite is a form of calcium mineral apatite, which is widely distributed in nature in a range of colors. Human bones and teeth are also largely made up of hydroxyapatite. Its advantages include being completely biocompatible and non-toxic. In toothpaste, it contributes significantly to dental care as it supplies minerals (calcium and phosphorus), strengthens tooth enamel, smoothens the surface of teeth, and ultimately makes teeth whiter.
How do you use natural biopolymer?
In all Naturetics® products, we use P3HB natural biopolymer and replace synthetic raw materials with it. In natural deodorant, it acts as an absorbent of odor and sweat. In sunscreen butter, it is used as an auxiliary UV filter for protection against sunlight.
What is circular cosmetics?
Recycled waste materials are used in production, which eliminates the negative impact on the environment from production that is typically energy-intensive and consumes raw materials. The natural polymer is created by biotechnology from used natural oil, such as Hydal. It reinforces UV protection in sunscreen and does not burden the environment (fully biodegradable) or people.
What are circular ingredients?
Raw material sources are limited. Previously used raw materials can serve as sources for new products. Naturetics® produces circular cosmetic products. When selecting ingredients, they consider not only effectiveness and gentleness towards people and skin but also gentleness towards nature. That's why you will find circular ingredients made on the principles of a circular economy that do not burden the environment in Naturetics® products.
What is circularity according to Naturetics®?
1. Used natural oil.
2. Collection of used natural oil.
3. P3HB Natural polymer is part of nature.
4. It is created by a microorganism that uses oil as an energy source.
5. P3HB replaces synthetic materials in cosmetic products.
6. Fully biodegradable in nature.
What is biodegradability?
Biodegradation refers to the process of breaking down a substance in nature through natural biological processes. During the process of decay, which involves microorganisms, rodents or insects, for example, the substance decomposes and generates biogas. Practically every material is biodegradable, but the time it takes for a substance to decompose in its natural environment can vary.
Sources
CORVELLEC, Hervé; STOWELL, Alison F.; JOHANSSON, Nils. Critiques of the circular economy. Journal of Industrial Ecology, 2022, 26.2: 421-432.
CHANDRA, RUSTGI; RUSTGI, Renu. Biodegradable polymers. Progress in polymer science, 1998, 23.7: 1273-1335.
ZHANG, Zheng, et al. Biodegradable polymers. Handbook of polymer applications in medicine and medical devices, 2014, 303-335.
Kirchherr, J., Reike, D., & Hekkert, M. (2017). Conceptualizing the circular economy: An analysis of 114 definitions. Resources, Conservation and Recycling, 127, 221-232.
Mancini, L., Mazzanti, M., & Zoboli, R. (2019). Circular economy and environmental sustainability: A bibliometric analysis and future research directions. Journal of cleaner production, 208, 841-853.
Naturetics. (2021). Our Vision. Retrieved from https://naturetics.com/pages/our-vision
Azimi, G., Jadidi, M., & Mahvi, A. H. (2016). A review of environmental and health effects of aerosols used in cosmetics. Environmental Science and Pollution Research, 23(23), 23358-23369.
TSUJIMOTO, Hiroyuki; HARA, Kaori. Development of functional skin care cosmetics using biodegradable PLGA nanospheres. In: Nanoparticle Technology Handbook. Elsevier, 2018. p. 445-450.
Schalka, S., & dos Reis VMSM. (2011). Sunscreens in Brazil. Clinics in Dermatology, 29(4), 466-471.
Kaur, I. P., & Sharma, G. (2010). Perspectives of surfactants as penetration enhancers for tropical dermatologicals. Indian journal of dermatology, 55(3), 205-210.
Subramaniam, P., & Babu, N. A. (2014). An insight into herbal products used in dentistry. Journal of Pharmacy & Bioallied Sciences, 6(Suppl 1), S21-S24.
Zhao, M. T., Lou, H. X., & Li, C. X. (2011). Antifungal triterpenoids from the roots of Kadsura coccinea. Phytochemistry Letters, 4(3), 263-267.
Global Footprint Network. (2021). Overshoot Day. Retrieved from https://www.overshootday.org
Ellen MacArthur Foundation. (2019). Circularity: Guiding the Future of Design. Birkhäuser.
Hawken, P. (2018). Drawdown: The most comprehensive plan ever proposed to reverse global warming. Penguin.
McDonough, W., & Braungart, M. (2002). Cradle to cradle: Remaking the way we make things. North Point Press.
Bocken, N. M., Short, S. W., Rana, P., & Evans, S. (2014). A literature and practice review to develop sustainable business model archetypes. Journal of cleaner production, 65, 42-56.