Selecting the right bedding for asthma sufferers and individuals with allergies is of paramount importance when it comes to improving the quality of sleep and overall well-being. The ideal bedding for allergy sufferers and bed sheets for allergy sufferers should not only provide comfort but also play a significant role in minimizing the potential triggers for allergy symptoms and asthma attacks. In this article, we will explore the key considerations for choosing suitable bed linen that can help alleviate the discomfort experienced by those with asthma and allergies, creating a healthier and more restful sleeping environment.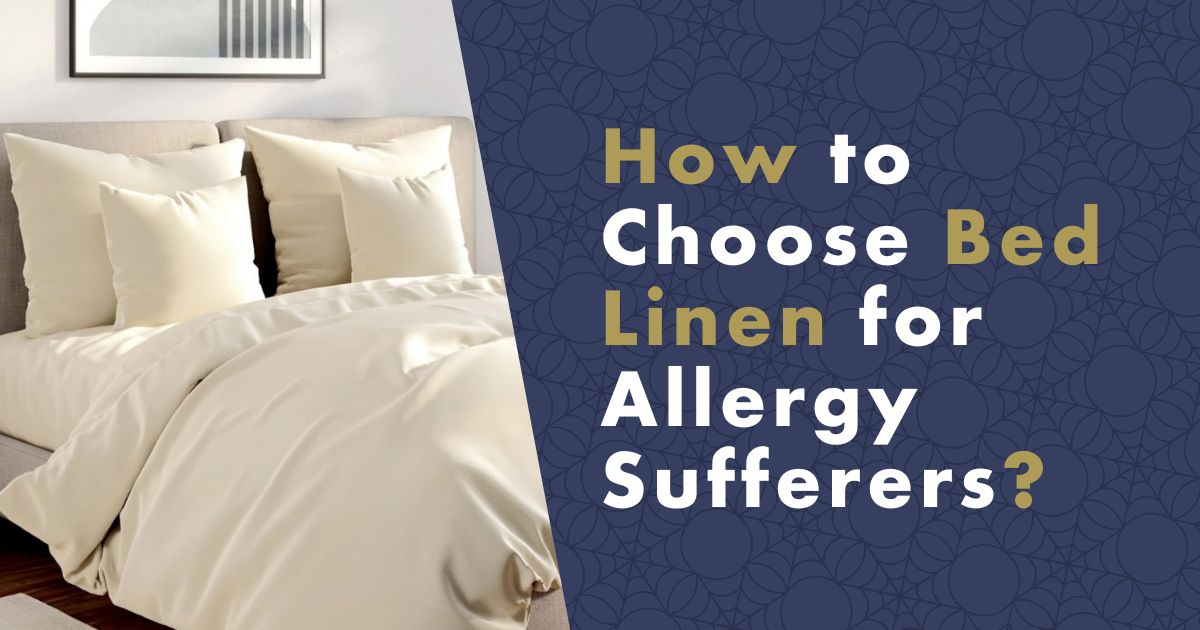 Why Go For Nanocotton® Bedding for Allergy and Asthma Sufferers?
Imagine spending several hours a day in a bed that is permanently occupied by uninvited guests - dust mites. You may not like the idea, yet there are millions of them. In the mattress, the duvet and the pillow. They are literally everywhere and their allergens (excrements) irritate you mercilessly while you sleep, causing allergic reactions. You wake up tired, swollen and unable to get rid of your chronic cold or recurring sinus infections.
Antihistamines may offer you a few hours of relief, but they often dampen not only the allergy, but also you. That's why a much better and more effective prevention is to use Anti-Dust Mite Bed Linen Nanocotton® with nanofiber, the world's first to fully replace anti-dust mite covers and anti-dust mite pillows and duvets. It is made of a special material, the so-called three-layer laminate (sandwich), which consists of cotton satin (100% cotton), microfiber fabric (100% polyester) and Czech nanofiber fabric (100% polyamide 6).
The nano-membrane acts as a perfect and completely impenetrable mechanical barrier between you and dust mites that cause allergies, asthma or other respiratory diseases. Moreover, it uncompromisingly prevents them from gathering and multiplying inside the bedding. So you can be sure that you are perfectly protected and can enjoy undisturbed rest. In addition, you will appreciate the fact that the bed linen is very comfortable and highly breathable while absorbing moisture perfectly.
Nanocotton® - Ideal Bedding with Many Benefits
It is not dyed or bleached in any way.
Protects against dust mites and their allergens.
Does not irritate the skin.
The nanoSPACE® material is certified - STANDARD 100 by OEKO-TEX®
High quality organic cotton.
Perfect for atopic skin.
Nanotechnology is one of the most promising and effective ways to prevent the growth and reproduction of dust mites. Researchers have developed a nanomembrane that can be used as an anti-dust mite bed linen. The nanomembrane works as a perfect and completely impermeable mechanical barrier. It is made of a special material that is impenetrable to dust mites. This means that dust mites cannot penetrate the nanomembrane and lay their eggs in it. As a result, the number of dust mites in a home can be significantly reduced.
How to Choose Bed Linen for Allergy Sufferers?
NanoSPACE® offers three variants to choose from. All are equally amazing and 100% effective at capturing dust mites and their allergens. The only thing they differ in is the dimensions. So just choose the right one and you can enjoy the luxury, comfort and safety that Nanocotton® bed linen will undoubtedly provide to you every night.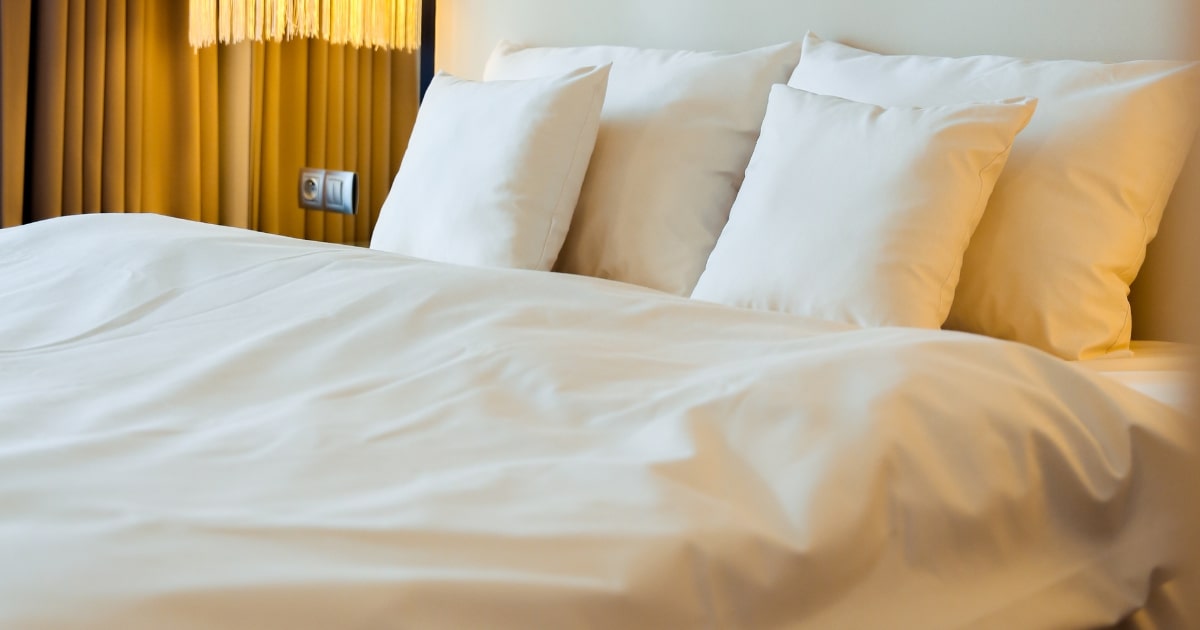 Variants of antiallergic bed linen:
Single Bed Anti-Dust Mite Bed Linen Nanocotton®
Do you like to enjoy your duvet all to yourself? Then the Single Bed Anti-Dust Mite Bed Linen Nanocotton® is your best choice. Cotton satin with nanofabric inside offers total comfort for even the biggest sleep lovers. It is pleasant to the touch and to the eye. It has a soft, glossy surface and a vibrant champagne colour that does not fade even after many washes.
The set includes 1 anti-dust mite duvet cover and 1 pillowcase. If you add a bed sheet for allergy sufferers, you can be 100% sure that you are perfectly protected and no dust mite will have even the slightest chance to get to you.
You can choose either the classic duvet cover size or the extended version for the long-legged ones. Just make your choice:
Double Bed Anti-Dust Mite Bed Linen Nanocotton®
Do you prefer sharing an extra wide duvet with your partner? Then our Double Bed Anti-Dust Mite Bed Linen Nanocotton® is exactly for you. It will provide luxurious and reliable protection against dust mites to both of you. It is so comfortable and beautiful that once you tried, you will never want to get out of the bed.
The set contains 1 duvet cover in several sizes and 2 pillowcases 70 × 90 cm. Like the classic variant for one, this bed linen is also zippered, so it fits great onto the duvet and the pillow.
Kids' Single Bed Anti-Dust Mite Bed Linen Nanocotton®
Our little ones also deserve perfect protection from dust mites and their allergens – whether they suffer from allergy, asthma, or even if you just want to give them high quality sleep. Therefore, we made the Nanocotton® antiallergic bed linen for them. If you add the anti-dust mite bed sheet for children or mattress encasement, your child will get a totally safe resting place. Such equipped bed will bring relief already after the first night and the symptoms of dust mite allergy will be reduced significantly. Your child will wake up rested, without sneezing, stuffy nose or cough.
The set of children's bed linen for allergy sufferers includes: 1 zippered duvet cover and 1 pillowcase.
Have a Good Night's Sleep Without Dust Mites and Chemicals
Would you like to sleep in luxury, comfort and safety? Our Nanocotton® anti-dust mite bed linen will give you exactly that. You are going to love the smooth, shiny and wonderfully pleasant cotton satin with nanofabric inside as its characteristics and looks are simply great. You will not want to sleep in anything else. Why not get yourself two sets then – while you wash one, you can use the other.
► Read how to take care of the nanoSPACE® nano bedding.
The antiallergic bed linen together with other nano bedding from nanoSPACE® is the ideal and reliable solution for healthy and safe sleep without the use of chemicals - not only for allergy and asthma sufferers, but for everyone. Treat yourself to a good and hearty rest that will give you energy and strength for the upcoming days. Just choose yours ››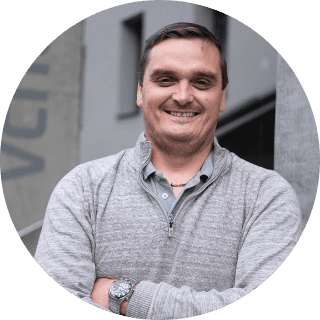 Josef Handrejch from nanoSPACE
Josef Handrejch is a graduate of the Technical University of Liberec. At nanoSPACE, he is in charge of research and development of new nano products. He has extensive experience in textile production and application of nanofiber materials.