StopBac ORTO TREND antibacterial insoles with silver
Code:
1991

The largest seller of nano products
More than 400 nanotechnology products under one roof.

Czech production
We manufacture nanoSPACE brand products in the Czech Republic
Related products
Product detailed description
StopBac ORTO TREND antibacterial shoe insoles with silver provide a highly effective and long-lasting antibacterial effect thanks to their innovative nanotechnological solution with bonded silver cations and are thus an excellent means of improving the hygienic environment in shoes and reducing odours. Thanks to the viscolatex layer with memory effect and the new gel latex layer, they significantly dampen vibrations and thus contribute considerably not only to walking comfort, but also to the reduction of negative effects on the arch under increased load. The use of the insole is recommended especially as a supportive aid for problems with foot odour or bacterial or fungal foot diseases. Preventive use is recommended especially for increased stress, but also for normal daily wear.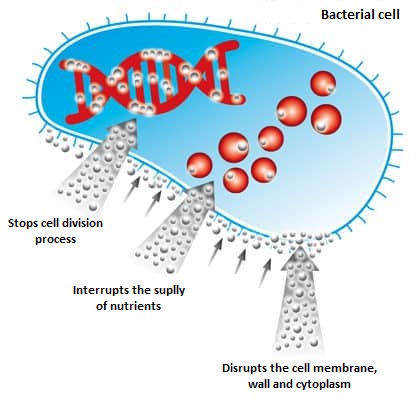 Fig.: Unique triple antibacterial effect of silver
Benefits of StopBac ORTO TREND antibacterial insoles with silver
Eliminate the smell of sweating,
antibacterial and fungicidal effect,
anti-fungal,
European product,
nanotechnological solution with silver cations,
high comfort memory layer,
the inserts are supplied in one size with a pre-printed template for trimming to a specific size in the range of 36-46.
How the StopBac ORTO TREND antibacterial insoles with silver work
The active zone of the StopBac ORTO TREND cover fabric is made up of a nanolayer containing trace amounts of silver. The silver acts on the bacteria cells and causes their destruction, which leads to the complete death of the microorganism. This mechanism is effective in all common bacterial strains. In addition, unlike many other products, the antimicrobial effect of StopBac liners is long-lasting and uniform, thus significantly counteracting bacterial growth and proliferation and odour.
In addition, the StopBac ORTO TREND insole has a modern two-layer design containing a viscolatex layer with a memory effect that moulds to your foot, and a New Gel latex layer for increased comfort and breathability. This technology effectively dampens vibrations and thus contributes significantly not only to the comfort of walking, but also to the reduction of negative effects under increased load.
StopBac ORTO TREND shoe inserts are a European product designed for all active people aiming to provide their feet with a healthy environment and increased comfort, as well as for athletes to support their performance. The ideal partner for your footwear.
How often should StopBac ORTO TREND antibacterial insoles with silver be changed?
As needed. The recommended time to change the insole is after no more than 2 months of use.
Why are insoles also suitable for everyday use?
If you have a job where you are on your feet most of the time, you know how important foot care is. Not only do shoe insoles eliminate odor and help against fungus, but waitresses, hostesses and salespeople who use shoe insoles will tell you that the main benefit is increased comfort and pain relief. It's not just about softening, but relieving your feet and joints. In addition, we all wear closed shoes in winter, and anyone who works in heated offices will benefit from antibacterial insoles at that time.
About Grade Medical s.r.o.
StopBac products are manufactured by Grade Medical s.r.o., a European producer of innovative medical products mostly based on nano solutions.
Quality
Just recently delivered, can't judge yet, they look good
Since 1995, Grade Medical has been developing and manufacturing nanotechnology wound healing agents. It has its own research facility in Prague's Vinohrady Hospital and cooperates, for example, with the Institute of Experimental Medicine of the Academy of Sciences of the Czech Republic, the 1st Faculty of Medicine of the Charles University or the Faculty of Biomedical Engineering of the Czech Technical University.
The main products of the company are covering medical materials and shoe inserts of the brand StopBAC.
How do StopBAC products work?
The basis of all StopBAC products are silver nanoparticles that eliminate bacteria and other microorganisms. This suppresses the infection, prevents their multiplication and accelerates healing. In the inserts, silver nanoparticles contribute to the elimination of odors.
More information:
► Everything You Should Know About Silver Nanoparticles
Which StopBAC product to choose?
Choose the appropriate product according to the nature of your problem:
► covering and sterilizing a small wound on the surface of the body -StopBac STERILE Normal antibacterial patch 7,5 x 5 cm 4 pcs, or StopBac STERILE Aquastop antibacterial water resistant patch 7,5 x 5 cm 4ks,
► elimination of foot odor - antibacterial shoe inserts with StopBac ORTO TREND silver.