Nano filters for masks - YourFILTER ULTRAFORCE | 20 pcs
Code:
1784

The largest seller of nano products
More than 400 nanotechnology products under one roof.

Czech production
We manufacture nanoSPACE brand products in the Czech Republic
Related products
Product detailed description
Filters are manufactured by Sen World s.r.o. in the European in cooperation with the European nanofirm NanoMedical. The extremely dense nanofiber membrane in the nano filter can trap the most common biological threats to human health currently know, such as viruses, dust, allergens or smog. The disposable filters are made of nanofiber material with a BFE (bacteria filtration) >99.9% and VFE (virus filtration) >99.9% efficiency.
Advantages of Nano filters for masks - YourFILTER ULTRAFORCE:
Economical alternative,
tested effective capture,
nanofiber membrane,
suitable for all types of masks with a pocket size of 17.5 x 9 cm.
Disadvantages of nano filters:
The overall filtering ability is always dependent on the tightness of the drape used.
Must be changed after 12 hours.
How does the Nano filters for masks - YourFILTER ULTRAFORCE work?
The nano filter is made of a barrier nanofabric that works on the principle of a mechanical barrier. This means that the size of the holes in the nanofiber membrane is so small that a virus, bacteria or other submicron particles will not pass through.
How long can I use one nano filter for?
The effectiveness of the filter decreases with wear time, providing optimal protection for 12 hours. Once the filter gets wet, it loses its ability. The wear of the filter depends on the intensity of breathing, for example during sports or high-intensity activities we recommend changing it after 2-3 hours.
How do I know if the filter in the mask is ineffective?
As soon as you feel that it is harder to breathe in your filter mask, it is a sign that the filter is clogged. At that point, we recommend replacing the filter.
Instructions for inserting the replacement nanofilter YourFILTER into the YourPOCKET mask:
Cut out an 18×16 cm rectangle from an A4 sheet of paper and fold it to 18×8 cm. Next, ideally work in sterile protective gloves, or use alcohol-based disinfectant or wash your hands with soap and water.
Insert YourFILTER into the resulting 17.5×9 cm paper sheet.
It will protrude 1 cm from the sheet.
Grasp the folder where the paper is folded and, with the side of YourFILTER protruding, insert the entire folder into the YourPOCKET mask.
Hold YourFILTER over the YourPOCKET mask at the point where it protrudes from the paper folder and pull the folder out without YourFILTER. You can use the folder in the next exchange. YourFILTER is inserted and YourPOCKET is ready for use.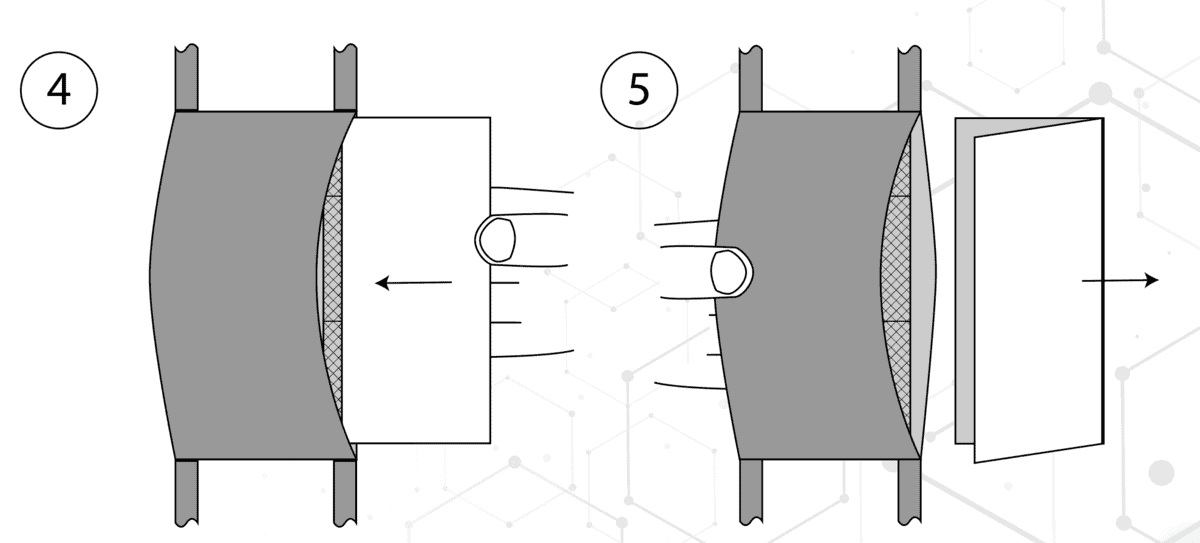 Nano filter size
Notice
The seller accepts no liability, either direct or indirect, for damages (including loss of profit or loss of reputation) caused by improper application or use of the material.
Be the first who will post an article to this item!
Nano4Health (N4H) is a brand of Sen World, which has been producing protective equipment based on nanotechnology since 2014. The development and production of aids takes place in the Czech Republic, products are regularly tested in the American company Nelson Laboratories.
How do N4H products work?
N4H's main products are disposable textile masks and disposable filters woven from nanofibers with a diameter one-thousandth of a human hair. The structure of the material is so dense that bacteria, viruses or any other pathogenic particles cannot pass through it. The degree of filtration corresponds to this – 99.9%.
Some disposable masks and N4H inserts are additionally enriched with silver nanoparticles, which actively eliminate microorganisms caught on the masks and (in the case of bacteria) prevent their further reproduction.
Disposable filters are placed in the pocket of a cotton mask and replaced after a few hours of wear.
More information:
► Everything You Should Know About Silver Nanoparticles
Which N4H product to choose?
If you want a regular, disposable nanofiber mask (standard protection):
► Economical packaging of YourMask nanomasks
If you want a cotton mask with a pocket and filters made of nanofibers and with silver nanoparticles (maximum possible protection):
► version for adults and children from 7 years old in basic colors (YourPOCKET) - gray mask with pocket (+ 10 filters), pink mask with pocket (+ 10 filters) or set of 2 gray masks with pocket (+ 25 filters),
► version for adults and children from 7 years old with colorful patterns (YourFASHION) - blue or pink face mask with a pocket figures motif (+ 10 filters) or camouflaged mask with a pocket (+ 10 filters).