YourPOCKET SILVERKILLER mask with a pocket | 2 masks + 25 filters
ideal for larger faces
Code:
1760/SVE
1760/ANT
1760/RUZ
1760/CHA
Choose variant

The largest seller of nano products
More than 400 nanotechnology products under one roof.

Czech production
We manufacture nanoSPACE brand products in the Czech Republic
Related products
Product detailed description
The masks and filters are European made by Sen World s.r.o. in cooperation with the European nanofirm NanoMedical. YourPOCKET is a fabric face mask with YourFilter nanofilter, which is a compromise for all those who are looking for a cheap but effective protection alternative. The fabric face mask has an antimicrobial treatment that it retains even after 100 washes at 60°C. A disposable nano filter can be placed in the pocket to protect against viruses, bacteria, mites and smog.
Nano filters with a filtration rate of more than 99.9%
The nano filters in the YourPOCKET SILVERKILLER package are supplied by NanoMedical and were tested on May 14, 2020 at the prestigious Nelson Laboratories LLC, U.S.A. (see. Final Report on Bacterial Filtration Efficiency BFE under 1272274-S01 and Final Report on Viral Filtration Efficiency VFE under 1272273-S01 with results BFE >99,9 % and VFE >99,9 %) The manufacturer NanoMedical, s.r.o. holds CE certification for a medical device made of the same material as this product.
Why the mask is treated with SILVERPLUS®
SILVERPLUS® active silver ion technology adds antibacterial and antifungal properties to the mask. In addition, the silver ions help neutralise odours and are suitable for allergy sufferers and people with problematic skin. The treatment makes the mask antimicrobial, antiseptic and anti-allergic. This treatment remains functional even after 100 washing cycles at 60 °C (according to ASTM-E2149-01 test method). The antiviral effectiveness is claimed to be up to 90%. The bottom layer is made of 100% cotton used in medicine. Both fabrics are OEKO-TEX 100 certified and are health-safe.
Benefits of the YourPOCKET SILVERKILLER mask with a pocket:
An economical alternative,
SILVERPLUS® active silver ion technology,
nanofiber membrane tested to effectively trap viruses and bacteria,
washable fabric mask with a pocket,
large pocket for easy insertion of filters.
Disadvantages of the YourPOCKET SILVERKILLER mask with a pocket:
Overall filtration ability is determined by the tightness of the mask.
The filter must be changed after 12 hours.
It does not have a nose clip.
How does the nano filter work?
The nano filter is made of a barrier nanotextile with a nano layer that works on the principle of a mechanical barrier. This means that the size of the holes in the nanofiber membrane are so small that a virus, bacteria or other sub-micron particles will not pass through.
How long can I use one nano filter for?
The effectiveness of the filter decreases with wear time, providing optimal protection for up to 12 hours. Once the filter gets wet, it loses its ability. The wear of the filter depends on the intensity of breathing, for example during sports or high intensity activity we recommend changing it after 2 hours.
How do I know if the filter in the mask is ineffective?
As soon as you feel that it is harder to breathe in your filter mask, it is a sign that the filter is clogged. At that point, we recommend replacing the filter.
Instructions for inserting the replacement nanofilter into the YourPOCKET mask
Cut out an 18×16 cm rectangle from an A4 sheet of paper and fold it to 18×8 cm. Next, ideally work in sterile protective gloves, or use an alcohol-based disinfectant or wash your hands with soap and water.
Insert an 18×9 cm sheet of paper into the resulting folder.
The filter will protrude 1 cm from the sheet.
Grasp the folder at the fold and, with the side of the filter protruding, insert the entire folder into the YourPOCKET mask.
Hold the nanofilter over the YourPOCKET mask at the point where it protrudes from the paper folder and pull the folder out without the filter. You can use the folder in the next exchange. The filter is inserted and YourPOCKET is ready for use.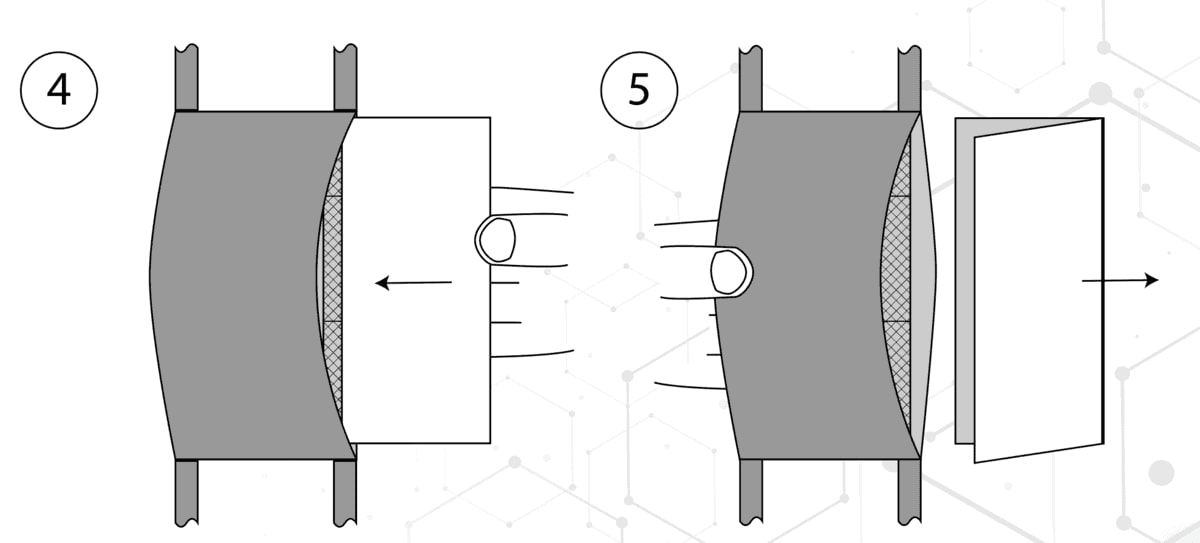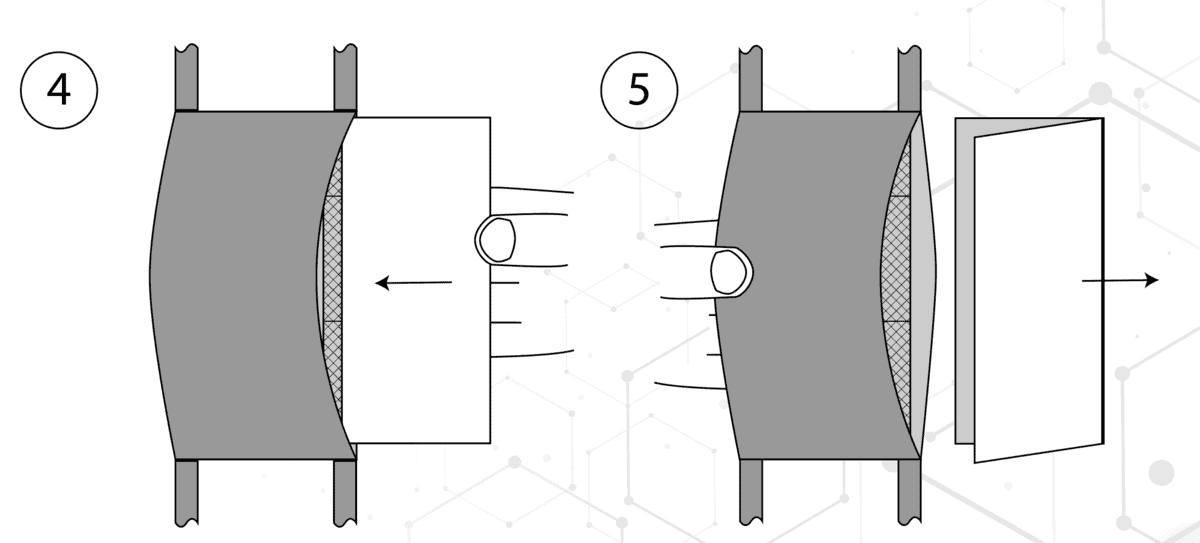 YourPocket maintenance instructions:
When washing, select a programme with a recommended temperature of 60 °C and a duration of at least 30 minutes. After washing, ideally use the dryer. Sterilise by ironing or place in a conventional oven for 5 minutes at a maximum temperature of 100 °C. For maximum effectiveness, store washed YourPOCKETs in a disinfected PVC resealable box or PVC bag and handle with sterile protective gloves. The natural shrinkage of the product is up to 5%. With repeated use and washing the product may lose colour and the fabric may gradually degrade, this is the effect of normal wear and tear.
Size:
Instructions for disposal of material
Wrap used YourFILTERs in a PVC bag and dispose of them in mixed waste. Do not dispose of YourFILTER separately in the garbage. Used YourFILTERs are not classified as hazardous waste. Be considerate of your surroundings.
Caution
The seller accepts no liability, either direct or indirect, for damages (including loss of profit or loss of reputation) caused by improper application or use of the material.
For people with a larger face, longer wearing time and replaceable filters
satisfaction, ordered repeatedly
A pleasant simple face mask with the option of inserting a nano filter. It is for a larger face, so it is not suitable for children. there is also a wire missing for shaping according to the nose. I made the children's masks smaller and made a wire tunnel, they wore them to school and it was good. I washed every afternoon, put a new nanofilter in the morning and so on and on.....
I
Ivan
Finally a mask that fits me. Also ideal for larger faces. I recommend buying nose clips for it, which you simply stick inside! Perfect product.
Great, great fit

I am very satisfied with the masks, the best we have ever had, they are for children to wear all day at school great for adults too for work. We are asthmatics and we have no problem staying in these masks for a long time. THANK YOU. The masks have a very pleasant, soft material. The goods arrived beautifully packaged in a resealable package, everything was described - the composition of the material of the masks and nano filters, maintenance, use. Everything is just great. Colors beautiful.
Nano4Health (N4H) is a brand of Sen World, which has been producing protective equipment based on nanotechnology since 2014. The development and production of aids takes place in the Czech Republic, products are regularly tested in the American company Nelson Laboratories.
How do N4H products work?
N4H's main products are disposable textile masks and disposable filters woven from nanofibers with a diameter one-thousandth of a human hair. The structure of the material is so dense that bacteria, viruses or any other pathogenic particles cannot pass through it. The degree of filtration corresponds to this – 99.9%.
Some disposable masks and N4H inserts are additionally enriched with silver nanoparticles, which actively eliminate microorganisms caught on the masks and (in the case of bacteria) prevent their further reproduction.
Disposable filters are placed in the pocket of a cotton mask and replaced after a few hours of wear.
More information:
► Everything You Should Know About Silver Nanoparticles
Which N4H product to choose?
If you want a regular, disposable nanofiber mask (standard protection):
► Economical packaging of YourMask nanomasks
If you want a cotton mask with a pocket and filters made of nanofibers and with silver nanoparticles (maximum possible protection):
► version for adults and children from 7 years old in basic colors (YourPOCKET) - gray mask with pocket (+ 10 filters), pink mask with pocket (+ 10 filters) or set of 2 gray masks with pocket (+ 25 filters),
► version for adults and children from 7 years old with colorful patterns (YourFASHION) - blue or pink face mask with a pocket figures motif (+ 10 filters) or camouflaged mask with a pocket (+ 10 filters).