Designer Nanofiber Respirator är Style FFP2 - 5 pack White
Code:
2837/M
2837/L
Choose variant

The largest seller of nano products
More than 400 nanotechnology products under one roof.

Czech production
We manufacture nanoSPACE brand products in the Czech Republic
Related products
Product detailed description
The filtration technology of the är Style FFP2 respirator uses a European nanofiber membrane that is resistant to mechanical damage and can be disinfected up to 14 times in short-term use. är Style FFP2 Respirators are a respirator that has been developed as a designer protective device for all those who desire a higher standard of protection, but at the same time love elegant and trendy clothing.
The main advantages of the är Style FFP2 nanofiber respirator - 5 pack
The anatomical shape and nose clip ensure a perfect fit on the face, so there is no unwanted suction.
The durable water-repellent finish helps you breathe through the FFP2 mask and prevents outside water from getting inside.
Extremely light and comfortable FFP2 mask.
Made in Europe
ViralOff®️ treatment providing self-cleaning properties (reduces 99% of viruses, bacteria and fungi).
Ideal for allergy sufferers and people suffering from acne and eczema.
Nanomembrane with tested capture of particles the size of bacteria and viruses (captures 99.9% of viruses and bacteria - VFE and BFE tests)
FFP2, CE and Nelson Labs certification
DWR treatment that repels water.
What does ViralOff® mean?
ViralOff® is the latest anti-viral surface cleaning technology from the Swedish company Polygiene®, which has been developing anti-coronavirus products since 2004 during the SARS outbreak. Thanks to the revolutionary self-cleaning function, it removes 99% of viruses on the surface of the respirator within two hours. This technology is certified according to ISO 18184: 2019 (SARS-CoV-2, H3N2, H1N1). The technology reduces microbes (viruses, bacteria and fungi) within two hours. This value is tested by the worldwide standard test ISO18184:2019 and is a guarantee that the treatment works. This is a biocidal treatment using AgCl.
DWR treatment - what does it mean?
Superior fabric that allows you to comfortably enjoy your daily life.
Due to the DWR treatment of the fabric, the mask surface is slightly hydrophobic, which causes water to run off the material and not soak into it (Note: this does not mean it works in heavy rain :-) ). It also helps drain water from the inside of the mask, bringing it to the surface where it evaporates. DWR is completely safe and provides the first line of defense against aerosols released by coughing, sneezing and normal verbal communication.
ANTIFOG properties - ideal for people wearing glasses
Whether you wear prescription glasses or sunglasses, you've probably noticed that your glasses fog up in a regular respirator. The är Style FFP2 respirator adapts well to the face and, thanks to the foam and nose clip, does not allow air to pass through to the glasses and does not fog them.
How long can you wear the är Style FFP2 Respirator?
The nanofiber membrane has been tested for 14 disinfection cycles, but the life of the filter depends on many factors. We recommend disinfecting the respirator after each use and replacing it if there are signs of wear, no later than after 14 disinfection cycles. An internal study showed us that even after 5 treatments with spray disinfectants (ideally based on alcohol or isopropyl alcohol) there was no reduction in breathability, damage to the inner layer of the respirator, and above all no reduction in the filtration efficiency of the used membrane. Thanks to the use of disinfection and nano membrane capabilities, you can use the respirator up to 5 times longer than a regular respirator.
Certification of the är Respirator:
The är respirator complies with the European standard EN 149: 2001 + A1: 2009 and is FFP2 certified. Respirators have been tested by world-renowned testing institutions such as Nelson Laboratories USA. VFE and BFE particle blocking test result is ≥ 99.9%. är respirators have innovative filtration technology based on nanofibers with a multi-layer hypoallergenic composition without adhesives.
Size Guide: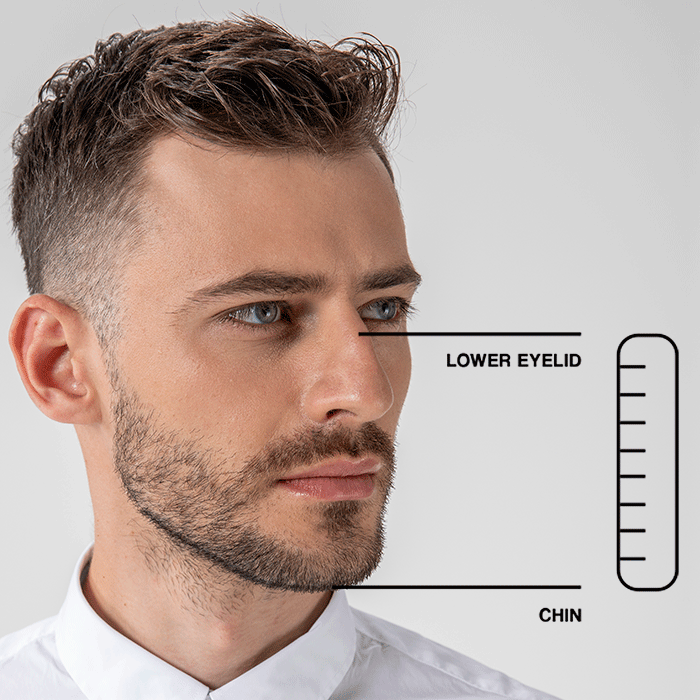 M - less than 10.4 cm (about 4")
L - more than 10.5 cm (about 4")
If the distance between the lower eyelid and the chin is on the size limit, choose a larger size for a better fit. You can always adjust the respirator.
Be the first who will post an article to this item!
Respirator är Style is a Czech brand of premium respirators that combines high filtration efficiency with an elegant design. Although it is a Czech brand with Czech manufacturing, they are mostly sold in the USA and Scandinavia.
It is an ideal choice for those who need increased protection and a luxurious appearance. The combination of Italian textile and a nanofiber membrane provides the är Style respirator with the ability to filter 99.9% of bacteria and viruses, and its ViralOff®️ treatment gives it self-cleaning properties.
The combination of premium Italian textile and a nanofiber membrane.
The respirator is designed for repeated use for up to 40 hours, which is several times more than other respirators. är Style respirator is also available in a pack of 5. It is a great choice for those who want to combine high filtration efficiency with a luxurious design. High-quality materials and advanced technology provide high protection and comfort. It is an ideal choice for those who need more than just protection.