Men's Base Layer Ultralight Top nanosilver®
Ultralight, baselayer for winter sports
Code:
5008/S
5008/M
5008/L
5008/XL
5008/XXL
Choose variant

The largest seller of nano products
More than 400 nanotechnology products under one roof.

Czech production
We manufacture nanoSPACE brand products in the Czech Republic
Related products
Product detailed description
Material
52 % polyester (Thermo°Cool™)
44 % polyester (antibacterial fiber nanosilver®)
4 % elastan (Lycra®)
Thermo°Cool™ - Technology
This unique system uses a combination of dense and channeled fibers to wick away moisture and heat. By drawing sweat and heat away from your body, Thermo Cool Technology helps you stay cool and comfortable all day long.
nanosilver® - antibacterial
Silver molecules are firmly attached to the polyester fibres. Silver is known for its antibacterial effects - it eliminates bacteria produced in sweat, which are the source of odour. Once the socks are dry, they do not smell. However, this process is not endless. After the first few uses, the odor is suppressed, but after multiple uses, it may appear. Therefore, these materials also need to be washed. However, compared to conventional socks, the intensity of the odour is incomparably lower, as is the speed of its onset.
Lycra® - elasticity and pliability
Gives the material greater elasticity (pliability) and resilience. The stretch of these fibres is up to eight times their length.
Maintenance and washing
Nanosilver® does not require any special treatment. We recommend washing at 40°C and the following gentle washing aids, for example. Ironing or subsequent chemical treatment is not needed. Dry up to 60°C.

Softener
In order to maintain the functionality of nanosilver® technology, we do not recommend the use of fabric softener.The fabric softener forms a thin film on the fibres, which creates a barrier preventing direct contact of the skin and the material. The silver molecules need to be in direct contact with the skin for perfect effectiveness.
However, if you happen to accidentally treat your laundry with fabric softener, nothing happens. The film will disappear in the next wash.
Additional information:
We would like to notify the customers of possible negative reactions and damage to the material of nanosilver garments by aggressive components of sweat, anti-perspirants and creams before and after sunbathing. For example, anti-perspirants containing DEET can dissolve synthetic fibres, including PES.
Choose your size
| | | |
| --- | --- | --- |
| Size | Width | Length |
| S | 42 | 68 |
| M | 46 | 70 |
| L | 52 | 74 |
| XL | 58 | 78 |
| XXL | 64 | 82 |
Jak správně zvolit velikost pánského nátělníku?
šířka je rozměr položeného nátělníku
obvod hrudníku je dvojnásobná šíře + natažení materiálu až 10cm, který je velmi pružný
podle toho, jak chcete mít nátělník na tělo zvolte velikost
např. upnutý hrudník 94 cm > (94-10)/2 = 42 > velikost M, volný 94/2=47 > vel. L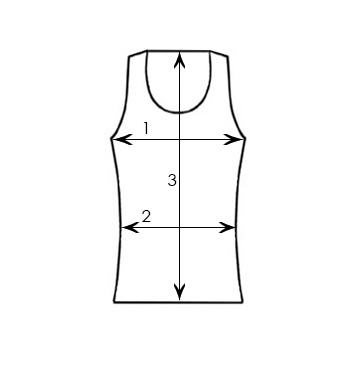 Be the first who will post an article to this item!