If you suffer from allergies, you know how important it is to choose the right pillow. The wrong pillow can mean a sleepless night spent sneezing and sniffling. But the right pillow can provide relief from your allergy symptoms and help you get a good night's sleep. What material a pillow should be made of and what the main differences are between the three types of pillows will be discussed in this article. We will advise you when choosing a anti allergy pillow with a zipper, pillow with a zipper and filling in a separate pillowcase, and regardless of whether you should choose a anti allergy pillow without a zipper. We also reflect on the differences between the regular pillow and anti-allergy pillows. Here are some tips for choosing the ideal pillow for allergy sufferers.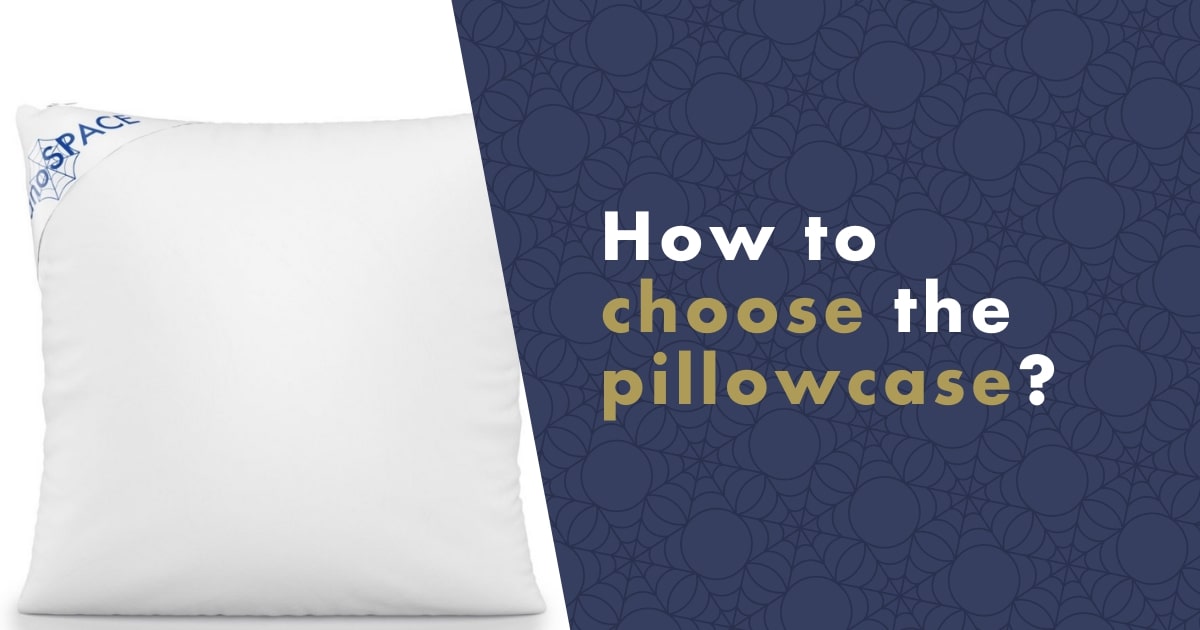 What can you find inside a regular pillow?
After two years, up to 10% of the weight of the pillow is made up of dust mites. But that's not all, when Airmid Health Group examined dozens of used pillows, they found that 100% of them contained bacteria and 50% mold. What did they find there?
Dust mites and their feces
Staphylococcus aureus – causing a variety of infections ranging from mild skin and soft tissue inflammation to life-threatening sepsis.
Escherichia coli (EC) - causes diarrhea.
Aspergillus – a mold that commonly causes allergies and asthma
Candida - a fungus that causes topical infections
How to choose the best anti allergy pillow for an allergy sufferer?
When choosing a pillow, we first look at what the pillow is made of and whether the material protects against the penetration of dust mites into the filling.The filling is also important, you should always make sure it can be easily cleaned. If you are buying your main pillow for sleeping, you need a pillow that can be open for adding or removing the filling. This means whether the pillow has a zipper or not, and for larger pillows we should also be interested in whether the filling is in a separate cover or is directly in the pillow.
What is the best anti allergy pillow filling for dust mite allergy sufferers
A pillow with a hollow fiber filling is commonly recommended for allergy sufferers, which is often labeled as hypoallergenic in stores, but this is not entirely true. Paradoxically, hollow fiber filling is an even better shelter for dust mites than feathers. Why? They have more hiding space in it. Dust mites need darkness and warmth to live. The filling alone will therefore not protect you from the reproduction of mites. But it has advantages, it is easy to wash and is also suitable for people allergic to feathers. It is therefore hypoallergenic for those allergic to feathers, but the filling itself will not help those allergic to dust mites.
But be careful when washing, although washing at high temperatures will kill the mites, the mites feed not only on the remains of your skin but also on the dead bodies of other dust mites. It therefore reproduces very quickly. This is also why it is preferable to use anti allergy pillows that prevent the gathering of dust mites inside the pillow. Do you know why frequent washing of pillows has not been recommended for allergy sufferers for a long time? Despite the use of a dryer, for example, it does not dry perfectly, and mold often forms in blankets and pillows. So if you wash your pillows, you should always let them dry for a few days before covering them.
Why go for an

Anti-Dust Mite and Allergen Proof Pillow

?
The Anti-Dust Mite and Allergen Proof Pillow is the ideal choice for allergy and asthma sufferers. It protects them perfectly from the little creatures invisible to the naked eye that live in many places of your home, devouring dead human skin in the warmth and dark. Most of all places, they love the bed where you will find millions of them. And the pillow is no exception. No wonder that people allergic to dust mites wake up tired, swollen, coughing or with stuffy nose.
The nanoSPACE® antiallergic pillow contains a Nanofiber Technology preventing dust mites from accumulating and proliferating in the filling. It is so effective that dust mites have absolutely no chance getting to you and into your respiratory tract. The barrier is purely mechanical, no chemicals are used. Yet the pillow is very comfortable, soft and breathable.
If you have decided to get yourself an Anti-Dust Mite and Allergen Proof Pillow, you will sure appreciate that you no longer need to use an antiallergic cover or bed linen. Because the pillow alone provides 100% protection from allergens. In addition, you need to wash it just once or twice a year and it will still retain its efficiency.
What should the anti allergy pillow be made of?
Although there are several technologies to prevent dust mites from entering the pillow, the most effective technology at the moment is the nanofibre membrane. Pillows with a Nanofiber Technology prevent dust mites from gathering or multiplying in the filling, without the use of any chemicals. This is a purely mechanical barrier, through which dust mites and their allergens do not have the slightest chance to pass. Think of the structure of the membrane as a very dense net that doesn't let the mites in, so they can't reproduce. The biggest advantage is that the pillow with a nanofiber membrane allows air to pass through, so they are very comfortable and breathable.
Read how to take care of the nanoSPACE® nano bedding.
The difference between an used regular pillow and an used anti allergy pillow
We went to northern Bohemia to the laboratory to look under the microscope at the filling of the Anti Allergy Pillow, in which has been used for two years, and compared it with the filling of used feather bedding. The difference was huge. While the filling of Anti-Dust Mite and Allergen Proof Pillow was clean even after years of use, the regular bedding was full of dust, dead skin and dead microorganisms.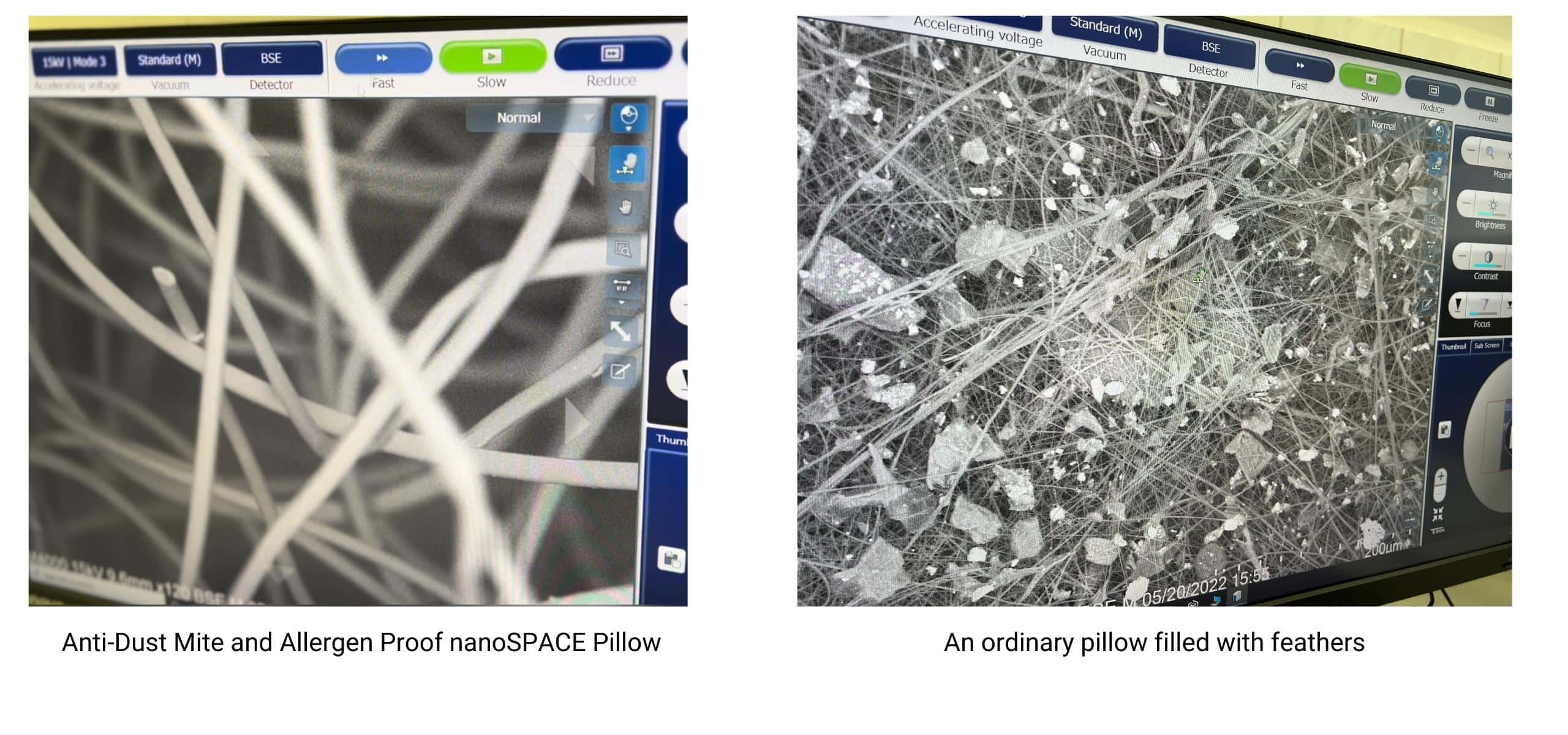 How to choose a pillow for allergy sufferers?
nanoSPACE® offers several type of pillows with nanofiber membrane. They differ in size, shape or design, but are equally uncompromising in their fight against dust mites and their allergens.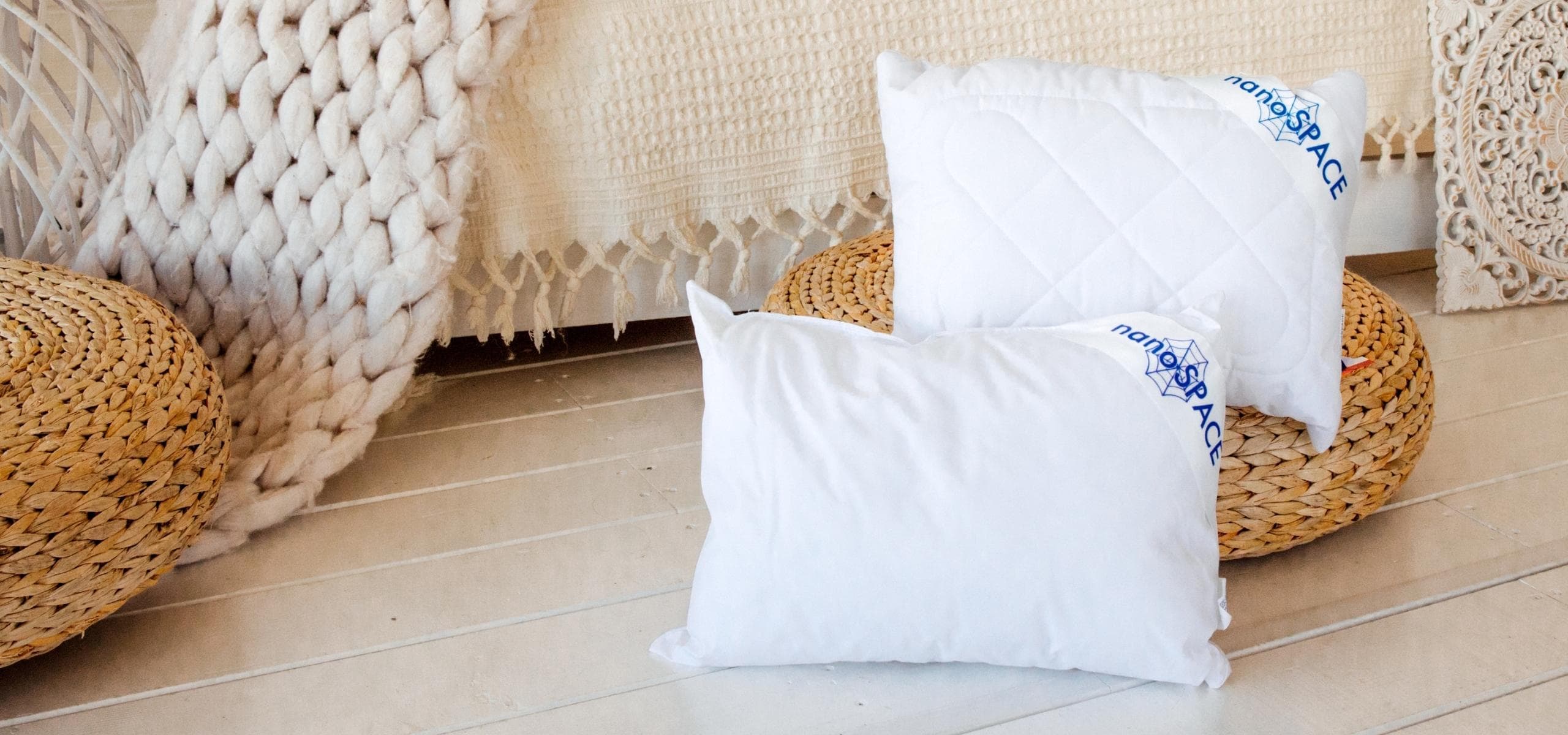 All our pillows are designed so as to keep your neck level and thus properly supporting your neck, head and spine. They are filled with Standard ball filling, one of the highest quality filling materials on the Czech market. It is thanks to this filling that nanoSPACE® pillows retain their volume and do not flatten for a long time. The filling of hollow polyester fibers has excellent recovery capacity as well as great insulating and thermal properties.
When choosing a suitable pillow, you should first make sure whether you are looking for a pillow for your home or travels. You can choose from:
Anti Allergy Pillow nanoSPACE®, non-quilted, non-zippered
Anti allergy piillows without zippers are the cheapest option, they are especially suitable for decorative pillows on the couch or as second pillows for the bed. You can't regulate the amount of filling in them because they don't have a zipper. We therefore do not recommend them as the main pillow for sleeping, where you might want to remove the filling or replace the old filling after a few years. The smallest two sizes 30x40 and 40x40 are packed in 2 pieces as standard.
Anti Allergy Pillow nanoSPACE, quilted, zippered
It appears somewhat different from the classic non-zippered version, but its functional properties are absolutely identical. It will not let a single dust mite interfere with your sleep. The only two differences are the quilting and the zipper. The latter allows you to add filling, or even remove some, if you want. It makes them ideal for sleeping because you can easily adjust the amount of filling in them. Also, keep in mind that any filling will wear off over time, but if you get a pillow with a zipper, you can easily refill it.
Anti-Dust Mite and Allergen Proof Pillow quilted, zippered is also available in a number of sizes.
Anti Allergy Pillow nanoSPACE – quilted, double-zippered alaska
This type of pillow is the most expensive, but it is also the most practical. The filling is in a separate cover, so you can easily remove it before washing. This type of pillow is called a pillow with a double zippered or an Alaska pillow. We only sell this pillow in the largest size, 70x90.
Decorative Anti Allergy Pillows | Nanocotton®
This pillow is an ideal decorative pillow for allergy sufferers. The pillow is made from our anti-dust mite bedding Nanocotton®, which combines organic cotton of the highest quality and a nanofiber membrane. Our organic cotton is not bleached or dyed in any way, so it is completely gentle on sensitive atopic skin. It is thus a combination of 100% natural material and advanced nanotechnology.
You can choose from three sizes. The smallest size (30 x 40 cm) can also be used as a travel pillow.
| | |
| --- | --- |
| Dimension: | Weight: |
| | 300 g |
| | 400 g |
| | 450 g |
Memory Foam Orthopedic Anti-Allergy Pillow nanoSPACE®
Memory Foam Orthopedic Anti-Allergy Pillow nanoSPACE® is designed specifically for allergy sufferers who has back pain. It is filled with a special viscoelastic foam that has an open cell structure, which means that it changes its stiffness depending on body temperature and pressure. This allows the pillow to conform to your body and provide just the right amount of support, ensuring that you can sleep comfortably and wake up feeling refreshed.
One of the key benefits of the nanoSPACE® pillow is its ability to provide orthopedic support. The viscoelastic foam is designed to contour to the shape of your head and neck, providing supportive and comfortable sleep. This can help to reduce aches and pains in the neck and shoulders, and improve spinal alignment.
In addition to its orthopedic support, the nanoSPACE® pillow is also designed to be hypoallergenic. It is covered with a nanofiber membrane textile that protects against dust mites and their allergens. This makes it an ideal choice for anyone who suffers from allergies and asthma, as it will prevent the accumulation of dust mites and their allergens in the pillow.
The open cell structure of the viscoelastic foam also helps to regulate temperature, keeping you cool in the summer and warm in the winter. This can improve your sleep quality and ensure that you stay comfortable throughout the night. Additionally, the memory foam material is known for its durability and longevity, so you can expect the nanoSPACE® pillow to provide long-lasting support and comfort.
Overall, the Memory Foam Orthopedic Anti Allergy Pillow nanoSPACE® is an excellent option for anyone who is looking for a comfortable and supportive pillow that will help them to sleep better and feel refreshed in the morning. Its orthopedic support, allergy protection, temperature regulation, and durability make it an ideal choice for anyone who has a problem with neck pain, back pain, or spinal issues.
Do anti allergy pillows work?
Anti-allergy pillows can be effective at reducing allergy symptoms and improving the quality of your sleep. When you use an anti-allergy pillow, you can expect to see and feel the benefits after the first night. However, it is important to choose the right type of anti-allergy pillow in order for it to be effective. The best anti-allergy pillows are those that are made with nanofiber technology.
Nanofiber is a type of material that has a very small pore size, which is too small for dust mites and their allergens to pass through. This effectively blocks them and prevents them from accumulating in the pillow. This means that when you use an anti-allergy pillow that is made with nanofiber, you can be confident that you are protected against dust mites and their allergens.
Treat yourself to comfortable sleep without dust mites and chemicals
If you want to treat yourself or your loved ones to comfortable, undisturbed sleep, the nanoSPACE® anti-dust mite pillow in any of its versions is definitely a great way to achieve that. Together with the protection of the mattress and the duvet, it provides 100% impermeable protection against dust mites and their excrements. They will have no chance to threaten and irritate you, while you will be able to enjoy quality rest without allergens.
Tip: See how to equip a bed for an allergy sufferer.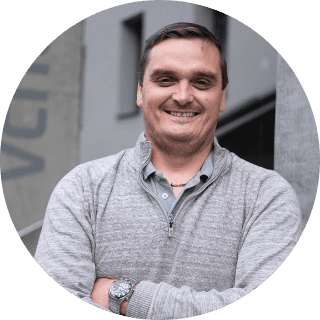 Josef Handrejch from nanoSPACE®
Josef Handrejch is a graduate of the Technical University of Liberec. At nanoSPACE®, he is in charge of research and development of new nano products. He has extensive experience in textile production and application of nanofiber materials.