(2 pack) Anti Allergy Pillow nanoSPACE® 40 x 40 cm, non-quilted, non-zippered
Code:
NS.09.035

The largest seller of nano products
More than 400 nanotechnology products under one roof.

Czech production
We manufacture nanoSPACE brand products in the Czech Republic
Related products
Product detailed description
How does nanofabric in anti allergy pillow work?
The nanofiber technology in our anti-allergy pillows effectively prevents the accumulation of dust mites, their allergens, viruses, and bacteria in the filling. The nanofiber fabric acts like a spider web, with openings that are only 80nm in size. This is too small for dust mites, their allergens, bacteria, and viruses to pass through, effectively blocking them and preventing them from accumulating in the pillow.
Our pillows are made using a three-layer laminate, which consists of a 100% polyester microfiber fabric on the face side, a nanofiber membrane in the middle, and a 100% polyester knit on the reverse side. This construction allows the pillow to be soft, smooth, and breathable, while also providing effective protection against allergens. The microfiber and knitted fabrics contribute to the pillow's softness and smoothness, while the nanofiber membrane acts as a barrier, preventing allergens from accumulating in the filling.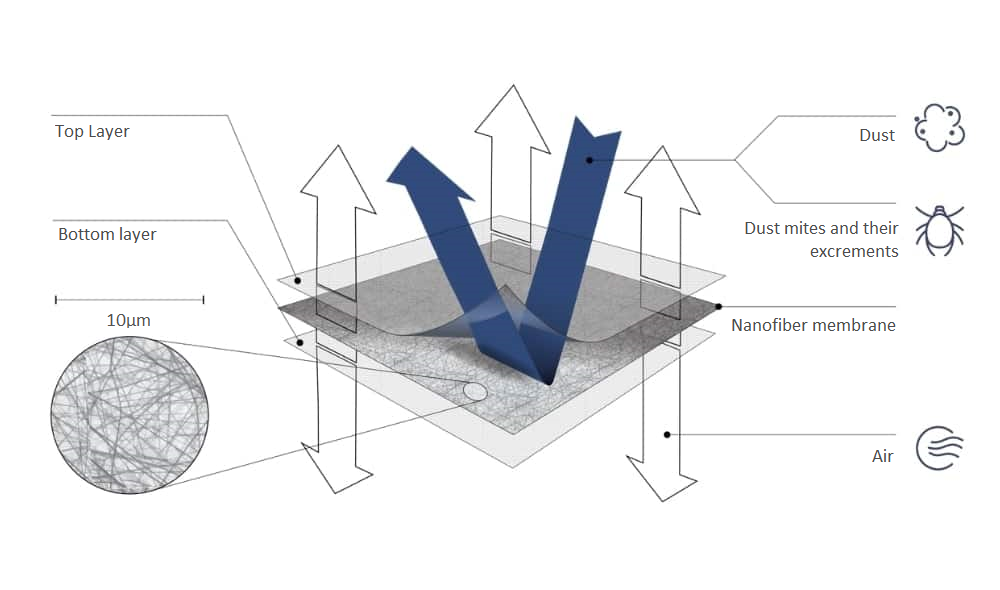 We guarantee 100% efficiency and safety of the material
The nano fabric prevents the collection of dust mites, their allergens, viruses and bacteria in the filling. Imagine nanofabric as a spider web whose holes are only 80nm in size. The size of a dust mite is around 420,000nm, its allergen is 1,000nm in size, bacteria 100-10,000nm, virus around 100nm and scabies 300,000nm. Thus they have no chance to pass through the fabric.

The effectiveness of the nanofiber membrane was tested by the Textile Testing Institute in Brno (penetration of microorganisms) and the Technical University in Liberec (penetration of dust particles of 1µm). The Public Health Institute in Prague tested skin tolerance and possible allergic reactions.
Test results:  
effective capture of microorganisms was proven

 ≥

99.0 %
effective capture of dust particles was proven

 ≥

99.9 %
no negative reactions in contact with human skin were proven
Comparison with other antiallergic products
The results of the comparative tests performed by the Technical University of Liberec clearly show that the nanofiber material outperforms other available woven and non-woven barrier fabrics in efficiency, breathability and water vapour permeability and is evaluated as the most effective.
Pleasant and breathable material
We know how important it is to be comfortable under the pillow. That's why for several years, we have been working with European nanofiber experts to develop a material that is breathable, pleasant to the touch and soft. Today, our bedding is the ideal combination of 100% dust mite protection and comfort.
Simple maintenance
We recommend washing the nanoSPACE® anti-dust mite pillows 1 - 2 times a year without fabric softener at 40°C for longer life (can be washed at 60°C if necessary) in chlorine and phosphorus free detergent or gel. For example, the following products are also suitable for washing nanofiber materials. We do not recommend machine drying, even at low temperatures.
Composition of the top layer material:
99% polyester - microfiber - low surface weight and softness
1% polyamide 6 - nanofiber membrane
Composition of fill material: 
100% polyester - ball hollow fiber UNICO
Total basis weight: 
Breathability
The oxygen molecule is only 0.3 nm in size and can easily pass through the fabric's pores, so the material remains pleasantly breathable. 
Material certification
The used nanoSPACE fabric is certified by the OEKO-TEX® STANDARD 100.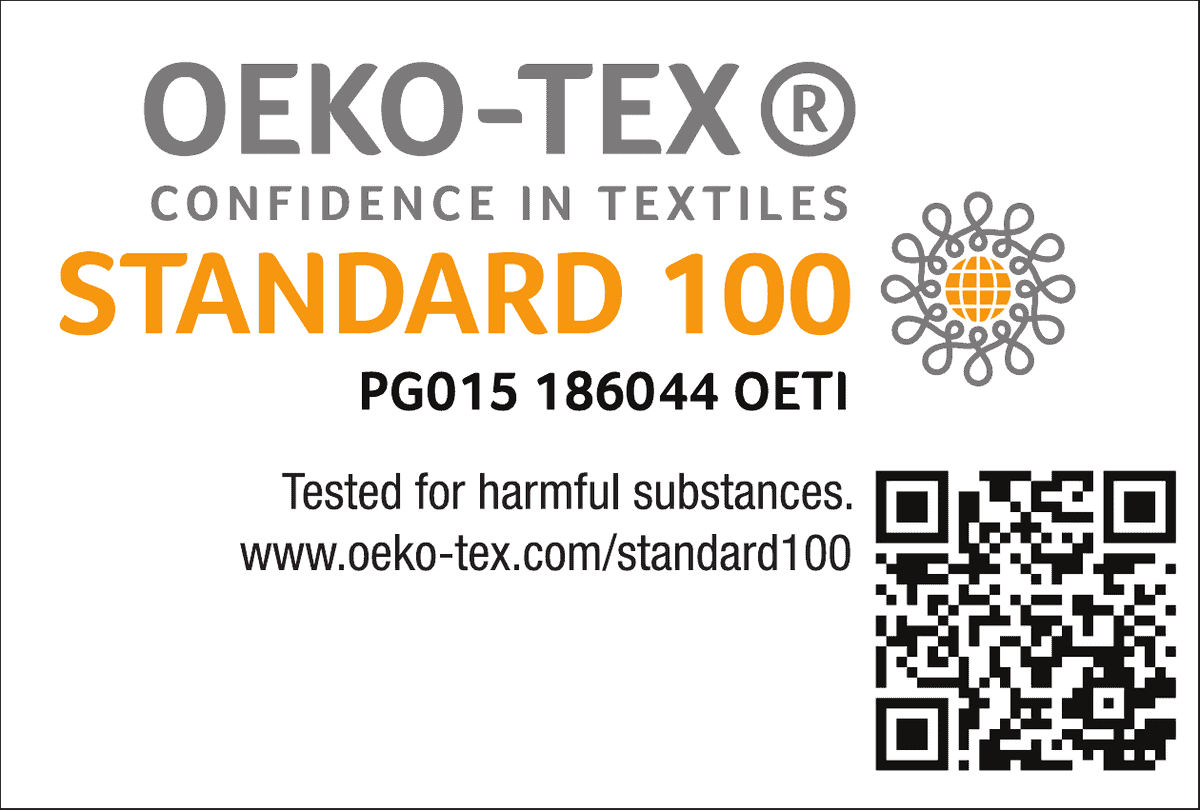 Recommendation for people suffering from severe allergies or asthma
We recommend treating the ceiling in the bedroom, and possibly other rooms, with FN NANO® self-cleaning coating, which will eliminate allergens, bacteria and viruses from the air. An equally effective solution is a portable ozone generator, which effectively cleans the air of mould, allergens, viruses (including COVID-19), bacteria and odours... 
Related articles
Be the first who will post an article to this item!
The Czech company nanoSPACE has been operating on the market since 2012 and focuses primarily on products where nanofiber textiles are used. In 2012, it became the first manufacturer to use a nanofibrous membrane in barrier covers for allergy sufferers. Since then, it has expanded its portfolio to include nano duvets and nano pillows, which are especially suitable for people with dust allergies.
In 2016, it was the first in the world to present functional bed linen that can fully replace barrier coatings. This product line, which bears the name Nanocotton®, was able to combine the functionality of the material with organic cotton and is suitable not only for allergy sufferers, but also for atopic patients.
During the coronavirus epidemic in 2020, nanoSPACE used its long-term knowledge in the field of nanofiber materials and started the production of anti-virus neck gaiters and protective masks made of nanofiber. From 2021, it also produces designer washable nano masks.
In 2021, the nanoSPACE company founded the subsidiary nanoSPACE Technology, which is dedicated to development, research and innovation in the field of nanofiber textiles.