BreaSAFE® ANTI-COVID-19 FFP2 nano respirator 3 pcs
Reusable
Code:
372

The largest seller of nano products
More than 400 nanotechnology products under one roof.

Czech production
We manufacture nanoSPACE brand products in the Czech Republic
Related products
Product detailed description
A reusable nanofiber respirator with FFP2 and COVID-19 certifications guaranteeing appropriate protection against the SARS-CoV-2 virus according to the EU standard; i.e. it effectively protects against the coronavirus. 
Disadvantages of the BreaSAFE® ANTI-COVID-19 FFP2 nano respirator:
A specific shape.
It does not fit tiny faces or those with a big nose.
The hard shell shape can appear massive.
Seals very well - people with lower lung capacity may take longer to get used to breathing through the respirator.
Benefits of the BreaSAFE® ANTI-COVID-19 FFP2 nano respirator:
It contains a nanofiber membrane that reliably protects against bacteria, viruses and allergens.
No breathing valve - thus protecting the user and the environment.
 Can be used repeatedly even for several days.
Low weight - 16g only.
It is highly breathable - 150 cm2 of breathing surface ensures easy and comfortable breathing.
It has a low air bypass coefficient around the mask = excellent "FIT FACTOR".
It holds its shape and fits perfectly on the face.
The multi-layered composition is free of adhesives and binders and is hypoallergenic.
It is eco-friendly and made in the Europe
It was the first to be certified by the VUBP according to the brand new EU standard: the COVID-19 PPE-R/02.075 version 1.
Examples of use of the BreaSAFE® ANTI-COVID-19 FFP2 nano respirator:
Healthcare.
Public administration.
Industry.
Public transport.
Personal protection.
The respirators use nanoparticles of silver (nanosilver), which has been evaluated as one of the most effective antimicrobial agents. Thanks to active silver in the nanomembrane, microorganisms cannot survive and proliferate in the structure of the respirator. In addition, due to the high degree of breathability of the material, there is no need to use an exhalation valve, which is also why respirators can be used against COVID-19.

Proudly developed and produced in the Europe by PARDAM NANO4FIBERS s.r.o.
What is "COVID-19 Certification"?
In response to the current spreading of the infection, the European Union has issued:
In response to the new coronavirus pandemic, the European Union has issued a recommendation that regulates the way the market (especially medical and protective equipment) is supervised in relation to COVID-19. A new official certification type (alongside the FFP series) for COVID-19 has been created to test products against the new standard. As a result, users of COVID-19 certified products can be confident that the respirators are sufficiently effective against SARS-COV-2.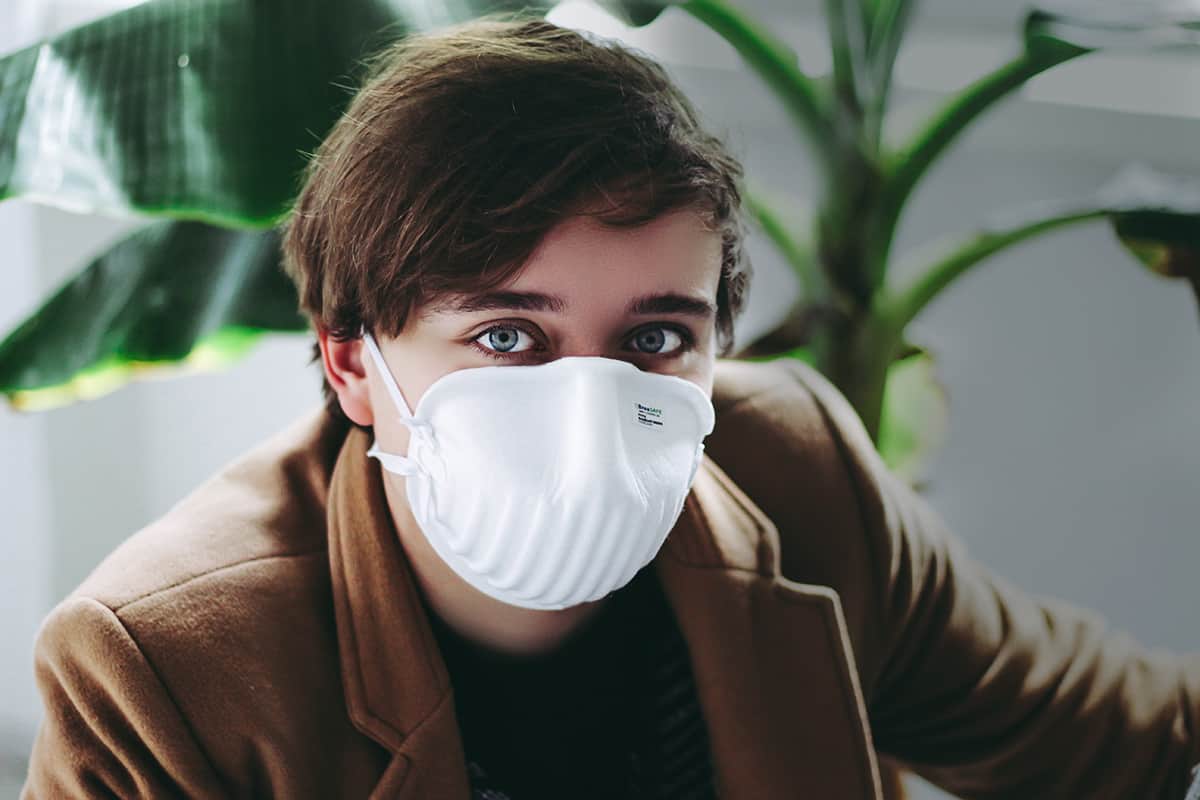 Why can BreaSAFE® ANTI-COVID-19 FFP2 nano respirator be used repeatedly? 
BreaSAFE respirators use a nanofiber membrane containing Nanosilver® particles. Thanks to the use of nanosilver, microorganisms cannot survive and proliferate in the structure of the respirator. Therefore, BreaSAFE® respirators can be used repeatedly until mechanical damage occurs. For antiviral protection, we recommend 1-2 weeks depending on the frequency of use.
How to sterilize the BreaSAFE® ANTI-COVID-19 FFP2 nano respirator?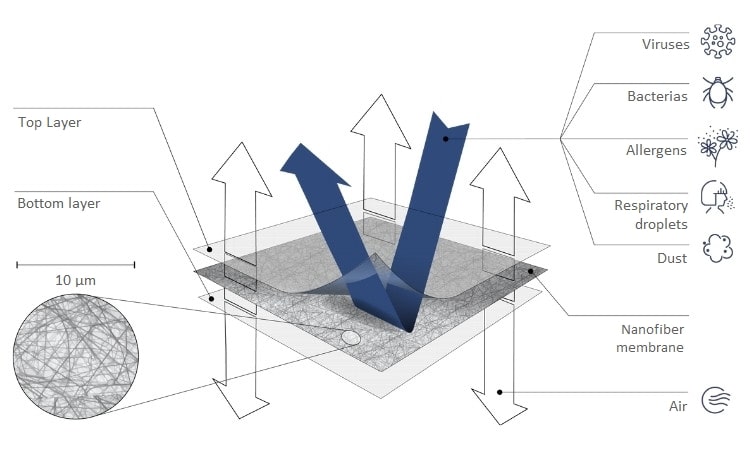 When used as protection against viruses, BreaSAFE respirators can be reused repeatedly (unlike conventional respirators, there is no reduction in effectiveness), but they must be sterilized after each use with alcohol or isopropyl alcohol-based disinfectants. It is not necessary to dilute the agents, but avoid disinfectants with added additives.
Never use agents containing hydrogen peroxide, which acts as a strong oxidizing agent and can damage the nanofiber membrane in the respirator.
Never use products containing glycerin (e.g. products labelled ANTI-COVID-19 or general hand sanitizers). Glycerin remains in the respirator, which can lead to clogging of the respirator and reduced functionality. Glycerin could also be released and inhaled.
The BreaSAFE respirator is breathable and fits well on the face
The BreaSAFE respirator is made of 3 to 4 functional layers laminated without the use of any additives in the form of glue or binder. This makes it lightweight and anatomically shaped into a flexible shell. The BreaSAFE respirator has a unique design and material composition, so it can be used repeatedly and for extended periods of time. BreaSAFE® respirators are all-permeable and their breathability is so superior that they do not require the use of exhalation valves where bacteria, viruses, fungi and yeast can proliferate. The absence of a valve in the design of our respirators allows for repeated and safe use.
What is the difference between FFP3 and COVID_19 with regard to the level of protection?
There are 3 certified levels of protection that the respirators are tested for, namely FFP1, FFP2 and FFP3. The new COVID-19 certification guarantees sufficient protection against the SARS-CoV-2 virus according to the EU standard. FFP3 and COVID-19 respirators are able to protect the user against viral infections (e.g. "common" influenza, SARS, MERS, COVID-19, etc.).
What does a high "FIT FACTOR" of a respirator mean?
Measurements by a certified testing institute assess the respirator's ability to filter air and remove unwanted particles, but its fit is also important - the so-called "FIT FACTOR". Only a respirator that meets the parameters of the EU standard for tightness and the amount of air that gets in and out around the respirator will be certified for protection level FFP3 or COVID-19.
How long can the respirator be used for?
The respirator can be worn repeatedly for several days or weeks, it does not need to be cleaned, it is enough to sterilize it with e.g. disinfectant for respirators. The maximum shelf life/lifetime of a respirator cannot be determined, it always depends on the conditions in which it is used. The respirator must not be soaked in water or any other liquid.
The respirator must be replaced, if:
Dust has penetrated the respirator and contamination has been detected.
Respiratory resistance has increased significantly.
The respirator must be stored in a dry and clean environment at temperatures between -5 and +40 °C.
Test of efficiency of the European BreaSAFE® ANTI-COVID-19 FFP2 nano respirator
The BreaSAFE respirator has been tested at Nelson Laboratories, one of the few laboratories in the world to measure viral filtration efficiency (VFE), i.e. the effectiveness of the device in simulated virus capture, according to a methodology derived from ASTM F2101. For the measurement, they use an aerosol in which bacteriophages ?X174 are dispersed. Testing was conducted in accordance with US FDA GMP regulations 21 CFR Parts 210, 211 and 820. The test resulted in a greater than 99.5% capture rate for BreaSAFE respirators.
How to take care of the BreaSAFE® ANTI-COVID-19 FFP2 nano respirator?
It is recommended to sterilize or disinfect the respirator after each use. Disinfection can be done using a spray disinfectant, ideally alcohol or 2-propanol based; hydrogen peroxide based disinfectants are not recommended. Sterilisation of the respirator can be carried out in an autoclave or electric oven at 70 °C for 5-10 minutes. Higher temperatures are not recommended as they could damage the nanomembrane. The use of a microwave oven is not recommended due to the risk of fire. Do not put disinfectant-treated respirators in a hot oven until they have dried thoroughly, due to the risk of ignition of the disinfectant vapours. Sterilization with a germicidal or UV lamp is not recommended as it may damage the nanomembrane. Ozone sterilization is not recommended either as ozone is a strong oxidizing agent and could cause damage.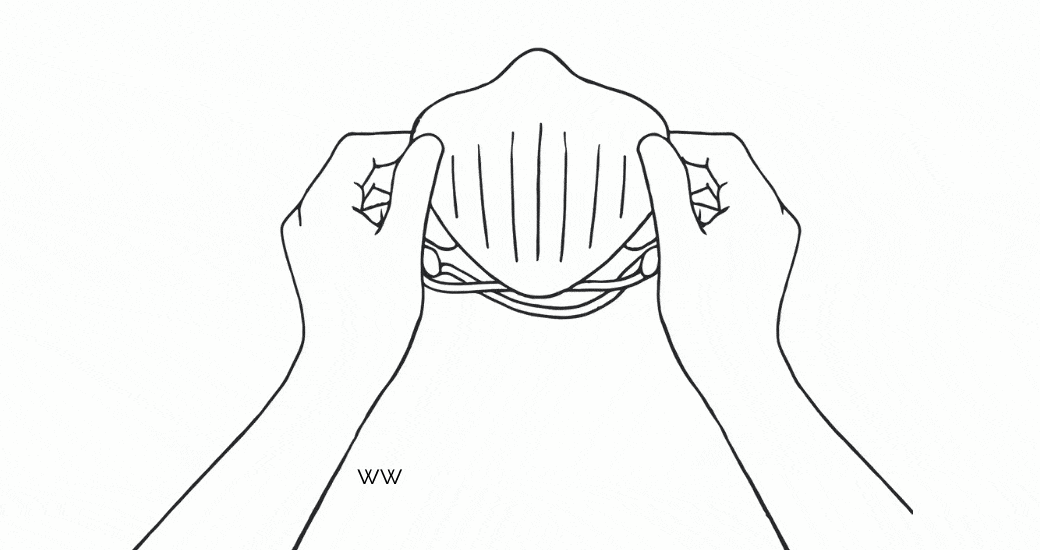 Instructions for use:
1. Grasp the respirator and hold it to your face with the nose piece up.

2. Pull the straps over your head. Adjust the length of the strap so that it does not cause blistering, but at the same time so that the respirator does not move across the face.
3. Check the tightness of the respirator. If you detect air leakage between the respirator and the face, you can improve the fit by:
- moving the respirator to a more suitable position,
- adjusting the length of the straps,
- moving the straps to a more suitable position.
The requirements for sealing will probably not be met, if the user has facial hair on the contact area of the sealing line.
What to do if I am having problems breating through the BreaSAFE® ANTI-COVID-19 FFP2 nano respirator?
The BreaSAFE nanofiber respirator has excellent breathability and pressure resistance, but if you get a reliable seal, people with lower lung capacity may find it hard to breathe. This is due to the fact that we are used to protective gear with poor sealing that leaks. From the experience of our customers and healthcare professionals, we know that in such cases it is necessary to get used to the respirator. Most people just need 30 minutes to 2 hours of wearing it, after which they have no more breathing problems. If you need high protection to do your job, we recommend that you start wearing the respirator for shorter periods of time, for example for shopping.
Dimensions
Nose root to under the chin: 13 cm (+/- 0,5 cm)
Between cheekbones: 12,5 cm (+/- 0,5 cm)
About PARDAM NANO4FIBERS s.r.o.
The respirators are produced by PARDAM NANO4FIBERS s.r.o. (formerly only PARDAM), a leading global manufacturer of inorganic nanofibers. PARDAM NANO4FIBERS s.r.o. is a member of the European Nano Industries Association.
TK
Tomáš Kelis
I'm so glad I found these BreaSAFE ANTI-COVID-19 FFP2 nano respirators! They're the best for dust protection. I work in a dusty environment and these really help keep the dust out of my lungs. I highly recommend them!
I'm really happy with the BreaSAFE ANTI-COVID-19 FFP2 nano respirator! It fits well and it's really comfortable to wear. It's also very easy to breathe through, which is really important. I feel much safer knowing that I have this respirator with me in case of an emergency.
IK
Iva Krombholzová
I buy repeatedly, it fits well, I feel safe, but it has happened to me a few times that the grips on the rubber bands have come off.
LK
Lucie Kuželková
The respirator is comfortable, does not pressurize, seals well, can be repeatedly sterilized and reused. There is enough space in the shell and it is comfortable to breathe. Disadvantage for me: the glasses don't hold well on or above it on the nose, peripheral vision is impaired due to its size, the fixing rubber always falls out when I take it off.
Her husband wore it and was satisfied
It fits well even on an atypically shaped face.

Quite pleasant, but there are unnecessary edges at the nose (I would cut / I cut) + foam tape over the nose I would add a wider tape up to the cheekbones, i.e. it would seal better.

I understand that the main reason for the higher price is a nanomembrane, moreover, from a Czech manufacturer, which I am happy to support. But after all, thanks to that price, I don't understand how they can sell goods with such appalling quality of workmanship. After wearing it for a few hours, the rubber grip on one side came off, so I had no way to hold the respirator (luckily I had another spare, otherwise I would have had to hold the respirator on my face with my hands all day). I stuck it on at home so that the one on the other side flew off the next day. An infuriating fact and, in this respect, a big disappointment. I already had many other respirators for 1/10 the price of this one (Czech and Chinese) and I only had one problem and that was that the rubber band broke.
- mainly for safety, to protect your health -fits well -one minus- from the inside in the place where the rubber was cleaned, a silicone joint protruded, which was a big problem when put on, even though it is cut off, it is noticeable - otherwise I praise
Light, breathable, reusable, our employer also bought it for work, but it is difficult to work in combination with protective glasses, it has a larger volume and you cannot see through it at work (you cannot bend your head well with it).
In this case, I see it as a disadvantage that this respirator can be worn, after p adequate disinfection for a full 14 days. I would prefer to throw it away right away, but since I already paid such money for it (and unfortunately there are still two more pieces in the box), I will try to stew in it for an appropriate amount of time and hope that it does not get warm. In the heat, it really makes you faint.
Quality Czech product, reusable.
Quality workmanship, light and pleasant material, but the shape does not suit us completely, I definitely do not recommend it for a smaller face and a small nose.

Much one does not feel comfortable in it, but perhaps it balances the safety. He would like to fine-tune the grip of the mask with rubber bands, one of the rubber bands came off right away and now I have a knot.
I have no complaints, complete satisfaction
I would like to rate it, as well as the other products on the order, if I received them from the company. I had 2 orders, I received the goods on the second one - your email Hurray, it's at home!, but you don't ask about this. I know that this order was complicated due to a failed payment, subsequently canceled, but revived thanks to the kindness of Mrs. Paniszová ( 2021038157 ), but nothing here, nothing.
perfect
super material, fits perfectly on the face, I took different types and sizes - disposable, thin nano "summer" reusable, mask, satisfaction with everything
Light, it holds well on the face, but you can't breathe in it. At least I had a big problem. I had a feeling of absolute closure, which will probably serve the purpose against viruses, but in a moment he was exhaled inside.
- not foldable, can't be carried in pocket
< div class='heureka-rating-group minus'>
Can't adjust the size, may not fit well for everyone. Cost-effective due to repeated use.

I like the purchased product.
It sits well on the face and it`s well breathable.
ONLY NANO RESPIRATOR WITH CZECH CERTIFICATION. CHINESE GOODS IN PHARMACY AND ELSEWHERE DO NOT HAVE TRANSLATED SCRIPTS AND THEREFORE THE PERSON DOESN'T KNOW WHAT THEY ARE ACTUALLY BUYING, THE PHARMACY CAN'T HELP HIM, HE CAN'T KNOW CHINESE.

OK

the rubber bands are around the head, I prefer behind the ears
I can breathe well in it, because my face probably hasn't grown to the standard for adults :)) The guys in the family are worse off. It seals them in perfectly - until they feel like they're not breathing it in through their noses.
high protection, reusable
It is suitable for a larger face.
+ sits firmly on the face, seals well + handling with a respirator is better than with a mask + is more perfect than a veil - unresolved attachment of the clamping rubber, from time to time pulls out, it must be put back on (it's outside complication) The respirator is one of the more expensive ones. (purchased with tax included)
Ideally, if there was a slightly smaller size for this type for women. Otherwise, it seals perfectly and is very breathable. There is a small problem with the rubber that falls out on the thicker face, but we have already fixed that.
It suits me, but it might be big on a smaller face.
it was a present

Whoever it fits will be completely satisfied and won't need to take it off every time it's possible. As the manufacturer warns on the website, this type may not really suit every face. The new type of FFP3 already has a pressure element around the nose part.
It fits very tightly, but you need to ensure that the elastics loosen
J
Jitka
The respirator is too big and therefore does not fit very well on the face, it is produced in only one size and is more suitable for a large male face. The nose clip cannot be pinched. The rubber bands are over the top and falling out of the handles. Overall, I can't give it a good rating, even though it is apparently made of high-quality material that really provides high protection.
it breathes well.. for now it protects me.. I am a so-called pig=working senior.. in a shop and if the government allows me to go to work, I believe that the respirator will continue to protect me.. thanks
Seals well, breathable

Unfortunately, in my case the respirator does not fit - there is a leak around the nose, so the meaning of this product ceases.
I report Czech products with a certificate and this was fulfilled
Respirator Fits well on the face. I believe in nano technology and it is important to me that it is produced by a Czech company.
Probably one of the best, if not the best respirator on the market.
good
WE ARE VERY SATISFIED
Proven product, I am already buying the third batch.

It is a box that does not unfold or collapse like ordinary folding respirators.
Produkt se používá dobře, jen trochu vnější povrh plstí. Svorka na nos po několika upotřebení není zcela pevná.
At the first attempt to put on the respirator, the loop on the rubber band fell off immediately, making it unusable. The respirator is large, suitable for men. It cannot be used on a smaller female face.
I don't use it yet.
The product is well made and the rubber bands seem like they won't push and can be adjusted. It's a shame that you can't order a smaller size and that it's not possible to buy in pieces. A different color would also be great, as white is not ideal for repeated use when wearing make-up. ;-)

The respirator was tested and the quality found was even FFP3 compared to the declared FFP2.
NO EXPERIENCE YET
HS
Helena Skřivánková
I have no way to verify, but I fully believe that this respirator is an effective protection against the virus. I really appreciate the possibility of multiple uses during disinfection, then it is also at a very favorable price. And now the disadvantages: I don't think I have a small face, the respirator fits tightly everywhere, but I basically can't lower my head, it immediately "climbs" into my eyes, which is very unpleasant. Apparently, I don't have the right face shape, I would like a more elongated face. So it cannot be said that it will suit everyone. It breathes well through it, but in a room where it's warm, my face sweated more under it than under other types of respirators. The rubber bands around my head slide down, not to mention the "sparrow's nest" hairstyle. So to summarize: I feel that I am really well protected from the virus, but I do not feel comfortable in the respirator as a woman, it is extremely rude. Men will certainly not deal with this, probably without reservation for them :-).
the biggest advantage is that the glasses don't fog up, another is that you don't have rubber bands behind your ears (because, after a few working days with rubber bands behind my ears, the skin behind my ears starts to tear and fester). I can stand it, including the entire working time (8.5 hours), but it must not be too tight, then one breathes, only the air that is exhaled. And after a while, you either start suffocating or pass out. Another disadvantage is that rubber band, which sometimes comes undone when adjusting or moving the mask, then you have to completely remove the mask and hook the rubber band again. But otherwise I have to say that it is much better than other mask or scarf respirators.

The e-shop says that the respirator is not suitable for small faces, but it is also big for my husband. It's for a really big face.
I don't understand who lent their face for this respirator. It doesn't fit at all, it's huge, it cuts into the neck, it doesn't fit on the nose.
longer usage
The respirator is breathable, light, can be used for a long time, and can be disinfected (using a purchased disinfectant). The only downside is that for people with fixed-beam glasses, they don't sit on the nose of the respirator, they are raised and thus change the focal length of the glasses uncomfortably; glasses with a saddle (pads on the sides of the nose) can be used. I wear distance glasses (or multifocals) all day long and with a fixed beam, so they don't fit on my resirator. But luckily I also have glasses with a seat.
holds, seals, doesn't bother /or are we already used to it?/
Hopefully good protection against covid.

I rely on the result of the d-test. With short-term one-time use and compliance with the prescribed disinfection, it can last for several weeks.

everything ok

everything ok
I don't know, because it is not printed on the mask what it is.
I decided to buy directly from the manufacturer without intermediaries. I am so sure that I will receive the product in the declared quality.
The only problem is that it doesn't suit everyone's face. However, they draw attention to this on their website, where there is a detailed description of the product. I can breathe well through the respirator and, surprisingly, it doesn't even fog up from the inside.
It fits well and if I don't walk fast I'm out of breath. I was just surprised that the rubber bands are not behind the ears, but behind the head.
A reusable respirator is exactly what everyone should use, it saves nature, no one throws it away after a few hours and at the same time wipes out their pocket. I don't use them as much as disposables!
Možnost vícenásobného použití (po dezinfikování)

So far, I haven't found any disadvantages in terms of functionality. Regarding the price, I would welcome a price at least 25% lower.
I chose this product because it is made of nano material, I assume that it effectively protects against viruses, it can be worn repeatedly and I want to support home production.
I am really satisfied
long service life, fits well
the best respirator I use and recommend to friends
Satisfaction

In my opinion, the product is of very high quality, it lasts for 14 days without breaking if I take care of it - I disinfect it with a special spray according to the manufacturer's instructions. I have been wearing this type of respirator for several months now - I move around people, deal with clients, some of them were also currently CoviD positive and I did not get infected. I am satisfied with the BreaSAFE respirator and, in my opinion, it meets the parameters specified by the manufacturer.
I'm happy, I bought the triple pack for the second time, now with a special price.
quality product, I recommend it
it seals well on the face, it doesn't press the elastics, but like other respirators there is a problem with the glasses - the glasses fit more poorly due to the folded upper edge
Perfect for the doctor. He is breathing well. The rubber bands for the ears are worse, it would like something else - rounder. It also happens that the rubber band on the side falls out - it has to be repaired then. Otherwise satisfaction.
Practical

If you are looking for quality protection against COVID-19, I can only recommend these respirators. I use them daily in hospital traffic and they have never let me down.
Can be used repeatedly
Much better protection than other products. Seals very well.
The respirator was pressing on my tongue, so I cut a bit of it off and now it works wonderfully

Obtížnější dýchaní, na sport není :-)
Fits well on the face.

For me, the best respirator on the market, a quality Czech product. For an adult man, basically the only alternative to half-masks, which already look a bit strange for everyday use. It fits perfectly on my face, I had the opportunity to try several types and only this one did not experience air leakage. The product is worth the price because it can be repeatedly disinfected compared to standard meltblown respirators. Just be careful about proper disinfection.

super protection for medium to larger faces, cheap if you count on 14x disinfection

I only use these respirators, they seal well, but still breathe well in them, with the right disinfectant from this company, maybe for a longer time usage. Only the price could go down a bit.
IN
Irena Novosadova
The respirator is huge for a smaller female shape. When I put on the respirator, I either have it in my eyes or deep in my neck. I would recommend making it in women's sizes. It seals well on the face, but around the eyes there are larger holes for air to flow through. Both I (with a small face) and my husband (a 2-meter-tall guy) noticed this. Anyway, it breathes great through it, only the size is really a problem... for women :/
The product is light, breathes well, is easily sterilized, and can be used repeatedly. Top product. I fully recommend it.

The poor quality of the rubbers spoils an otherwise excellent protective device, luckily it works with "fix" with a little skill. For head size 60+ it would need a version with longer elastics, otherwise we'll have ears like Bugs bunny in no time...

Great, Czech products, I recommend everyone to buy them.

Respirators are relatively inexpensive, considering their reuse after disinfection. It seals well and sits on the face. Verified quality against scumbags from China/Vietnam...

jde použít opakovaně

Fits well on the face, can be worn repeatedly when using the spray.
the product can be disinfected and reused.
Dobře se nasazuje a drží.Dýchání je bez problémů i po delší době.
it holds well, is light and breathes easily, could be a little smaller for women
I am very satisfied with the company's products and so is my whole family
they hold well and it is comfortable to breathe through them, so it is not a problem to work in them for a long time
S výrobkem jsem spokojená, jen se mi často vytrhne jedna gumička a uchycení není zrovna jednoduché. Jinak ale s respirátorem jsem spokojená, dobře těsní a dýchání v něm není nijak zvlášť nepřijemné. Chce to jen si zvyknout. Podstatná pro mě ale je kvalita a tento respirátor narozdíl od některých jiných splňuje normu a je bezpečný. Takže až na ten drobný problém s gumičkami stoprocentní spokojenost.
Fits well and hopefully works :-)

Incredibly light and breathable respirator, fits well on the face. For people with a big nose, the root of the nose can slightly pinch, but the manufacturer mentions this in the description.
Lightweight and fits well.
It was already our 2nd order, and the shipment was again perfectly fine. Satisfied.
Objednala jsem si respirátory, protože jsem chtěla volit kvalitu a podpořit českého výrobce. Respirátor mi ale netěsní, je asi na větší obličej. Potom by měla být nabídka alespoň 2 velikostí, protože produkt je dost drahý a pro mě ne zcela funkční. Materiál mě také překvapil. Působí dojmem křehkého polystyrenu. Za tu cenu bych očekávala lepší kvalitu.
Kvalitní materiál a dobrá prodyšnost, ovšem výrobek z něho je nedokonalý. Už při prvním nasazení nám oběma s manželem doslova ustřelily gumičky a nasazení se tím značně komplikovalo. Musela jsem volné konce alespoň svázat a pro manžela je prodloužit. Navíc po už asi čtvrtém nasazení a celkově asi hodinovém nošení se okraj respirátoru začal jemně chlupatit a oběma nám dráždil citlivou pokožku obličeje. Problémem jsou i brýle, které s respirátorem nesedí a vidění je rozostřené. Mám od nanospace již dva jiné a dobré produkty, tento výrobek mě ale zklamal Přitom nepatří k nejlevnějším.
I can't judge the effectiveness, I have to trust the manufacturer. The respirator is light, breathable, but my glasses fog up, I did not manage to adjust and form a complete tightness. But I have a smaller face. I changed the rubber bands to be attached to the ears, pulling them over my head does not suit me. With the discount, the price suited me.
I haven't used it yet, but after putting it on it doesn't press, it fits well.
cannot yet be evaluated
It`s pleasant.

I am completely satisfied with the purchase of respirators. They processed and delivered the order very quickly and regularly informed about its status. The respirators are of high quality and have a great seal. I've been using one for the seventh day and it still breathes very well through it. Of course, it needs to be disinfected with a suitable agent after each use. I also recommend using a disposable or textile mask over the respirator - it will not become dirty and blocked prematurely. Even with a respirator and a double-layer textile mask, you can breathe comfortably :)
Unfortunately, with the first respirator, the rubber band snapped when trying to put it on for the first time, so the time of use is 0 hours. With the second one, which I used since Monday only for the public transport journey to and from work plus shopping in the store, i.e. about 2 hours a day, the elastic broke on Friday afternoon, i.e. after less than five days of use (about 9 hours of wear), although it is declared, that can be used for up to several weeks. I will send both respirators for a claim, as they told me in the Nanospace information email, where I reported the whole thing. We glued the rubber bands to the area of the respirators with super glue so that the respirator could at least be used somehow, and I hope that they will acknowledge the complaint and send us new respirators, because if they don't, then 3 respirators for the price of CZK 777, of which 2 lasted a total of 9 hours, which is enough horribly. I don't know yet about the third respirator from the package, I'm almost afraid to put it on, so that the rubber band doesn't break too.
I wanted a Czech product with nanofibers developed in cooperation with TU Liberec. It is anatomically thought out, fits well. It can be cleaned with a special disinfectant, which is also available at the NANO SPACE store.
The only downside is that it doesn't fit perfectly on the nose. but the seller honestly pointed out this possibility. Otherwise, complete satisfaction.

Bohuzel se tezko dycha pres tento respirator. Pri vetsim obliceji a hlave popruhy rezou.

good quality, light, can be used for a long time
Respirátor trochu sjíždí směrem dolů. Tím mě tlačí na měkký konec nosu a ze začátku je to dost nepříjemné. Nemám rýmu a tak se to dá vydržet, ale není to komfortní. Občas se vysmekne upevňující gumička z úchytu - při nasazování nebo sundávání. Po usazení na obličeji těsní dobře.
I chose nanorespirators for my wife. According to the description, it can be disinfected and sterilized. Ideal for spaces with a greater concentration of people. They are not used yet.
- pro mne velká nevýhoda, že se nedá nosit s brýlemi!!! Je příliš vysoko tvarován pod oči, navíc má lem po obvodu masky. Takže se brýle musí posadit za tento lem směrem dovnitř. Tím pádem se dost zvednou, osy dioptrií se výrazně posunou a navíc i za ušima tím nesedí a hrozí jejich pád. Kdo má větší obroučky, je téměř nemožné brýle mít funkční. Také bych uvítala, jako žena, uchyty respirátoru za uši a ne dvěma gumičkami přes hlavu. Chápu, že to asi lépe těsní, ale ten pohled do zrcadla po nasazení na polodlouhé vlasy , je boží :-) + Jinak je určitě funkční, dobře se v něm dýchá a hlavně se dá po dezinfekci použít vícekrát
More suitable for men, quite big
P
Petr
Respirators are generally great. + fits perfectly on my face (there are no gaps) + excellent maintainability, after use I spray with disinfectant and that's it, no need to boil etc. + relatively long service life + I never once got infected during risky contact. So it seems to work and I'm glad I got them. - respirators have rubber bands, which must be handled very carefully. When I first tried it on, one of the rubber bands broke. - after getting wet, breathability is worse through the respirator - the respirator has a fixed shape. And so someone reports in the discussions that it does not fit his face. It fits everyone, so I don't know what shape is the unsatisfactory one. I would guess that people with very large noses or people with significantly elongated faces may have a problem.

Given the situation, I definitely recommend it. Suitable for the doctor's waiting room.
The product increases the possibility of protection against the disease COVID-19. A small disadvantage is the universal size of the mask, on a smaller face it must be tightened a lot in order for the respirator to seal well. It would be good to produce it in two sizes. But otherwise, the best experience is with nanoworms and nanofilters, you can breathe well through them and you can work in them for a long time (lectures, therapy with patients).