Spurtex nano respirator - filtration 98.5 % FFP2
Code:
1685/M
1685/5 K
1685/50
Choose variant

The largest seller of nano products
More than 400 nanotechnology products under one roof.

Czech production
We manufacture nanoSPACE brand products in the Czech Republic
Related products
Product detailed description
The Spurtex nano respirator has a proven 98.5% capture rate for sub-micron particles including virus-sized particles. The Nano respirator is suitable for all those who need a higher degree of protection (medical personnel, chronically ill, risk groups, allergy and asthma sufferers) than a conventional respirator provides. nanofiber respirators are disposable and have a reinforced, bendable edge that easily adapts to any face shape.

SPUR nanofiber respirators are disposable. They contain a nanofiber filter and are used for professional protection against viruses, bacteria as well as smog and allergens. When filtering out the smallest particles (viruses), the nano-material used has been shown to have a filtration capacity of 98.5%, which meets FFP2 and they are fully certified according to EN 149:2001+A1:2009.
Benefits of the Spurtex nano respirator - filtration 98.5 % FFP2:
shelf life of unused FFP2 nano respirators 5 years.
98.5% filtration efficiency of the nanostructured membrane.
no exhalation valve.
simple and practical elastic band attachment.
easy breathing due to low pressure resistance.
mouldable noseband.
environment friendly material.
Filtration capabilities of the European SpurTex® V100 FFP2 NR respirator
The SpurTex® PP L2 V1 material from which the SpurTex® V100 FFP2 NR respirator is made fully complies with the material requirements of the European standard EN 149:2001+A1:2009 for particulate filtering respirators and meets the FFP2 quality class.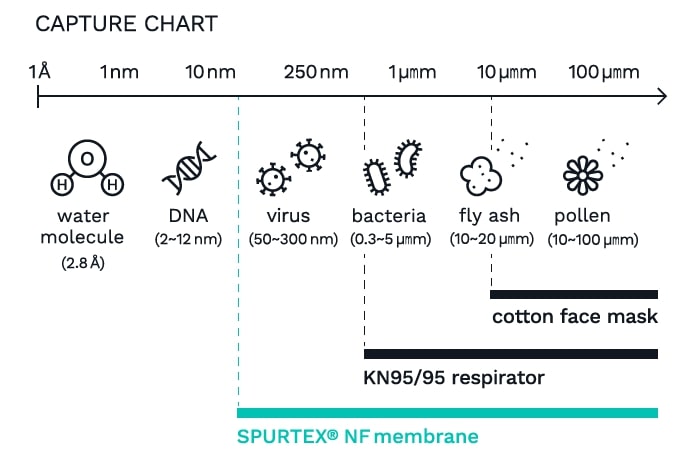 In addition, however, SpurTex® PP L2 V1, due to the unique properties of the nanofiber filter layer, exhibits excellent capture efficiency in the ultrafine particle region (20-400 nm) and is therefore ideal for capturing a wide variety of bacteria and viruses (the SARS-CoV-2 virus has a reported realistic size of around 80 nm). These filtration properties are simultaneously achieved at very low pressure drops, which not only significantly increases breathing comfort when wearing the respirator, but also minimizes air penetration between the edge of the respirator and the face, thus reducing the risk of unwanted particulate matter or microorganisms passing through this space.
Long life of the Spurtex nano respirator - filtration 98.5 % FFP2
SpurTex respirators are also unique in that they do not lose effectiveness when stored for long periods of time. This is why they have a shelf life of 5 years, which is quite unique compared to other products on the market that have a time-limited filtration efficiency
Thanks to the nanofibers, the nano-membrane used in SpurTex respirators works exclusively on the principle of mechanical capture, not electrostatic charge as is the case of conventional respirators, which of course lose their charge over time and thus also the ability to capture ultrafine particles.
How does the nanofiber membrane in the SpurTex® nano respirator work?
The nanofiber is 1000 times thinner than a human hair and is invisible to the naked eye. In the European, we are experts in nanofibers and were the first in the world to develop a device for the industrial production of nanofibers in 2004 in Liberec. Most manufacturers today use meltblown technology to produce nanofibers, but the European company SPUR produces nanofibers by electrospinning. Thanks to this, they are able to produce fibers much thinner and achieve the highest filtration capabilities.

The nanofibers are spun into a nanofiber membrane, which can be imagined as a very dense net or filter. The holes in this filter are so small that an air molecule can pass through, but a bacteria, virus or allergen cannot. The nanofiber membrane has been tested for capturing sub-micron particles (10-400 nm) and is therefore ideal for capturing a wide variety of bacteria and viruses (SARS-CoV-2 virus is reported to have a realistic size of 80-150 nm).
Does the respirator function with a beard?
To ensure a full seal, the respirator should be worn on a clean-shaven face. A beard prevents a good fit of the respirator to the face and therefore significantly reduces the effectiveness of the filter material itself.
How to use the SpurTex® V100 FFP2 NR respirator?
Before application, check the respirator and its packaging for damage.
Put the respirator on your face so that it covers your nose and mouth and secure it with the rubber bands.
Shape the respirator accordingly using the mouldable metal band.
How long can I use the FFP2 disposable nano respirator?
SpurTex nanofiber respirators can be safely used for a full working shift (8 hours). However, if the respirator is used in a highly microbially active environment (bacteria/viruses), this time may be significantly reduced depending on the contamination of the working environment due to the concentration of hazardous particles on the surface of the respirator.
About the material of the European Spurtex nanorespirator
The SpurTex® V100 FFP2 NR respirator is made of SpurTex® PP material, which is a 5-layer laminate consisting of non-woven polypropylene fabrics and a specially developed active nanofiber filter layer made of PVDF (polyvinylidene fluoride) polymer prepared using the latest technology of polymer solution softening in an electrostatic field.
The SpurTex® V100 FFP2 NR respirator does not contain any of the highly fragile borosilicate microfibers sometimes used in standard respiratory protective devices, which have negative environmental but above all health properties. The nanofiber filter polymer layer is firmly fixed between the surface layers, which both guarantees good final mechanical properties of the final product and eliminates the possibility of damage to the very fine polymer nanofibers during handling and use.
The surface layers consisting of non-woven polypropylene fabrics in contact with the skin do not contain any significant skin irritants and have the necessary expertise.
The Spurtex nano respirator - filtration 98.5 % FFP2 is suitable for aircraft, buses and trains
SPUR nanofiber respirators are suitable for travel. Air condition on planes, buses and trains carries viruses easily because it does not have quality filters that can filter out viruses and bacteria.
Spurtex respirator maintenance
The product is declared as disposable, but in case of necessity (e.g. lack of protective respiratory equipment during epidemics or pandemics) when working in a microbially highly active environment (bacteria, viruses), the respirator can be emergency sterilized with germicidal (UV-C) lamps and reused (3-5 times). The respirator can also be sterilized with Disinfectant for respirators and respirators spray 100 ml 70% ethanol.

Other methods of emergency sterilization should be discussed with the manufacturer. Steam sterilization, ironing or washing is not recommended.
Respirator size

Sizes M and L also differ slightly in the length of the elastic band, with the elastic band being approximately 1 cm longer in size L.
Please note
The respirator does not provide protection against gases. The amount of oxygen in the environment must be at least 17%. The manufacturer accepts no liability, either direct or indirect, for damages (including loss of profit or loss of reputation) caused by improper application or use of SpurTex® VS.
About SPUR
The Zlín-based nanotechnology company SPUR has been active on the market since 1992, when it was mainly engaged in the production of plastic products. After several years of intensive research in the field of nanotechnology, we presented our results to the public for the first time at the NANOTECH 2012 trade fair in Japan. During the presentation, the emphasis was on the technological equipment we have developed - i.e. the SPIN Line nanofiber production line.
Since 2018, SPUR has then continued its research and testing within the Polymer Systems Centre at UTB, where it continues to carry out development and in-house production of nanofibers. Serial production of the nanomaterial started in March 2020 with significant advisory and consultancy support from MIT and EuropeanhInvest.
The production programme of protective equipment includes, in addition to certified respirators and nanofiber masks produced on automatic machines, special sewn SpurTex NANO masks for adults and children, which are 97% BIO based, i.e. made of natural material - viscose. They are breathable, ensure a comfortable yet tight fit to the face and provide maximum protection against viruses and bacteria.
We have also introduced filter materials with SpurTex nanostructures. SPUR is a member of the Association of the Nanotechnology Industry of the European and part of the popularization project European is nano.
Priceless in the summer heat, my face doesn't sweat as much in it as in a bare respirator. It reduces pimples after wearing it on the face, it doesn't press anywhere. The only downside is that it's a bit bigger on me... I have a soft face.
D
Dobromil
Repeated satisfaction.
LP
Lubomír Pilný
I have been using this product for over a year and have not had covid yet. so good
I'm so glad I found this respirator! I was a little hesitant at first, but after reading the reviews I decided to give it a try. It's definitely worth the money. The filtration is 98.5% and it's certified for covid-19. I've been using it for a few weeks now and I haven't had any problems. It's really comfortable to wear and it doesn't fog up my glasses.

quality Czech product
satisfaction

For pleasant and unobtrusive wear, you need to know and order the right size respirator. I am very satisfied with the respirators, I have been ordering since the beginning of the pandemic and I cannot imagine ordering in another e-shop. Quality, timely delivery, very pleasant dealings are the calling cards of NANOSPACE, thank you.
ZT
Zdeněk Tužil
Respirator OK, I support Czech manufacturers.
ML
Magdaléna Loubalová
Fits perfectly on the face. I'm not buying another one.
P
PK
Very good respirator
Z
Zdenek V.
The new L version is somewhat larger than the previous one and thus requires more laborious sealing. But it is an individual matter, otherwise the respirator is excellent.
Fits well on the face.
NO
Naďa Ochmanová
Great satisfaction ... for the entire period of covid rampage, of course for compliance with all hygiene measures, covid has not got me yet.
L
Lucie M.
I buy repeatedly. My daughter and I welcomed a smaller M size. Seals well. We disinfect with a UVC lamp or spray. Rubber bands hold even with greater pull, they don't crack.
This time I ordered size M, as the original uniform size has grown a bit and is quite a bit bigger, I haven't tried the new size yet, we are using old stock. The new packaging looks nice. It's a shame that you can't even buy size M in a package larger than 5 pcs. Otherwise, the respirator fits and seems to work, so far we have avoided covid even though we use it repeatedly and disinfect it.
I buy repeatedly. Reliable product, Czech quality again and again enthusiasts who can, want, the more we have to give them confidence, support them with a purchase.
Only the price could be lower..

I buy repeatedly. Great satisfaction.
ZJ
Zdeněk Janout
The respirator suits us. It breathes well.
It is possible to survive for a longer period of time with a respirator on. I feel good that I did something for my health. Have a nice day. John
Renowned Czech manufacturer
PA
Petra Algerová
We are very satisfied.
TŠ
Tomáš Štěpánek
Satisfaction
I consider it a top product in the current offer FFP2 respirators
I rely on the manufacturer's information about the product's high reliability, which is why I order and buy more expensive nano respirators
LK
Lenka Klečarová
I bought for the second time, we are satisfied with both the quality, comfort and speed of delivery.
PS
Petr Sládek
We're satisfied. We like the firmer shape, it's not that weak inflatable bag. Thanks for the Czech product!
JP
Jarmila Poláčková
I order repeatedly for the whole family.

For this price it filters quite well. You can certainly find 2 times cheaper "respirators", but they don't work very well. In this I do not smell cigarette smoke, smog or the smell of sweaty people in traffic.
fits very well on the face. Simply Czech quality.
JP
Jana Pochvalovská
Excellent quality especially for healthcare professionals.
Excellent.
JL
Jaroslava Linhartová
spokojena
Z
Zdenka
After unpacking, the respirator smells of plastic, you need to let it air out for a while. (I didn't notice that the original/last year's version of the respirator had this problem.) Down star for that. Nicely air-tight packaging, even in five pieces (I would expect individual packaging). Otherwise fine, the nose clip holds, the respirator fits.
IČ
Ivana Černá
I am very satisfied, I use it at school, it seals perfectly and I can talk and breathe for 6-8 hours. I can only recommend this product.
SD
Sahim Dib
Very satisfied
MM
Miroslava Marková
I am very satisfied.
JR
Josef Rossmüller
Breathable, good fit
Vysoka kvalita
The respirator is solid, fits well. I just thought it would be easier to breathe in. It is almost the same as in a normal respirator.
They breathe well.
The products are mainly Czech, high quality, comfortable to wear, fit well, and have an excellent quality-price ratio

----

First I looked at the price, which is significantly higher than the cheapest respirators on the market, but I'd say it's worth it; I ordered the big pack again.

I recommend.
everything excellent

I recommend.

Czech high-quality respirator that gives the impression of being robust and that nothing bad will pass through it.

I recommend.
lepší , snadněji se dýchá
I am asthmatic and I can breathe well in this nanorespirator, I can last a 10-hour shift in it.
These respirators meet all my requirements for virus capture efficiency. According to the test, they are really effective, so I trust them.

The respirator is quite thick, so probably more layers, but the fact that it should be or is NANO is nowhere to be found just from the headline when you buy it. And it doesn't breathe very well through it. So I would sum it up as a thicker (or better said hergot thick) PPF2 respirator but NANO, I doubt it. I had the nano fabric in my hand several times and it was definitely not as thick as a scrap of paper kitchen towel. So I definitely don't recommend it. I don't know what kind of scoundrel it is with a certificate from which it is not clear that there is any NANO layer. It's only clear that it's FFP2, but I could have bought it at a pharmacy for 10 CZK and for such good money.

Short time so far. However it seems very good

I recommend. Precise and Czech production! It certainly breathes better through them (nano material) than through ordinary ones.
I assume that the quality of the certifications is guaranteed. Possibility multiple use with the help of disinfection is an advantage. The disadvantage is the higher price
Spokojenost,výborný.
The respirator is perfect. It sits comfortably on the face and I don't feel plastic over my mouth like the regular ones. I definitely recommend it.
With the products, everything is clearly explained, how the nano membranes work and how to take care of the statements. The respirator fits well.
Seamlessly. Very good product.
SpurTex Abbot did not disappoint. I'm just regretting that I didn't buy more packs. I bought one pack to try and I definitely recommend it.
I ordered this product for the second time and I am completely satisfied with it. They seal very well, so breathing while walking is a little more difficult, but it can be done.
Kvalita příjemné nošení
we are satisfied with it, good price
kvalita jistota splnění norem
Unfortunately, I ordered black.. you sent white, I was not so satisfied. I will not order the next purchase. J. Robbová
Kvalita a dobrá cena
Perfektní kvalita
Kvalitni

Putting 50 respirators (in addition to a higher price category) in one bag without each one being packed separately is a rather fundamental shortcoming of this product, even if otherwise they are quality respirators. If I had known, I would have ordered a product from another manufacturer. The seller's excuse (which I saw somewhere) that this is how the manufacturer used to be doesn't stand up to me, either they should complain about it themselves or at least state it clearly in the eShop.
Dobře těsní, kvalitní zpracování, nesrovnatelné s čínskými respirátory
Dobře se nosí, přiléhá, neklouže.
Czech respirator production, support of our products
I recommend buying top quality, the best on the market
instead of a metal band, as it is everywhere in the picture, which can be shaped somehow reasonably, there is a terribly hard, usually iron wire, so it does not shape well and blows into my conjunctiva when I breathe, however, after 15 minutes of experiments. of various bending and shaping in the hands, it is somehow usable, in any case the TIGHTNESS around the eyes, thanks to Schlendrian wire, is problematic...,
We use nanomasks, but we also wanted to have respirators in reserve. The respirator fits well, fits tightly to the face. Overall well done. So let's hope that the higher investment will pay off :).
Skvele sedi a je bezva prodyšná.
I believed in its effectiveness reasonable price
Kvalitní respirátor
Uvítal bych kdyby existovala větší velikost.

doporučuji
Quality protection, good care, possibility of disinfection and reuse. Unfortunately, people cannot be trusted to be considerate. So at least protect yourself solidly...

Quality Czech product. Respirators are easy to wear and can be reused after disinfection. It works as I expected.
It fits my face, but maybe it will be bigger for smaller faces.
Respirátor vyhovuje po všech stránkách.
je kvalitní
Satisfaction, it fits beautifully, you can breathe in it and above all, my glasses don't sweat
dobrá dezinfekce roušek
Respirátor jsem pečlivě vybírala na internetu a porovnávala s ostatnímy. Mám ho první den a zatím sedí.
I trust the material it is made of. And of course I also appreciate his certificate. The product fits perfectly and is comfortable to wear.
Fits well, European certification.
Quality Czech-made respirator.
Kvalitní respirátor české výroby.
I recommend it, it sits well on the face and breathes quite well through it.
respirátor je na můj obličej o něco větší. trochu hůře se mi v něm dýchá.
bought again and they are better than classic masks. It will protect well.
Respirátory vyzvednuty dnes, ještě jsem je nevyzkoušela.
český výrobek
dobře přiléhá k obličeji, dobře prodyšný
The respirator is fine, only one note: it has short elastics behind the ears, and people with a bigger face then hurt behind the ears.
I am satisfied with the respirator. The size fits my and my wife's face. The tightness of the respirator near the nose on our faces is the best so far - since the previously used ochr. tool. Breathing also corresponding to the quality of filtration. Rubber bands good so far. They are round - of medium diameter. The length for our faces is sufficient - it has to be a little stretchy so that the respirator seals well. We are satisfied with the respirators so far and we believe that this Czech product really contains a nano-layer and other declared parameters. Respirator for our faces - just OK. The opinion is objective - for our faces, but only after a short period of use.
Vše v pořádku. Sedí dobře.
Výhoda je blízká vzdálenost od mého bydliště
It's good. I bought masks for disinfection.
Ještě jsme nevyzkoušeli.

None
It wears well, breathes well, and I've never had a lace break.
jen malá připomínka respirátory byly jen tak dané do obálky nebyly balené jednotlivé kusy
Quality product, I haven't had anything better. High-quality rubber bands, breathing OK. A handy respirator for the windbreaker pocket.
Snad kvalitní respirátor, česká výroba.
If we have to wear it, at least it's safe and comfortable. I have glasses, so I don't mind all the masks and respirators. Better a Czech product than junk from China.
dobře padnou.
Vyhovuje.

So far, complete satisfaction - second order of this product.
Fits well, true to size.
Nemá ochranej pásek na nos
Holds well on the face. It breathes well.
kvalita přiměřená ceně, spolehlivost
Kvalitní respirátor
Kvalita.
česká výroba
we are satisfied with the product, but it took 10 days to get to us, which is a very long time in a situation where we need respirators
There is no fault with this product and its speed of delivery. I was completely satisfied. F.P.
"sedí" i na drobném obličeji
Great breathability, excellent protection.
dobrý
Jeden z nejlepších na trhu.
Dobrý.
Satisfied, we would just like it if there was also a men's size with longer elastics - they stretch a bit when worn for a long time.
- krátké gumičky
This is a proven company, the respirator fits well on the face and is truly "nano", unlike other products that are stuffed into your PC because they won't get through otherwise.
Ještě jsem nepoužila.
K předešlých objednávkám na dobírku nemám výhrady. Ale dne 7.2.2021 - tj. 14 dnů zboží zaplaceno převodem a zboží ještě není ani na cestě i když se stále inzeruje s datumem doručení a nabídky chodí i na E-mail.
I bought the product last year. We only used the respirator when visiting the medical facility. Currently, we will also use it when visiting stores. It wears very well, only the rubber bands could be a little longer (they slide down)
respirátor dobře sedí na obličeji,nevadí v dýchání
In the beginning, I had a little pain, now I'm used to it, so OK
trošku tahá za uši :-)
Ještě jsem nepoužila..
Snad bude splňovat to, co slibuji
I am very satisfied. I work as a child clinical psychologist, therapies last more than an hour. The first respirator in which I can talk for an hour without gasping. I have tried many of them, this one suits me the most.
Dobře se nosí, dobře chrání.

žádná

I recommend, it adapts well and you can breathe under it, health comes first
Lehký, dobře těsní na obličeji, bez problémů s dýcháním, dobře se nosí. Určitě doporučuji.