Nano Med.Clean Nano Masks, 50 pcs
Code:
1769

The largest seller of nano products
More than 400 nanotechnology products under one roof.

Czech production
We manufacture nanoSPACE brand products in the Czech Republic
Related products
Product detailed description
Medical mask with nanofiber membrane is produced by European manufacturer Nano Medical. The nano mask material has a 99.9% capture efficiency for particles the size of bacteria and viruses. The nano mask is suitable for all those who need a higher degree of protection (medical personnel, chronically ill, risk groups, allergy and asthma sufferers) or are infected and need to minimize the spread of the disease. The nanofiber masks are disposable and have a wire for reinforcement around the nose that easily adapts to any face shape.
NANO MED.CLEAN nanofiber masks contain a nanofiber filter and are used for professional protection against viruses and bacteria, as well as smog and allergens. When filtering the smallest particles, the nanomaterial has been shown to have a filtration capacity of 99.9%.
How Does the Nanofiber Membrane in the Nano Med.Clean Nano Masks, 50 pcs, Work?
The nanofiber is 1000 times thinner than a human hair and is invisible to the naked eye. In the European, we are experts in nanofibers and were the first in the world to develop a device for the industrial production of nanofibers in 2004 in Liberec.
The nanofibers are spun into a nanofiber membrane, which we can imagine as a very dense mesh or filter. The holes in this filter are so small that an air molecule can pass through, but a bacteria, virus or allergen cannot. The nanofiber membrane has been tested for capturing sub-micron particles (10-400 nm) and is therefore ideal for capturing a wide variety of bacteria and viruses (SARS-CoV-2 virus is reported to have a realistic size of 80-150 nm).
Nano Med.Clean Nano Masks Protect the User from the Environment
The extremely dense nanofiber membrane captures the most common biological threats to human health currently known, such as viruses, dust, allergens and smog. The disposable nano mask is made of a unique nanostructured filter material called NANO MED.CLEAN. It provides effective active protection of the respiratory organs, especially in the area of capturing ultra-fine particles of 10 to 400 nm in size (i.e. bacteria and viruses).
Thanks to the low pressure resistance, the masks remain perfectly breathable and allow for easy breathing. The ergonomics of the respirator have been designed to ensure not only protection from the environment but also perfect user comfort.
Benefits of the Nano Med.Clean Nano Masks, 50 pcs:
Low price,
certified medical device,
one of the most breathable materials on the market 200 l/m2/s,
longer elastic bands (approx. 18 cm) - no pinching and easy to adjust to a smaller size using the knots,
mouldable in the nose area,
protection of the wearer from the environment,
protection against COVID-19, flu, as well as bacteria and allergens,
suitable for allergy and asthma sufferers.
Confirmation of the Effects of Nano Med.Clean Nano Masks, 50 pcs
The virus and bacteria capturing capacity of the nanofiber mask has been demonstrated by Nelson Labs in the USA.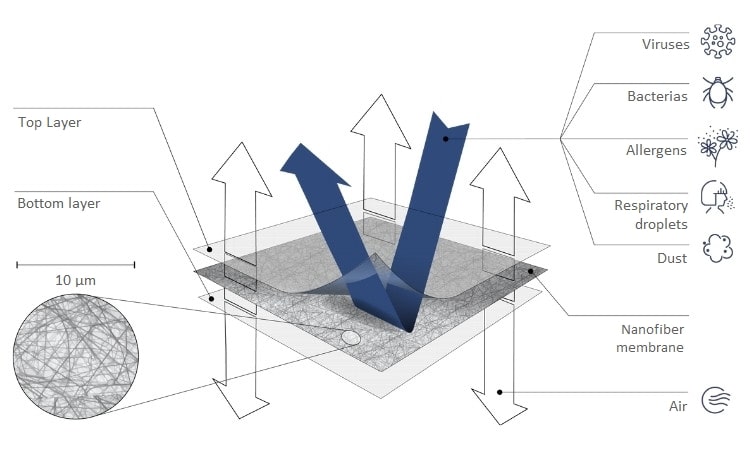 How Long Can the NANO MED.CLEAN Nanofiber Mask Be Worn for?
Nano masks are disposable, they can normally be worn for up to 12 hours depending on the environment you are in.
The product is declared as disposable, however, in case of necessity (e.g. lack of protective respiratory equipment during epidemics or pandemics) or when working in a microbially highly active environment (bacteria, viruses), the mask can be emergency sterilized using a disinfectant for respirators and masks SPRAY 100 ml 70% ethanol. However, a maximum of 2-3 times.
Other methods of emergency sterilization must be consulted with the manufacturer. Steam sterilization, ironing or washing is not recommended.
No Chemicals or Toxic Substances in Nano Med.Clean Nano Masks
NANO MED.CLEAN nano masks work on the principle of a mechanical barrier. No chemicals are used.
Nano Medical Masks Effectively Protect You from:
Smog,
allergens,
pollens,
bacteria,
viruses,
moulds.
Nano Med.Clean Nano Masks Size
9 x 17.5 cm folded
14 x 17.5 cm unfolded
length of elastic band - approx. 18 cm
Dimensions are approximate
Maintenance of the Nano Med.Clean Nano Masks, 50 pcs
The nano mask is categorised as a disposable material. Its unique filtration properties are only maintained for a very limited time depending on the environment in which it is used. In normal use, after 12 hours, the nanofiber filter contains a significantl concentration of dangerous particles (bacteria, viruses, etc.) in the special nanofiber filter and must therefore be changed frequently in contaminated environments. The nanofiber structure itself is not treated with any antimicrobial treatment.
How to Sterilize the Nano Medical Mask?
It is not recommended to wash or iron the material. The mask can be sterilized by lightly spraying with ethanol or using a suitable disinfectant, but the mask must not get wet and must be allowed to dry completely afterwards. Nanofiber membrane in NANO MED. CLEAN is very thin, which makes it highly breathable but also susceptible to mechanical damage. For maximum safety, we recommend using it only once and sterilizing it only if worn for a short time (purchase).
How to Put on and Use the Nano Medical Mask (in Accordance with WHO Recommendations)?
Putting on the Mask
Wash your hands with soap and water, wipe your hands with a disposable towel and use disinfectant.
Check the packaging of the mask, remove the mask from the packaging and check the integrity of the mask.
Grasp the mask so that the folded edge is at the top.
Grasp the elastic bands in both hands and pull taut behind the ears. Pull the mask as high as possible to the root of the nose and shape accordingly.
Grasp the bottom edge of the mask and pull over the mouth and chin.
Removing the Mask
Wash your hands with soap and water, wipe your hands with a disposable towel and use disinfectant. Do not touch the front of the mask.
Grasp the elastic bands in both hands and remove the mask holding only the elastic bands.
Dispose of the mask in a specially designated waste receptacle. Wash your hands with soap and water, wipe with a disposable towel and use disinfectant.
Nano Med.Clean Is Safe for Humans and Nature
The nano mask does not contain any of the highly fragile borosilicate microfibers commonly used in standard respiratory protective equipment, which have negative environmental but above all health effects (their use can cause the separation of sharp needle-like particles that have potentially carcinogenic effects).
Caution
Neither the manufacturer nor the distributor accepts liability, either directly or indirectly, for damages (including loss of profit or loss of reputation) caused by improper application or use of NANO MED.CLEAN.
About Nano Medical
Nano Medical is a subsidiary of the European company Trioly s.r.o. and is based in Liberec. The company is backed by Marcela Munzarová, a prominent European nanotechnologist and co-author of dozens of patents and utility models. Marcela Munzarová has been involved in nanotechnology and the industrial use of nanofibers for more than 15 years and was at the birth of the Nanotechnology Industry Association. She graduated from the University of Engineering and Textile in Liberec and is one of the biggest European personalities in the field of nanofiber materials.

Nano Medical is based in Liberec and has 30 employees. Nano Medical is a subsidiary of the European company Triola s.r.o. The company is backed by Marcela Munzarová, a prominent European nanotechnologist and co-author of dozens of patents and utility models. The company is especially famous for the development of the effective material AntiMicrobe Web R, which has a 99.9% virus and bacteria capture and very high breathability.

Marcela Munzarová has been involved in nanotechnology and the industrial use of nanofibers for more than 15 years and was at the birth of the Nanotechnology Industry Association. She graduated from the University of Mechanical Engineering and Textiles in Liberec and today she is one of the biggest European personalities in the field of nanofiber materials.



IČ
Iveta Černá
I am very satisfied with the product.
They breathe well, light, strong protection
HP
Hana Peterová
much better than a clunky respirator
MH
Marcela Havelková
I recommend.
AC
Alan Charvát
Great
KM
Kristýna Moravcová
They are great to work with and breathe
DK
Darja Kadlecová
Great !
IV
Iveta Vrabcová
Super
K
Klára
So far, clearly the best disposable nanomasks - they fit well, you can breathe well through them, we buy them repeatedly.
RB
Renata Brabcova
Great, I'm glad I don't have to use a respirator.
IK
Ivana Kolářová
Great, light and effective at the same time, comfortable to wear for the entire working time. We no longer buy others.
JN
Jan Novotný
Good quality, they breathe better
DK
Daniel Křenek
Excellent masks.
I
Ivana
The best so far, they breathe well, the face doesn't sweat, they are disposable, so if the price were lower... But I will buy again.
AS
Andrea Soukupová
He breathes well through them.
K
Katerina
Very comfortable even for long wear.
PN
Petr Němec
Satisfied as always. The product has no competition. But the price could be lower.
JC
Jana Chromcová
He breathes well through them. The best I've tried so far. I bought it for the second time.
Good
it breathes well
IJ
Ing. Stanislav Jakubec
Spokojeni
MD
Martin Dudek
Excellent, it breathes much better, it's great
KK
Kateřina Kufová
It breathes well and is comfortable to wear.
JJ
Jiří Javorský
Great price
ŠM
Štěpánka Martincová
It is better than a respirator. It breathes well and fits well.
PŠ
Petr Šroubek
Satisfaction

Pleasant, breathe well in them
RK
Růžena Kočí
It wears well
LK
Lucie Krbálek
Great, light.
masks are breathable
KV
Kateřina Víchová
jsou super
MŘ
Michal Řízek
The handkerchiefs that came to me from you somehow do not have any marks on the back....
AS
Alice Studenovská
Excellent, breathable, comfortable.

Very good product. I recommend to all.
OK
The mask is light and breathable. The manufacturer claims great efficiency. The mask has all the necessary certificates.
For me and my grandmother, the straps are too long, we make knots or wear them with a clip. Disposability is fine with me.
Ok
vzdušný
VM
Vojtěch Malina
The previous version was already 5 stars. At the last collection, it was further improved with a visible NANO marking and anchoring of the nose wire.
High-quality, breathable, it breathes great and Czech!!!!!!!!!

The best disposable masks I have used.
prodyšná
Face masks are smaller than other types, they are more suitable for women or older children. The quality is good, it breathes well through them and above all it is a Czech product. I recommend.
according to the recommendation of my pulmonologist, I can breathe better in it with a respirator, I'm suffocating and my head is spinning
Pohodlné ošení.
The nano mask is great, it's just a shame that it doesn't say that it's NANO....
it's a pity that there is no Nano marking on the mask - I use it outside the store (so I don't have to argue with anyone). Otherwise, he breathes and speaks well in a mask - inside and outside.
The product is fine. The only thing that bothers him is that the number of the directive that it meets is not printed on the mask. How do I prove it's a nanomask?
+ Lepší dýchání - Cena
příjemné
Lehké, dobře prodyšné. Jenom na menší obličej nutno zkrátit gumičky.

- chybí nápis nanorouška (je těžké se dohadovat o tom, že je to nano a né obyčejná)
Výborné roušky

I recommend!
compared to the politically imposed respirator, this mask breathes very well, it is light and does not bother or press as much on the face as a respirator
it fits well, the rubber bands don't constrict, it breathes better, it doesn't smell
Příjemně prodyšná rouška, gumičky drží, dobře se nosí.
postrádám v balení nějaký certifikát od výrobce

Satisfied, breathable, wears well. I recommend.
An impeccable product with a high percentage of filtration efficiency. The mask is light, it breathes well (I have asthma). I also buy for my daughter, I have also recommended it to my friends.
Super breathable, pleasantly soft material
pohodlnější než respirátor

improve packaging - loosely packed in a box
dobře se dýchá, lehké
suitable in size and breathability, high-quality workmanship
I have already ordered several times. The masks are breathable and suitable even for a larger face. He pushes rubber bands behind his ears. I am very satisfied with them.
OK
The best face mask I've come across in the coronavirus era.
zboží přišlo včas a v pořádku
S produktem jsem celkově velmi spokojená a doporučuji ho ostatním.
Kvalitní.
I wear masks every day, they breathe well. I recommend this product.
E
Eva K.
Everything as advertised, comfortable longer elastic bands, perfect breathability, the best nano masks we've tried. Plus a great price!
I am buying for my husband for work, so far he rates them as the best breathable of the cheaper nano masks he has tried so far.
For now, it reliably protected against infection.

I don't know of any.
Nano Medical Nano fiber mask Nano Med.Clean white 50 pcs - product selected for protection against the infection of Covid 19. My opinion - I recommend the purchase for normal daily use, where the risk of infection is lower (staying in nature, or if it is necessary to change several masks during the day. Everywhere where there is no need to use higher category respirators. For all ages (size - excluding small children). It works as I expected

Probably a quality mask, except for the long rubber bands. It has a wire for the nose, breathes well in it, does not get wet after a short use outside like fabric masks
practical, functional, easy to use, easy to apply to the face mask, after use the filter is disposed of and the mouthpiece is washed, with daily use of the mouthpiece for 8 hours in one piece, it is the best option that I have had the opportunity to try so far I bought the product because it is made in the Czech Republic the price is not the lowest, but I assume that it will provide me with the required quality I am a civil servant and the product is suitable for all day work in the office it is suitable for all occasions - work, shopping arrangements, light social mouthpieces must protect us, not surprise us

-
Spokojenost
MJ
Michal Jahodka
The masks look good. Very breathable material. The elastics behind the ears are unnecessarily long, I solved it by fastening the elastics behind the head with a clip. If the elastics are shortened with a knot or a clip behind the head, the mask, after shaping the wire at the nose, seals nicely on the face. However, I can't give five stars, because the left rubber band on the top of approx. 8 pieces out of 50 was poorly welded to the mask and immediately tore off. I believe that the problem has already been solved in production.
super
Česká produkce alespoň splňuje co deklaruje.
Nezaznamenala jsem žádné nevýhody.

The nanomask is pleasant on the face and breathes well through it.
Super, dobře sedí na obličeji, jsou prodyšné.
Masks are unnecessarily large, especially large rubber bands, they do not fit the face, knots must be made on the rubber bands.
velká prodyšnost

Narrower veil
I have had a good experience with this nanofibre mask. It is light, very breathable. I shortened the rubber bands with a knot (they were long for my face). The knot is not a problem when wearing, the rubber bands do not strangle and the mask fits well on the face. The mask suits me in every way. I also bought them for my old, seriously ill parents. Both are also satisfied.

Gumičky se musí stáhnout, aby rouška dobře seděla.
I personally do not like this type of rusok, because of the size. They are too big. Russia is a bit longer than from Spurtex, and the rubber too. In other words, they don't sit on the face ("planking"). Be that as it may, the 5-layer Russians from Spurtex were the best. The Russians fit perfectly on the face, and the elastic band was also perfectly long. I can't judge the effectiveness, but they are still great (we are healthy :) ).
+++
DŠ
Dušan Šťastný
Roušky jsou trochu volnější, asi jsou delší provázky i když při porovnání s rouškou z Číny, působí velikostně stejně. Materiál je subjektivně příjemný na dotyk. Zda nanovlákno chrání lépe nemohu posoudit, je to o víře. V balení 50 ks bylo 5 ks bez "drátku" pro vytvarování kolem nosu.
Nemohu se vyjádřit k deklarovaným vlastnostem, ale věřím, že uvádějí správná data. Pokud jde o prodyšnost a komfort nošení, zatím v oblasti všemožných roušek jsou u mě číslo 1. Dobře se přes ně dýchá a po delším nošení mě neškrábou průdušky.
Easy product selection and ordering. Transport without a problem
zakúpený tovar vhodný pre zdravotníkov ( aj PLPD)

The mask has a nanofiber membrane, which is its main advantage. At the same time, however, it is a bit stiffer and adapts to the face more difficult (sometimes it feels like it "suffocates" me). At the same time, it is less breathable than a regular surgical mouthpiece, so it is more difficult to breathe in it. But I don't know if this is related to the layer of nanofibers. ..
kvalita
S VÝROBKEM JSEM SPOKOJENA, DOBŘE SE S NÍM DÝCHÁ.

Kvalitní česká nano rouška: dobré zpracování, delší gumičky pro větší obličej (lze jednoduše zkrátit uděláním uzlíků), dobře se přes ni dýchá.

+ Light, airy. Pleasant on the face. - Unfortunately, the masks are too big for my face, I would have to tie the elastics - shorten them, so my husband will get them.
Only registered users may post articles. Please log in or register.
T
Srovnani zachytu viru
Tom
Dobrý den, Mám prosbu. Jakou úroveň zachytu tato rouška nabízí? FFP2 nebo jinou? Jak to srovnat s ostatními výrobci? Například se značkou spurtex, ktere take nabizite. Děkuji.
IS
Ivana Svobodová
Dobrý den, roušky od firmy SPUR mají efektivitu filtrace (BFE) 99,73 %, tyto roušky do firmy Nano Med Clean má efektivitu záchytu 99,9% pro částice o velikosti bakterií a virů. Děkuji a přeji hezký den.
T
zlatokopové a český šmejdi
tim
Vvysoce prodyšná nanovlákenná rouška se záchytem virů i bakterií, certifikováno dle EN 14683+AC, třídy II ....... tato rouška je podle směrnice řady 93/42/EHS to stačí napsat na rovinu, ale vám se jedná spíše o peníze než o zdraví, proč lžete lidem že rouška je se záchytem virů když ani nemáte k rouškám české papíry.
IS
Ivana Svobodová
Dobrý večer, Veškerá dokumentace k výrobku je v českém jazyce. Pro vás jako zákazníka je klíčové Prohlášení o shodě, které je v českém jazyce. Protokoly z Nelson Lab v anglickém jazyce akceptoval Státní ústav pro kontrolu léčiv bez výhrad. Protokoly výrobce dokládal při registraci výrobku. Děkuji za váš příspěvek.
The NANO MEDICAL company develops and manufactures respirators of the Nano Med.Clean brand, nanofilters and disposable and cotton masks. The company is based in Liberec (Czech republic), the center of the domestic nanotechnology industry.
How do NANO MEDICAL products work?
Respirators, nanomasks and nanofilters of the NANO MEDICAL brand prevent the penetration of 99.9% of bacteria, viruses and other pathogenic particles. Microorganisms that pass through the fabric are in such small quantities that the probability of infection is very small.
Disposable filters are placed in the pocket of a cotton mask and replaced after a few hours of wear.


More information:
► Everything You Should Know About Silver Nanoparticles
Which NANO MEDICAL product to choose?
If you are looking for a quality FFP2 class respirator:
► white FFP2 nanofiber respirator, black FFP2 nanofiber respirator, or FFP2 nude nanofiber respirator
If you are looking for a quality nanomask:
► Nano Med.Clean nano masks, 50 pcs
If you want a cotton mask with a pocket and nanofiber filters:
► NANO MED.CLEAN mask with a filter| 1 mask + 10 filters
If you are looking for a replacement package of nanofilters for cotton masks: