Ultralight Unisex Red FFP2 Neck Gaiter|nanoSPACE
Code:
AM.77.704

The largest seller of nano products
More than 400 nanotechnology products under one roof.

Czech production
We manufacture nanoSPACE brand products in the Czech Republic
Related products
Product detailed description
The gaiter is effective at blocking dust, smog, pollen, mold spores, viruses, infections, and airborne allergens, making it suitable for allergy sufferers, asthmatics, and immunocompromised individuals who require enhanced protection. However, it is not appropriate for children under 3 years old, and if used, they should always be supervised by a responsible adult.
Main benefits of the nanoSPACE Neck G
aiter

:
The nanoSPACE gaiter features a sewn-in nanomembrane in the nose and mouth area, with a retention rate of 97% to 99.9%.
Nanomembrane captures viruses, bacteria, dust, pollen and smog particles.
It is suitable for sports and everyday wear.
New version with interchangeable clip.
It is ideal for allergy and asthma sufferers.
It stands out for its high breathability and great efficiency in catching harmful particles.
Provides great protection for people with reduced immunity.
The covet is designed to be reused.
It is produced in a universal size.
The nanomembrane contains silver nanoparticles preventing proliferation of microorganisms.
Suitable for All Face Shapes
The gaiter is versatile and can be easily adjusted to fit any face, thanks to the wire in the nose area and the elastic band in the back. It is made of highly breathable material that ensures comfortable breathing, even in the summer months.
Adjustable and replaceable nose clip made of aluminum

 

- the gaiter can be well adapted to the face so that viruses, allergens do not penetrate.

Specially shaped cut

 

- covers the face and neck and thus protects you perfectly.

Adjustable elastic band

 

- helps in adjusting the gaiter to your head.

Double-spring brake

 

- the gaiter holds firmly and does not fall off.

Highly breathable

 

- the gaiter is comfortable to breathe and sport in.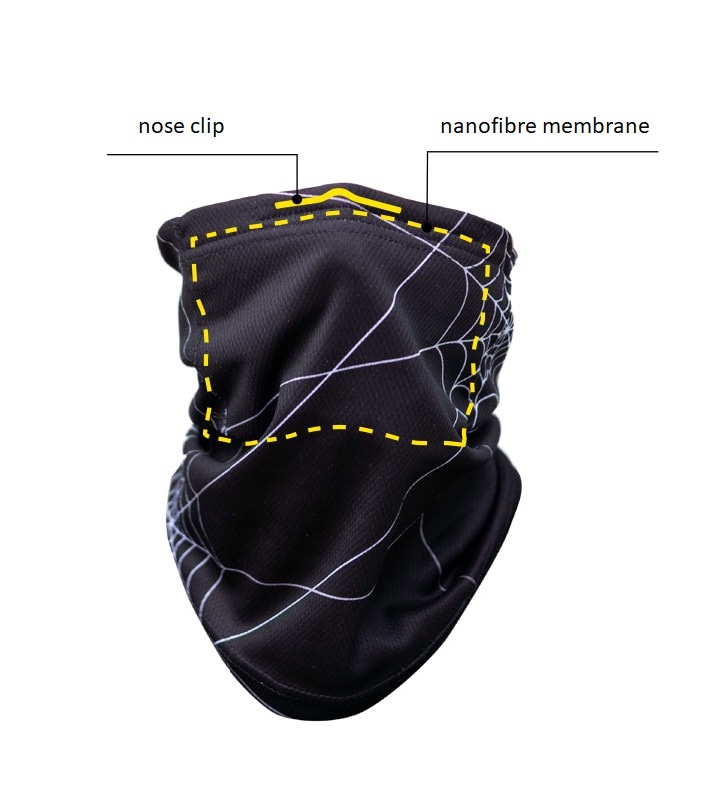 Enhanced Protection with Silver-Infused Nanofiber Membrane
The gaiter incorporates a nanofiber membrane that contains Nanosilver® nanoparticles. This utilization of Nanosilver® inhibits the growth and propagation of microorganisms within the structure of the gaiter. The membrane is sewn into the nose and mouth area, as depicted in the picture.
How the Nanofiber Membrane Technology in the FFP2 Nanofiber Neck Warmer Works"
The nanofiber membrane technology in the FFP2 Nanofiber Neck Warmer works by using nanofibers that are spun into a very dense mesh or filter. This membrane has microscopic holes that are so small that air molecules can pass through, but viruses, bacteria, and allergens are trapped with 97-99% efficiency. The nanofiber membrane from PARDAM NANO4FIBERS has been tested to trap particles between 0.1-0.3 um (100-300 nanometers), which includes the sizes of most bacteria (200-1000 nanometers) and viruses (20-400 nanometers).
In addition, the membrane's ability to trap particles is not limited to the sizes that have been tested. The nanoscale of the fibers allows for atomic forces to come into play, making particles smaller than 200-300 nm even easier to trap. This is because smaller particles are affected by Van der Waals forces, while larger particles, like bacteria and viruses, are often attached to other aerosol or dust particles in the air. The FFP2 Nanofiber Neck Warmer also contains silver nanoparticles, adding an extra layer of protection against microorganisms.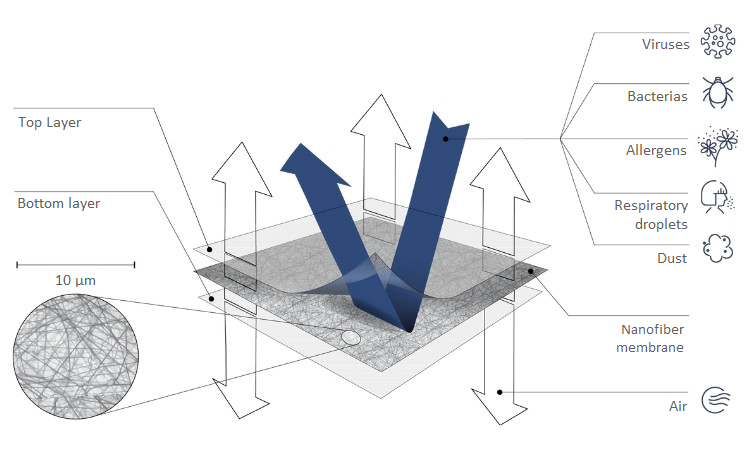 What Distinguishes the Nanofiber Membrane in the Gaiter from that of Its Competitors?
The nanofiber membrane utilized in the nanoSPACE gaiter is renowned for its durability and damage resistance. Our team conducted assessments on all membrane variations available on the European market, and discovered that, aside from the membrane we employed, other membranes from competitors failed to endure washing (with the efficiency of competing membranes decreasing from 99% to 10% following a single wash). Our membrane retains a 95% efficacy rate even after undergoing 15 gentle washing cycles.
We advise disinfecting it on a daily basis and washing it once per week. Additionally, our membrane contains silver nanoparticles, which counteract microorganism proliferation within the membrane.
Protect Yourself from More than just Epidemics:
With smog linked to over 5.5 million deaths annually, it's important to protect ourselves from polluted air. The effects of inhaling smog for extended periods of time can lead to serious health issues such as headaches, skin irritation, eye irritation, liver failure, asthma, and even cancer. That's why a neck gaiter can serve as a versatile solution for not just epidemics and pollen season, but for shielding against polluted air as well. Here are some of the key scenarios where wearing a neck gaiter can make a difference:
In smog-ridden cities, particularly during outdoor activities and exercise
During allergy season for those with allergies and asthma
When traveling, especially to highly polluted Asian cities like Bangkok
During outdoor sports where airways are fully open and vulnerable to absorption of harmful particles
In public transportation where the risk of transmitting infections and viruses is high
In various outdoor activities where protection from external factors is necessary (fishing, shooting, climbing, motorcycling, etc.).
What is the Rationale behind Using Micro-Mesh® to Create Gaiters?
The reason behind using Italian Micro-Mesh® to produce gaiters is due to its unique properties. It is an elastic knit composed of 90% polyester and 10% elastane, with a weight of 115 g/m-2. The material is made using microfiber on fine knitting machines, resulting in a knit with 42 stitches per inch (2.54 cm). This creates a soft and comfortable material that conforms to the curves of the face. Additionally, the micro-holes provide excellent breathability, making it ideal for use in the warm summer months.
How to Properly Wear the FFP2 Nanofiber Neck Gaiter for Optimal Protection
Start with Clean Hands: Wash your hands thoroughly with soap and water or use an antibacterial gel before putting on the gaiter. Repeat after removing it.
Roll and Slip Over Head: Roll the gaiter up and carefully pull it over your head.
Secure Nose Clip: Press the nose clip to the root of the nose and shape it gently.
Adjust Fit: Use the adjustable elastic cord at the back to tighten the gaiter, ensuring a secure and snug fit.

Instructions for removing the FFP2 Nanofiber Neck Gaiter:
Start by loosening the nose clip and elastic cord to gently remove the gaiter.
Ensure to wash your hands with soap and water or use hand sanitizer.
Properly clean or sterilize the gaiter.
Note: FFP2 Nanofiber Neck Gaiter should fit properly without covering the ears for adults. Avoid folding the nose clip while wearing, maintaining or storing the gaiter.

Care of the Wire
Before washing


Always remove the wire before washing. It is made of aluminium and could be damaged in the washing machine.

Do not fold


Never fold the gaiter in half at the wire area. The wire is made of aluminum and can break under extreme stress.
Instructions for Caring for the nanoSPACE Nanofiber Neck Gaiter
To maintain the effectiveness of the Nanofiber Neck Gaiter, it's essential to follow proper care instructions.
Wash: Clean the gaiter using a chlorine and

 

phosphorus-free washing gel or powder, core soap is recommended. Avoid tumble drying and opt for hand washing or a gentle cycle in the washing machine.
Disinfect: After each use, sterilize the gaiter with a

 

disinfectant suitable for nanofiber products.
Drying: Allow the washed gaiter to air dry for 12 to 24 hours, spreading it out on a drying rack or on a heater. Avoid using clothespins in the filter area.
Caution: Do not use bleach, fabric softeners or other harsh products, and avoid ironing or tumble drying the gaiter.
Replacement: Over time, the nanofiber filter in the gaiter may lose its effectiveness and the entire neck warmer will need to be replaced.
Eco-friendly Packaging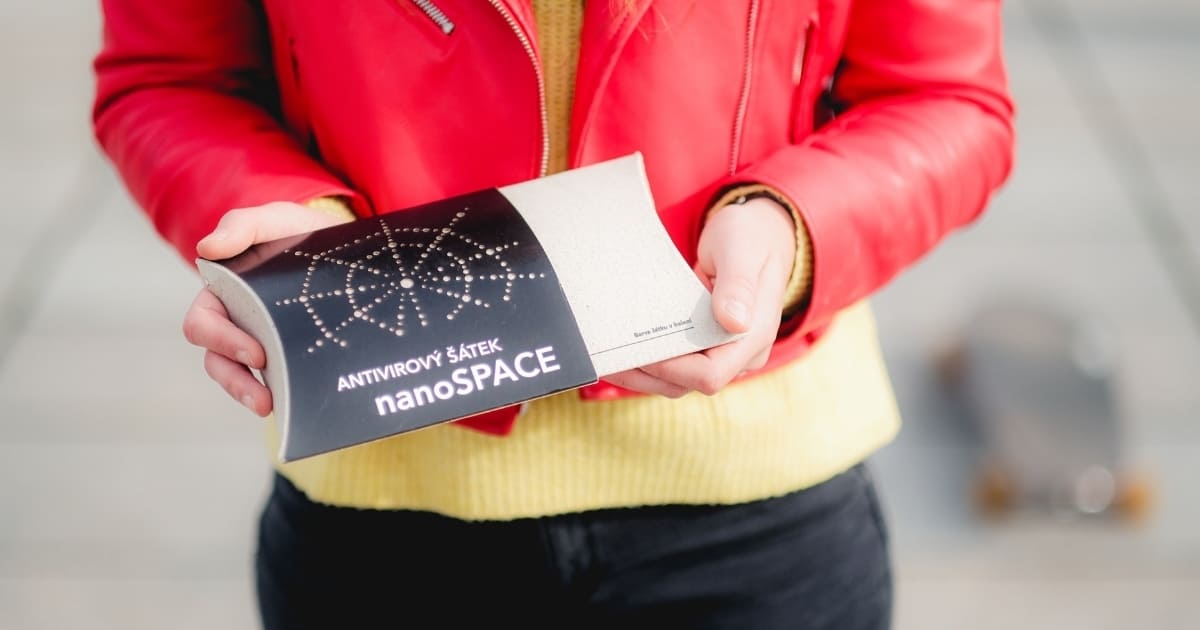 Environment protection is a top priority at our company, which is why we have decided to invest in a more eco-friendly packaging solution. Our neck gaiters come in boxes made of grass paper, sourced from unused agricultural compensation areas. This paper is produced mechanically using grass pellets and recovered paper, and no fertilisers or chemicals are used in the process.
Warning:
Please note that this product is not suitable for children under the age of 3 or for those with clothing size 110.
Dimensions:
The approximate size of the gaiter is 26 x 26.5 cm (measured at the top edge, with a possible width variation of up to 1 cm at different points).
The filter measures approximately 15 x 21 cm.
As the gaiter is handmade, dimensions may vary.
Composition:
The material composition of the neck gaiter is 90% polyester and 10% elastane, with a weight of 115 g/m-2.
The filtering nanofiber material is made up of 95% polypropylene and 5% PA6.
Manufacturer
This product is manufactured by nanoSPACE s.r.o. located at Rohova 98, Domažlice 344 01. It falls under the category of FFP2 neck gaiters.
JP
Jana Petříková
Very satisfied
It is great. Thank you.
- Thanks to the relatively large sewn-in filter, the scarf does not lie around the neck like a classic sports tunnel.
Definitely suitable for men with a beard :)
The Czech company nanoSPACE has been operating on the market since 2012 and focuses primarily on products where nanofiber textiles are used. In 2012, it became the first manufacturer to use a nanofibrous membrane in barrier covers for allergy sufferers. Since then, it has expanded its portfolio to include nano duvets and nano pillows, which are especially suitable for people with dust allergies.
In 2016, it was the first in the world to present functional bed linen that can fully replace barrier coatings. This product line, which bears the name Nanocotton®, was able to combine the functionality of the material with organic cotton and is suitable not only for allergy sufferers, but also for atopic patients.
During the coronavirus epidemic in 2020, nanoSPACE used its long-term knowledge in the field of nanofiber materials and started the production of anti-virus neck gaiters and protective masks made of nanofiber. From 2021, it also produces designer washable nano masks.
In 2021, the nanoSPACE company founded the subsidiary nanoSPACE Technology, which is dedicated to development, research and innovation in the field of nanofiber textiles.