nanoSPACE designer washable nano face mask - blue
FFP2
Code:
1967/S
1967/M
1967/L
Choose variant

The largest seller of nano products
More than 400 nanotechnology products under one roof.

Czech production
We manufacture nanoSPACE brand products in the Czech Republic
Related products
Product detailed description
Washable nanofiber masks have sewn into them a nanofiber material used for the manufacture of FFP2 class respirators. Dust, smog, pollen, mold spores, viruses, infections, or other aggressive substances and airborne pollutant allergens will not reach you when using the nanoSPACE nanofiber mask. It is therefore suitable for people suffering from allergies and asthma as well as anyone with reduced immunity who needs to protect themselves better.
Benefits of a washable nano face mask by nanoSPACE
Available in 3 sizes
Nose clip for excellent fit around the nose
European nanofiber which is also used for manufacture of functional FFP2 class respirators
Coolmax® hypoallergenic functional material
Reusable
Why are nano face masks made of Coolmax®?
COOLMAX® is a functional material that can effectively transport sweat and water vapour away from the skin. This property is crucial in sports or activities where sweating occurs. Coolmax® material is cool and pleasant on the skin, and is often used for extreme weather clothing as it can provide comfort and convenience even in extreme conditions.
What is COOLMAX®?
It is a material that is made of polyester fibers with a unique cross-section shape. The fibre is made up of channels that help transport sweat away from the body surface faster. Thanks to these channels, sweat is drawn to the surface of the fabric where it evaporates. Coolmax materials therefore do not absorb moisture, but ensure evaporation. Coolmax materials are mainly used for functional underwear, socks, and cycling jerseys; we have used it for the production of a balaclava to increase your comfort in summer weather or during sports activities.
How does the nanofiber in the nanoSPACE designer washable nano face mask work?
The nanofiber is 1000 times thinner than a human hair and it is invisible to the naked eye. In the European, we are experts in nanofibers and in 2004, the engineers in Liberec were the first in the world to develop a machine called Nanospider for the industrial production of nanofibers. Nanofiber can be made from a wide variety of organic and inorganic materials and it is used for the production of various filters, as well as in cosmetics and healthcare.

Nanofibers are spun into a nanofiber membrane, which can be imagined as a very dense network or filter. The holes in this filter are so small that an air molecule can pass through, but bacteria, viruses or allergens cannot. PARDAM's nanofiber membrane has a tested capture efficiency of 97-99% for particles of 0.1-0.3um (100-300 nanometres). Bacteria typically range in size from 200-1000 nanometres, viruses from 20-400 nanometres. This does not mean that the membrane cannot capture particles smaller than the tested particles. On the contrary.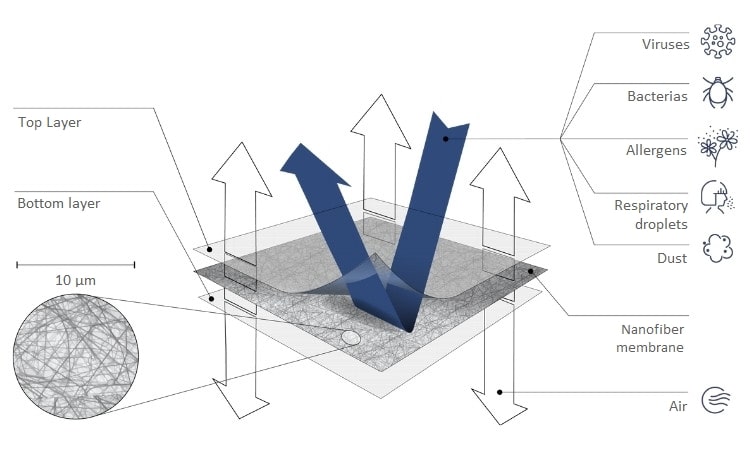 At the nanoscale, so-called atomic forces come into play. Due to these forces, the most critical particle size for capture on membranes in air filtration is 200-300 nm, but smaller particles are more easily captured thanks to atomic forces! 200-300 nm particles pass through membranes most easily, which is why filter materials are commonly tested for this size. Particles larger and smaller than 200-300nm are more efficiently trapped and adhered to the fibres, as the Van der Waals forces come into play for small particles. In addition, bacteria and viruses are always attached to other aerosol or dust particles in the air. 
Nanofiber membrane with silver
nanoSPACE nano masks use a nanofiber membrane containing Nanosilver® particles. Thanks to the use of nanosilver, microorganisms cannot survive and proliferate in the structure of the mask.
Maintenance of nanoSPACE washable nano face mask
Wash the nano masks in chlorine and phosphorus-free washing gel or powder. Core soap is ideal. We do not recommend machine drying, even at low temperatures. If you are using the mask for virus protection, always sterilise it after use, for example with a disinfectant suitable for nanofiber products. The nano mask can be washed at 40 C, but to keep the membrane working for as long as possible, we recommend hand or machine washing on a gentler cycle (a hand wash programme is ideal). Leave the washed nano mask to dry for 12 to 24 hours hanging loose on a line or on a heater. If washing the mask by hand, use caution not to damage the nanofiber filter. Do not use bleach, fabric softeners or other aggressive products and do not machine dry or iron the mask. When these guidelines are followed, the product retains most of its filtering efficiency even after several dozen wash cycles. The manufacturer of the nano membrane does not recommend sterilization with a UVC lamp (germicidal lamp) as it is a strong oxidizing agent! We recommend washing without wringing. This will prolong the life of the nose clip. Mechanical damage to the filter and nose clip is not covered by the warranty. Ecoegg washable eggs are suitable for washing designer nano-ears.
How does the membrane used in our designer washable nano face mask differ from the competition?
The nanofiber membrane used in nanoSPACE antivirus gaiters is characterised by being robust and resistant to damage. We have tested all of the membrane types available on the European market and unlike the one used by us, all the other competitors did not survive washing (efficiency of competitor membranes was reduced from 99% to 10% already after one washing). Our membrane retains 95% efficiency after 15 mild washing cycles. We recommend daily sterilising with a disinfectant and washing on a weekly basis.

Our membrane is also enriched with nanoparticles of silver preventing microorganisms from proliferating inside the membrane.
Handy, environment friendly packaging
Masks are packed in a doypack made of 100% recyclable material (recycling mark "7") in white or black. The bag is resealable. It is handy to carry the masks in your handbag or to put contaminated masks in it.
Sizing of nanoSPACE nano face masks
 
Height from the nose root to under the chin

 

Width from the nose root to the upper elastic band

 
S
12 cm
10 cm
Particularly for children and small female faces
M
13,5 cm
10 cm
Particularly for women
L
15,5 cm
13 cm
Particularly for men
Manufactured manually, the above dimensions are approximate and may vary by up to 1cm.
Composition
Textile material (knit): 100% polyester
Nanofiber filter material: polypropylene and PA6
P
PD
light, comfortable to wear, we have the whole family
DB
Denisa Bártová
I'm glad we don't have to throw away piles of disposable respirators. This one is light, comfortable, breathes well, can be washed... I bought one more for everyone for great satisfaction - let's take turns...
ST
Stela Tesarczyková
Great satisfaction.
HR
Hana Ryšková
This face mask is the best I've ever worn. Even from the nano ones. Fits well, breathes well.
RN
Renata Netrvalová
Very, very practical
MD
Markéta Drahošová
We already have 3 nano masks. They are beautiful to wear and above all they protect us. I highly recommend.
it sits well on the face

I can warmly recommend this nano mask.
Definitely more pleasant than a respirator.
K
Klára
My husband is a size M and it fits him perfectly. He praises the material, breathability and color. He wears glasses and thus constantly deals with the fogging problem, but he mentioned that the glasses fog up the least with this mask (compared to respirators, surgical masks and other nano masks).
IZ
Ivan Zbořil
Very high quality product.

nice masks with easy maintenance, size L very large, poorly sealed
Pleasant use
TB
Tereza Bočková
1
MK
Michal Kothera
Key advantages: it is made in the Czech Republic and is washable, so it doesn't make as much of a mess as disposable masks and respirators. The slight downside is that (at least not on my face) it likes to slide down when I'm talking, so I have to sniff it back up.
Excellent cut, great that the veil is also available in this mini size, petite women for whom the M size is large can finally wear a quality and well-fitting veil. It breathes excellently, compared to disposable (high-quality) respirators, it is clearly more comfortable. Easy maintenance, reusable.
Breathable, fits well, breathes well, nice design.

Higher price
Fits well.
Nice cut, quality material, fits well.
Skvělá
Very nice execution, color and design. The only problem is that I'm "stuck" between sizes (very narrow face), so it fits perfectly in width, an extra centimeter would be good for height, but size M is too big. So for me, it requires a really precise griff for putting on - but after a couple of days of training, it's already going well.
Kvalitní, za rozumnou cenu, možnost praní. Doporučuji
Seamlessly.
As far as possible, the mask is relatively pleasant on the face. In the beginning, it didn't hold much and fell under the nose, but that was fixed after a few wears. It doesn't leak too much - but that's no different from respirators of the same shape, which leak even less. (The only sealing respirators I've tried are the wide ones with rubber bands over the head.) How much it works as protection, of course, is hard to tell.

Compared to a classic respirator, you can breathe through a nanomask
+ Quality, comfortable neckerchief, easy to weat
I have been using an antiviral scarf with a nanofiber membrane for a long time. But it also covers the neck, which is fine in cold weather, but this mask will be better in warmer weather. I ordered size M, but I have a narrow and petite face, so the mask does not fit well on my face. Size M is looser even for a 13-year-old son. I will have to order a size S.

Breathes great through the mask and at the same time perfectly seals. My throat doesn't burn in the evening like when using an ordinary respirator. Light material on the mask, dries quickly after washing.
The veil is poorly sewn, on one side the size is spread by 1 cm.
It wears well and, above all, does not get wet and breathes well.
příjemný materiál.
It breathes well

Nice material, does not sweat in it fits the face well.
Kvalitní pratelná nanorouška, dobře padne i dobře vypadá.
he breathes much better in a nano mask than in a disposable respirator
The nano mask is used by my son (9 years old), it feels good on his face, the material is breathable. According to him, it is incomparably better than a disposable respirator. The material is breathable and dries quickly after washing. Overall grade - excellent
In my opinion, excellent quality for a higher price (CZK 449). I am thinking of buying one for each family member.
He breathes well (12-hour shift), he doesn't press anywhere - not even the rubber bands behind his ears ;)
He breathes better than through a respirator. It comes off your face even when you're not talking, even before adjusting the rubber bands.....
The Czech company nanoSPACE has been operating on the market since 2012 and focuses primarily on products where nanofiber textiles are used. In 2012, it became the first manufacturer to use a nanofibrous membrane in barrier covers for allergy sufferers. Since then, it has expanded its portfolio to include nano duvets and nano pillows, which are especially suitable for people with dust allergies.
In 2016, it was the first in the world to present functional bed linen that can fully replace barrier coatings. This product line, which bears the name Nanocotton®, was able to combine the functionality of the material with organic cotton and is suitable not only for allergy sufferers, but also for atopic patients.
During the coronavirus epidemic in 2020, nanoSPACE used its long-term knowledge in the field of nanofiber materials and started the production of anti-virus neck gaiters and protective masks made of nanofiber. From 2021, it also produces designer washable nano masks.
In 2021, the nanoSPACE company founded the subsidiary nanoSPACE Technology, which is dedicated to development, research and innovation in the field of nanofiber textiles.