Unisex Blue FFP2 Nanofiber Neck Gaiter|nanoSPACE
for winter sports
Code:
AM.77.781

The largest seller of nano products
More than 400 nanotechnology products under one roof.

Czech production
We manufacture nanoSPACE brand products in the Czech Republic
Related products
Product detailed description
Most dust, smog, pollen, mould spores, viruses, infections and airborne allergens will not pass through the membrane. The gaiter is therefore suitable for allergy sufferers, asthmatics and all immunocompromised individuals who need to protect themselves better. It is not suitable for children under 3 years of age - if necessary, the child must be supervised by a responsible adult at all times.
Key Benefits of Cutting-Edge FFP2 Nanofiber Neck Warmer
Proven Filtration Efficiency: The nanofiber membrane provides a filtration efficiency of 97-99.9% against bacteria, viruses, pollen, and other submicron particles.
Comfortable Wear: Made with Coolmax material, the neck warmer efficiently pulls sweat away from the skin, ensuring you stay cool and dry all day.
Convenient Design: With a washable and replaceable nose clip, you can use this neck warmer daily without any hassle. The one-size-fits-all design makes it suitable for all.
Eco-Friendly Packaging: The environment-friendly packaging adds to the product's sustainability.
Antimicrobial Protection: Nanoparticles of silver provide added antimicrobial effect for extra protection.
Quality Assurance: The manufacturer's declaration of conformity ensures you receive a high-quality product.
Member of Czech Nanotechnology Industries Association: The manufacturers of the product and the nanomembrane are proud members of this association, ensuring you receive the best in nanotechnology protection.
Universal Fit Neck Warmer: Breathable, Adjustable, and Secure
One size fits all face shapes
Adjustable and replaceable aluminum nose clip
Specially designed cut for complete face and neck coverage
Adjustable elastic band for a secure fit
Double-spring brake for a snug and secure hold
High breathability for comfortable wear during physical activities.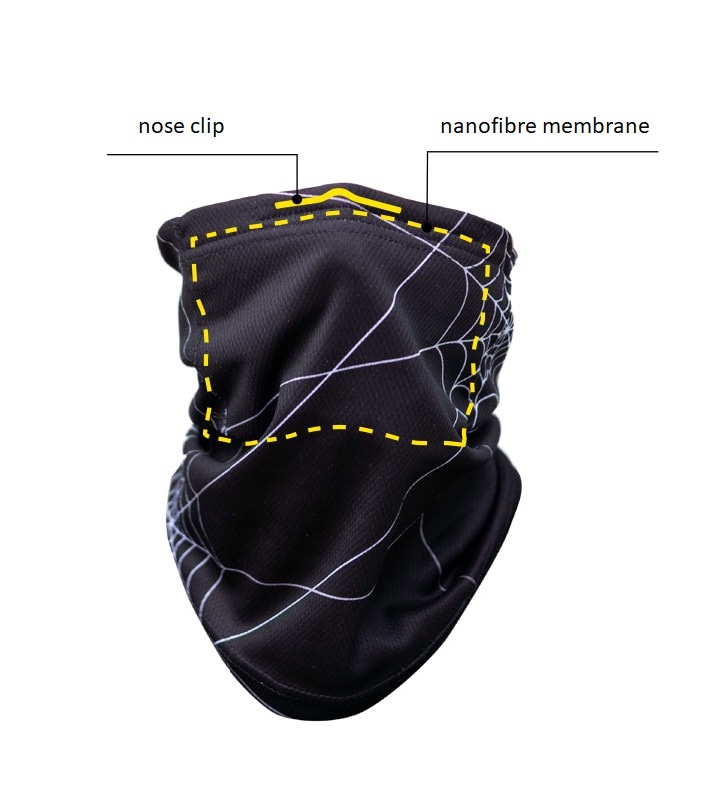 Enhanced Protection with Silver-Infused Nanofiber Membrane
NanoSPACE Neck Warmer features a state-of-the-art nanofiber membrane infused with silver nanoparticles (Nanosilver®). This unique combination provides unparalleled protection against microorganisms, preventing their growth and survival within the structure of the gaiter. The membrane is strategically placed in the nose and mouth area, offering complete coverage and peace of mind.
How the Nanofiber Membrane Technology in the FFP2 Nanofiber Neck Warmer Works"
The nanofiber membrane technology in the FFP2 Nanofiber Neck Warmer works by using nanofibers that are spun into a very dense mesh or filter. This membrane has microscopic holes that are so small that air molecules can pass through, but viruses, bacteria, and allergens are trapped with 97-99% efficiency. The nanofiber membrane from PARDAM NANO4FIBERS has been tested to trap particles between 0.1-0.3 um (100-300 nanometers), which includes the sizes of most bacteria (200-1000 nanometers) and viruses (20-400 nanometers).
In addition, the membrane's ability to trap particles is not limited to the sizes that have been tested. The nanoscale of the fibers allows for atomic forces to come into play, making particles smaller than 200-300 nm even easier to trap. This is because smaller particles are affected by Van der Waals forces, while larger particles, like bacteria and viruses, are often attached to other aerosol or dust particles in the air. The FFP2 Nanofiber Neck Warmer also contains silver nanoparticles, adding an extra layer of protection against microorganisms.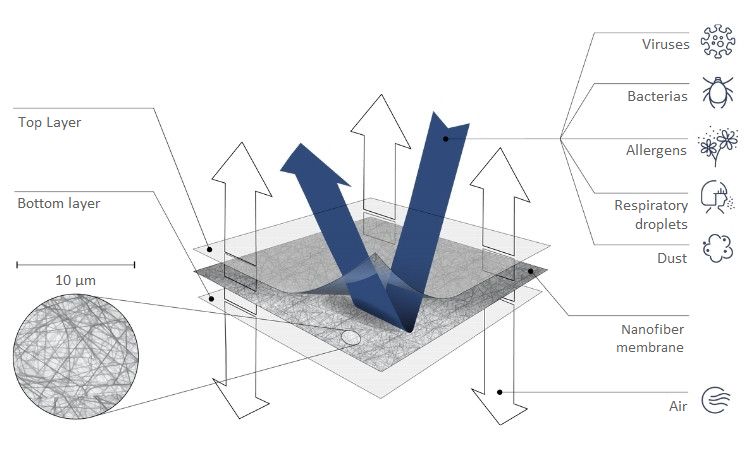 Unmatched Durability and Hygiene: The nanoSPACE Gaiter's Nanofiber Membrane Explained
The nanoSPACE Gaiter sets itself apart from other face coverings with its cutting-edge nanofiber membrane. Unlike other membranes that lose their effectiveness after just one wash, the nanoSPACE Gaiter's membrane has been tested and proven to maintain 95% efficiency even after 15 washing cycles. Additionally, the membrane is infused with silver nanoparticles that keep microorganisms at bay, ensuring maximum hygiene. Experience the difference of a truly durable and hygienic face covering with the nanoSPACE Gaiter.
Protect Yourself from More Than Just Epidemics: The Multipurpose Neck Warmer
With smog linked to over 5.5 million deaths annually, it's important to protect ourselves from polluted air. The effects of inhaling smog for extended periods of time can lead to serious health issues such as headaches, skin irritation, eye irritation, liver failure, asthma, and even cancer. That's why a neck gaiter can serve as a versatile solution for not just epidemics and pollen season, but for shielding against polluted air as well. Here are some of the key scenarios where wearing a neck gaiter can make a difference:
In smog-ridden cities, particularly during outdoor activities and exercise
During allergy season for those with allergies and asthma
When traveling, especially to highly polluted Asian cities like Bangkok
During outdoor sports where airways are fully open and vulnerable to absorption of harmful particles
In public transportation where the risk of transmitting infections and viruses is high
In various outdoor activities where protection from external factors is necessary (fishing, shooting, climbing, motorcycling, etc.).
Why Choose Micro-Mesh® for Our Neck Warmers?
Our gaiters are made from premium Italian Micro-Mesh® which combines the perfect blend of 90% polyester and 10% elastane, resulting in a lightweight material with a weight of 115 g/m-2. This advanced microfiber material is crafted using state-of-the-art fine knitting machines, producing a knit with 42 stitches per inch (2.54 cm), providing a smooth, soft and comfortable texture that conforms perfectly to the contours of the face. The micro-holes in the knit ensure optimal breathability during even the warmest summer months. With Micro-Mesh® as our material of choice, you can be assured of a neck gaiter that not only looks great, but feels great too!
How to Properly Wear the FFP2 Nanofiber Neck Gaiter for Optimal Protection
Start with Clean Hands: Wash your hands thoroughly with soap and water or use an antibacterial gel before putting on the gaiter. Repeat after removing it.
Roll and Slip Over Head: Roll the gaiter up and carefully pull it over your head.
Secure Nose Clip: Press the nose clip to the root of the nose and shape it gently.
Adjust Fit: Use the adjustable elastic cord at the back to tighten the gaiter, ensuring a secure and snug fit.


Instructions for Removing the FFP2 Nanofiber Neck Gaiter:
Start by loosening the nose clip and elastic cord to gently remove the gaiter.
Ensure to wash your hands with soap and water or use hand sanitizer.
Properly clean or sterilize the gaiter.
Note: FFP2 Nanofiber Neck Gaiter should fit properly without covering the ears for adults. Avoid folding the nose clip while wearing, maintaining or storing the gaiter.

Care of the Wire
Before washing


Always remove the wire before washing. It is made of aluminium and could be damaged in the washing machine.

Do not fold


Never fold the gaiter in half at the wire area. The wire is made of aluminum and can break under extreme stress.
Instructions for Caring for the nanoSPACE Nanofiber Neck Gaiter
To maintain the effectiveness of the Nanofiber Neck Gaiter, it's essential to follow proper care instructions.
Wash: Clean the gaiter using a chlorine and phosphorus-free washing gel or powder, core soap is recommended. Avoid tumble drying and opt for hand washing or a gentle cycle in the washing machine.
Disinfect: After each use, sterilize the gaiter with a disinfectant suitable for nanofiber products.
Drying: Allow the washed gaiter to air dry for 12 to 24 hours, spreading it out on a drying rack or on a heater. Avoid using clothespins in the filter area.
Caution: Do not use bleach, fabric softeners or other harsh products, and avoid ironing or tumble drying the gaiter.
Replacement: Over time, the nanofiber filter in the gaiter may lose its effectiveness and the entire neck warmer will need to be replaced.
Eco-friendly Packaging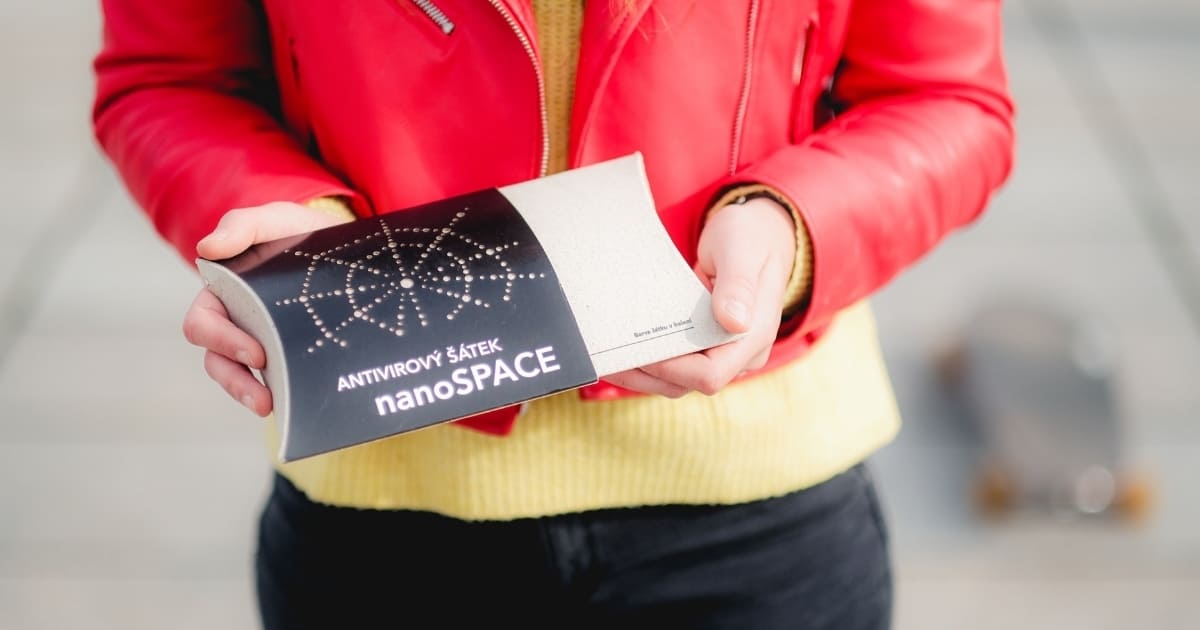 Environment protection is a top priority at our company, which is why we have decided to invest in a more eco-friendly packaging solution. Our neck gaiters come in boxes made of grass paper, sourced from unused agricultural compensation areas. This paper is produced mechanically using grass pellets and recovered paper, and no fertilisers or chemicals are used in the process.
Warning:
Please note that this product is not suitable for children under the age of 3 or for those with clothing size 110.
Dimensions:
The neck gaiter measures approximately 32 x 27 cm (width may vary by up to 1 cm) and the filter dimensions are approximately 15 x 21 cm. These are handmade products, so dimensions may vary.
Composition:
The neck gaiter is made of 100% polyester knit material, and the filtering nanofiber material is composed of 95% polypropylene and 5% PA6.
Manufacturer:
This product is manufactured by nanoSPACE s.r.o. located at Rohova 98, Domažlice 344 01. It falls under the category of FFP2 neck gaiters.

I have a blue neckband with a nano membrane she chose as an alternative to a respirator. It is more comfortable to wear, it breathes better, it is operationally ready for use (on the lift, in public transport, in the store). The adjustability with the rubber band and plastic brake is good.
HH
Hana Hendrychová
Tested in the field and in the workplace. It is pleasant to wear, looks better than a respirator and breathes well in it, it is freer and feels more pleasant. The nose clip competes a bit with the goggles, but that's the case with the respirator as well.
J
Jitka
A scarf is great, especially when I need to cover/cover my mouth and nose alternately and I don't have pockets where I could put a mask.
P
Petr K
I am basically satisfied with the scarf, but I really miss the possibility to wash the scarf at a high temperature and change the filter in it. I consider this a significant shortcoming.

to wear it for a short time or when you're cold í physical load - good. More autumn-winter-spring. It suits me for the purpose I bought it for.
Flexible, hygienic, aesthetic appearance, easy maintenance.
It is more comfortable than a respirator Reusable and washable - the aluminum belt is soft and straightens
Much more comfortable than a respirator.
výborný
We like to wear neckerchiefs and use them instead of masks. That's why we chose this nanomask to use in this covid era. The quality seems to be excellent.
Vynikající na sport lehké a pohodlné
Quality Czech product, comfortable, it breathes well. The advantage of the replaceable noseband.
I can breathe well in the nano scarf however, I'm worried about how it will be in the summer months and I probably won't use the nano scarf
Quality material It does not hold well on the nose
so far I can only say that I like the scarf and the material and I definitely won't sweat so much under it.. tried it for about 3 hours and it's fine.. just to be sure, I carry the proof that it is a nano product

It's hot in summer
P
Petr V.
It wears great and sits well on the face, I recommend it.
quality and reliable
Antivirový šátek se příjemně nosí, nemlží se mi brýle.
We wear glasses and that's why we chose this product and we are satisfied :)
Practical that it stays on the neck and also that it fulfills the appropriate level of protection.
Velmi praktický a příjemnější než respirátor.
In Germany, where I live, nano products are not known at all. I equipped my family and friends, they are satisfied.
Quality sewn anti-virus scarf, wears well, reusable. I recommend.
I wear glasses, and when using any other mask, it fogs up uncomfortably. I tried this product and I am very satisfied. I can breathe better in the scarf and if I secure it well around my nose, the glasses really don't fog up. I immediately give the second scarf to my daughter, who also wears glasses and has the same difficulties. The price may be a bit higher, but the comfort is certainly worth it. When I add to this the effectiveness against bacteria and viruses, repeatable usability, and the possibility of washing by hand, there is nothing to discuss.

Ideal for everyone nowadays for all-day use, washable, does not lose effectiveness . Although it is more difficult to breathe than other masks, this is logical and there is no other way. Improvement would only be possible with some reinforcement in the area in front of the nose and mouth, so that there is a space of at least 4 cm from the inner layer. the thicker the material, the better the front wall holds.
příjemný materiál, výhoda vyměnitelné nosní proužky, snadná údržba
S šátkem jsem velmi spokojená. Při nošení se nezamlžují brýle. Velká výhoda je vyměnitelný nosní klip.
nemusí se sundávat
I am very satisfied with the scarf, the nanofibre insert is large enough, the silver content is also an advantage, now the nose clip can be replaced, I feel safe in it. However, I wouldn't want to do sports in it - it's harder for me to breathe through it. The scarf was evaluated in the D-test.
Je to dárek, zatím nevím
I have several of these scarves and I am very satisfied
dobrý na běžné nošení
ok

Overall, the scarf met my expectations.
libi

Protects a large part of the face and I think it adheres well.
the scarves are wonderful, they are comfortable to wear and I feel that I have done my best to protect my health and that of others.
tento je v pohodě
Se šátkem jsem maximálně spokojená. Šátek se příjemně nosí, je velice kvalitní, snadná údržba. Jsem moc ráda, že jsem si šátek zakoupila. Doporučila jsem ho i známým.

It's light, nano-fiber, easy to breathe through , according to the manufacturer, it provides almost 100% and long-term protection against covid, it can be worn repeatedly as it can be disinfected and washed carefully. Another advantage is that it can also be used for allergy sufferers as protection against pollen or during smog for everyone. And perhaps not to be overlooked is the fact that it is nice to look at, decent when worn.
Praktický a chrání :-) Praktický je i z důvodu lepší "instalace" než jsou roušky u osob se sluchadlem (v mém případě), což je pro mě ohromné + a z toho důvodu si pořídím ještě jeden.
Je lepší než rouška,oceňuji upevnění nosu a možnost přitažení vzadu na hlavě.Jsem max.spokojená a vřele doporučuji.
breathes better, glasses fog up less

Recommended, suitable for allergy sufferers even in the pollen season. The length of the neckerchief also allows for good neck protection in dry weather.
Šátek teoprve užiji, až se opravdu ochladí. Vyzvedla jsem si ho dnes a zdá se, že na zimu je to nejlepší řešení. Mimochodem: vypadá lépe než rouška!
It breathes well through it and can be worn for a long time. I see the biggest advantage in the fact that my glasses don't fog up in it, which is an incredible advantage for other masks.
Velmi dobře sedí, nikde neškrtí a v těchto dnech i hřeje na krku,

How tight it is so that air can only pass through the inserted nanomembrane is the question. But I take it that the respirator is intended for maximum protection and the scarf is a certain compromise between protection and practicality.
Příjemný na nošení, oproti běžným rouškám. Snadná manipulace i praní, jsou i elegantní a s Nano filtry doufám i účinné.
Praktický. Doporučuji.
Lehký, prodyšný materiál, snad i funkční, snadná manipulace.
je to dárek, tak nevím zda je tak kvalitní jak je uvedeno v nabídce
ještě jsem neměl příležitost vyzkoušet, ale vypadá dobře
nice material possibility to treat with disinfection (which can also be bought in the e-shop) when washing is not possible I can't shape the wire near my nose so that my glasses don't fog up when I wear them, but it's better than wearing masks
Antivirový šátek výborně sedí díky možnosti regulovat napětí gumičky a nastavení nosního klipu. Je ušit z příjemné prodyšné látky, ale hlavě je bezpečný díky všitému antivirovému nanofiltru. Přesto, že mám potíže s dýcháním, tento šátek "udýchám".
Very comfortable to wear and a real sense of security. I wear a scarf around my neck all day. If needed, I simply throw it on my nose, when the need passes, it simply warms my neck. This is especially advantageous in these winter months, when it simultaneously helps to protect against colds. This feature can be considered a side effect of the scarf - in a positive way! If the scarf warms you a lot, especially behind the back, you can simply narrow the scarf at the back with the help of an elastic band, which you thread like a loop behind a brake. Perhaps the only disadvantage lies in the brake behind the tail, which will push you in higher seats on the train or bus. However, it can be partially adjusted to the side on the other side than you want to lean on, depending on where your head falls. Exceptionally, it happens that I have a replaceable aluminum strip above my nose. I simply put it back and the problem is gone. With a little care, it can be easily guarded.
Šátek je velmi příjemný na nošení.
Praktický a opakovaně použitelný produkt i vhodně barevně řešený.
Dobře drží
Je skvělý, ale ten kovový pásek má daleko menší výdrž než šátek. Při veliké opatrnosti se mi drátek nalomil.
jedna velikost nemusí vyhovovat všem. spíš pro štíhlejší typy.
praskl mi drátek přes nos (mám opravdu velký nos), jinak O.K.
Dodře drží. Dobře se pere. Vypadá hezky.

Celkově jsem s šátkem spokojená, již jsem zakoupila druhý. Určitě doporučuji!
skvělé
Je možné ho v mnoha ohledech přizpůsobit. Neporovnatelně příjemnější, než chirurgické ústenky. Neničí pleť. Snadno vyčistitelný. Slušivý.

Vzhledem k ceně cca 900 Kč bych si rád připlatil další stovku za kvalitní sponu - jsem si jist, že drát v pevné bužírce zašitý do lemu stojí výrazně méně. Až do vyprání jsem měl chuť pořídit několik kusů rodičům, ale takhle budu koukat po jiném výrobci.
při dodržování pokynů nebyl problém
- vysoká kvalita a veľmi pekné prevedenie
Son strongly prefers a scarf to a face mask, so this is the solution. The disadvantage is the higher price, but we do not regret it. Based on the recommendation of the son who wears the scarf, I give it five stars.

I really like the design of the product. But if you have a big head, it's not for you. Also, it's silly that the fastening metal clip pushes, so you probably won't be able to stay in it for a long time.

...
The scarf is comfortable, tasteful and, above all, long-lasting. So far the best available "mask" protection on the market. Just a small detail in case of accidental breakage of the "wire": better not to glue!!!
nano šátek je pohodlnější než rouška, dobře se nosí
Pro sport asi není lepší volba.Příjemně se nosí, nemám žádné negativa.

Shrnutí - produkt má dost výhod i nevýhod, nicméně výhody pro mě převažují (pokud nanofiltr opravdu funguje tak, jak je prezentováno - což nedokážu ověřit), takže produkt doporučuji - je to podle mě jeden z nejlepších srovnatelných produktů na trhu, se kterým jsem se ve svém okolí setkal, a to denně potkávám mnoho lidí.

despite the somewhat higher price (even with shipping approx. 1000.-) O.K.
Kvalitní výrobek, vkusný, praktický.

a perfect protective device in an uncertain time. despite the higher price, it is definitely worth it because, with careful, simple maintenance, it can be used repeatedly, and in combination with a disinfectant spray, the protection of the mouth and nose remains clean throughout the day with repeated use. definitely a more effective and ecological option compared to disposable masks. we bought a larger quantity so that we can alternate and we definitely do not regret it!
If the effectiveness is reliable even after several washes, then it is a perfect replacement for a respirator.

higher price, but can be worn repeatedly, just wash in water and let dry
Dobrý nápad, praktický a funkční.
Lehučký šátek, dobře se přes něj dýchá. Snad funkční. Koupeno na doporučení.
Prodyšný, dobře sedí. Kvalitní materiál a vypracování. Česká výroba .
The reinforcing metal band at the nose is more prone to breaking easily (experienced with a previously purchased neck brace), but should last longer with careful handling. Otherwise it is used well.
Zatím není vyzkoušený.
The scarf can be washed and thus used for a long time, but the price is quite high.
Pleasant material and suitable dimensions. Very nice color.
Met expectations, good quality.
Only registered users may post articles. Please log in or register.
V
Tvarovatelný nosní klip
Vilém
Skoro bych čekal, že něco co se bude tvarovat a občas zase narovnávat, nebude z tenkého hliníku. Z materiálu, který prostě praskne. Naštěstí je manželka kamarád se šicím strojem ... Jinak asi dobré no. Na té sponě by měl výrobce trochu zapracovat.
PR
Dotaz na dostupnost, modrá barva
Pavla Rybářová
Dobrý den, prosím, bude ještě někdy dostupný šátek v modré barvě ? Děkuji za odpověď a přeji hezký den!
The Czech company nanoSPACE has been operating on the market since 2012 and focuses primarily on products where nanofiber textiles are used. In 2012, it became the first manufacturer to use a nanofibrous membrane in barrier covers for allergy sufferers. Since then, it has expanded its portfolio to include nano duvets and nano pillows, which are especially suitable for people with dust allergies.
In 2016, it was the first in the world to present functional bed linen that can fully replace barrier coatings. This product line, which bears the name Nanocotton®, was able to combine the functionality of the material with organic cotton and is suitable not only for allergy sufferers, but also for atopic patients.
During the coronavirus epidemic in 2020, nanoSPACE used its long-term knowledge in the field of nanofiber materials and started the production of anti-virus neck gaiters and protective masks made of nanofiber. From 2021, it also produces designer washable nano masks.
In 2021, the nanoSPACE company founded the subsidiary nanoSPACE Technology, which is dedicated to development, research and innovation in the field of nanofiber textiles.
This website uses cookies. Continuing using this website you agree with
our privacy policy
.