Unisex Black FFP2 Nanofiber Neck Gaiter|nanoSPACE
for winter sports
Code:
AM.77.778

The largest seller of nano products
More than 400 nanotechnology products under one roof.

Czech production
We manufacture nanoSPACE brand products in the Czech Republic
Related products
Product detailed description
Most dust, smog, pollen, mould spores, viruses, infections and airborne allergens will not pass through the membrane. The gaiter is therefore suitable for allergy sufferers, asthmatics and all immunocompromised individuals who need to protect themselves better. It is not suitable for children under 3 years of age - if necessary, the child must be supervised by a responsible adult at all times.
Key Benefits of Cutting-Edge FFP2 Nanofiber Neck Warmer
Proven Filtration Efficiency: The nanofiber membrane provides a filtration efficiency of 97-99.9% against bacteria, viruses, pollen, and other submicron particles.
Comfortable Wear: Made with Coolmax material, the neck warmer efficiently pulls sweat away from the skin, ensuring you stay cool and dry all day.
Convenient Design: With a washable and replaceable nose clip, you can use this neck warmer daily without any hassle. The one-size-fits-all design makes it suitable for all.
Eco-Friendly Packaging: The environment-friendly packaging adds to the product's sustainability.
Antimicrobial Protection: Nanoparticles of silver provide added antimicrobial effect for extra protection.
Quality Assurance: The manufacturer's declaration of conformity ensures you receive a high-quality product.
Member of Czech Nanotechnology Industries Association: The manufacturers of the product and the nanomembrane are proud members of this association, ensuring you receive the best in nanotechnology protection.
Universal Fit Neck Warmer: Breathable, Adjustable, and Secure
One size fits all face shapes
Adjustable and replaceable aluminum nose clip
Specially designed cut for complete face and neck coverage
Adjustable elastic band for a secure fit
Double-spring brake for a snug and secure hold
High breathability for comfortable wear during physical activities.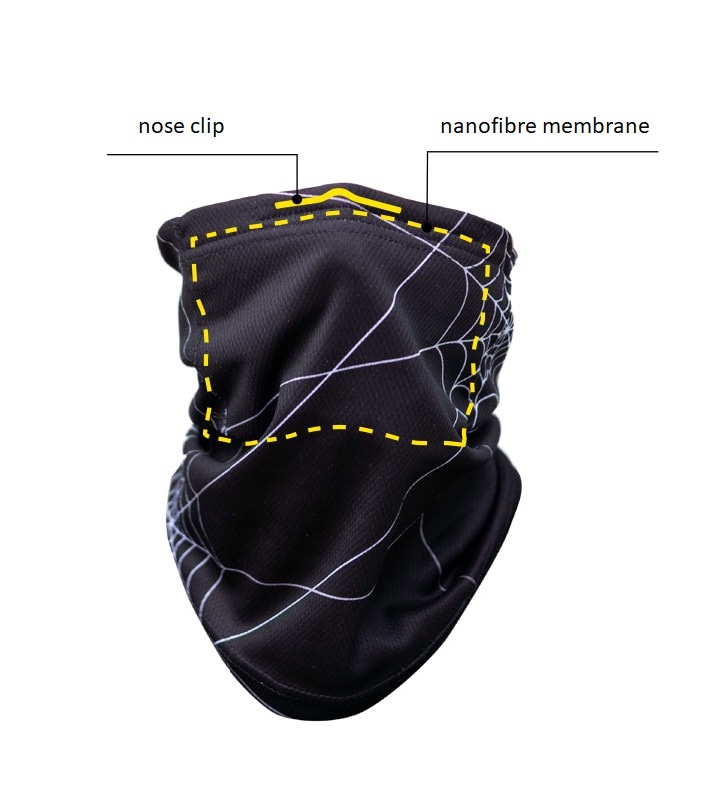 Enhanced Protection with Silver-Infused Nanofiber Membrane
NanoSPACE Neck Warmer features a state-of-the-art nanofiber membrane infused with silver nanoparticles (Nanosilver®). This unique combination provides unparalleled protection against microorganisms, preventing their growth and survival within the structure of the gaiter. The membrane is strategically placed in the nose and mouth area, offering complete coverage and peace of mind.
How the Nanofiber Membrane Technology in the FFP2 Nanofiber Neck Warmer Works"
The nanofiber membrane technology in the FFP2 Nanofiber Neck Warmer works by using nanofibers that are spun into a very dense mesh or filter. This membrane has microscopic holes that are so small that air molecules can pass through, but viruses, bacteria, and allergens are trapped with 97-99% efficiency. The nanofiber membrane from PARDAM NANO4FIBERS has been tested to trap particles between 0.1-0.3 um (100-300 nanometers), which includes the sizes of most bacteria (200-1000 nanometers) and viruses (20-400 nanometers).
In addition, the membrane's ability to trap particles is not limited to the sizes that have been tested. The nanoscale of the fibers allows for atomic forces to come into play, making particles smaller than 200-300 nm even easier to trap. This is because smaller particles are affected by Van der Waals forces, while larger particles, like bacteria and viruses, are often attached to other aerosol or dust particles in the air. The FFP2 Nanofiber Neck Warmer also contains silver nanoparticles, adding an extra layer of protection against microorganisms.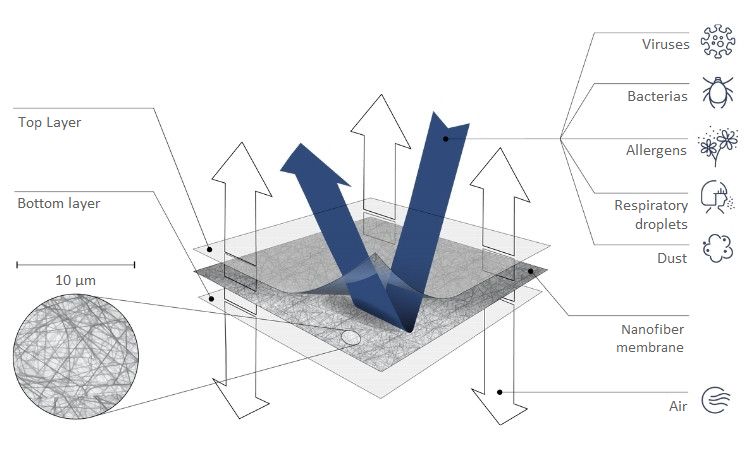 Unmatched Durability and Hygiene: The nanoSPACE Gaiter's Nanofiber Membrane Explained
The nanoSPACE Gaiter sets itself apart from other face coverings with its cutting-edge nanofiber membrane. Unlike other membranes that lose their effectiveness after just one wash, the nanoSPACE Gaiter's membrane has been tested and proven to maintain 95% efficiency even after 15 washing cycles. Additionally, the membrane is infused with silver nanoparticles that keep microorganisms at bay, ensuring maximum hygiene. Experience the difference of a truly durable and hygienic face covering with the nanoSPACE Gaiter.
Protect Yourself from More Than Just Epidemics: The Multipurpose Neck Warmer
With smog linked to over 5.5 million deaths annually, it's important to protect ourselves from polluted air. The effects of inhaling smog for extended periods of time can lead to serious health issues such as headaches, skin irritation, eye irritation, liver failure, asthma, and even cancer. That's why a neck gaiter can serve as a versatile solution for not just epidemics and pollen season, but for shielding against polluted air as well. Here are some of the key scenarios where wearing a neck gaiter can make a difference:
In smog-ridden cities, particularly during outdoor activities and exercise
During allergy season for those with allergies and asthma
When traveling, especially to highly polluted Asian cities like Bangkok
During outdoor sports where airways are fully open and vulnerable to absorption of harmful particles
In public transportation where the risk of transmitting infections and viruses is high
In various outdoor activities where protection from external factors is necessary (fishing, shooting, climbing, motorcycling, etc.).
Why Choose Micro-Mesh® for Our Neck Warmers?
Our gaiters are made from premium Italian Micro-Mesh® which combines the perfect blend of 90% polyester and 10% elastane, resulting in a lightweight material with a weight of 115 g/m-2. This advanced microfiber material is crafted using state-of-the-art fine knitting machines, producing a knit with 42 stitches per inch (2.54 cm), providing a smooth, soft and comfortable texture that conforms perfectly to the contours of the face. The micro-holes in the knit ensure optimal breathability during even the warmest summer months. With Micro-Mesh® as our material of choice, you can be assured of a neck gaiter that not only looks great, but feels great too!
How to Properly Wear the FFP2 Nanofiber Neck Gaiter for Optimal Protection
Start with Clean Hands: Wash your hands thoroughly with soap and water or use an antibacterial gel before putting on the gaiter. Repeat after removing it.
Roll and Slip Over Head: Roll the gaiter up and carefully pull it over your head.
Secure Nose Clip: Press the nose clip to the root of the nose and shape it gently.
Adjust Fit: Use the adjustable elastic cord at the back to tighten the gaiter, ensuring a secure and snug fit.


Instructions for Removing the FFP2 Nanofiber Neck Gaiter:
Start by loosening the nose clip and elastic cord to gently remove the gaiter.
Ensure to wash your hands with soap and water or use hand sanitizer.
Properly clean or sterilize the gaiter.
Note: FFP2 Nanofiber Neck Gaiter should fit properly without covering the ears for adults. Avoid folding the nose clip while wearing, maintaining or storing the gaiter.

Care of the Wire
Before washing


Always remove the wire before washing. It is made of aluminium and could be damaged in the washing machine.

Do not fold


Never fold the gaiter in half at the wire area. The wire is made of aluminum and can break under extreme stress.
Instructions for Caring for the nanoSPACE Nanofiber Neck Gaiter
To maintain the effectiveness of the Nanofiber Neck Gaiter, it's essential to follow proper care instructions.
Wash: Clean the gaiter using a chlorine and phosphorus-free washing gel or powder, core soap is recommended. Avoid tumble drying and opt for hand washing or a gentle cycle in the washing machine.
Disinfect: After each use, sterilize the gaiter with a disinfectant suitable for nanofiber products.
Drying: Allow the washed gaiter to air dry for 12 to 24 hours, spreading it out on a drying rack or on a heater. Avoid using clothespins in the filter area.
Caution: Do not use bleach, fabric softeners or other harsh products, and avoid ironing or tumble drying the gaiter.
Replacement: Over time, the nanofiber filter in the gaiter may lose its effectiveness and the entire neck warmer will need to be replaced.
Eco-friendly Packaging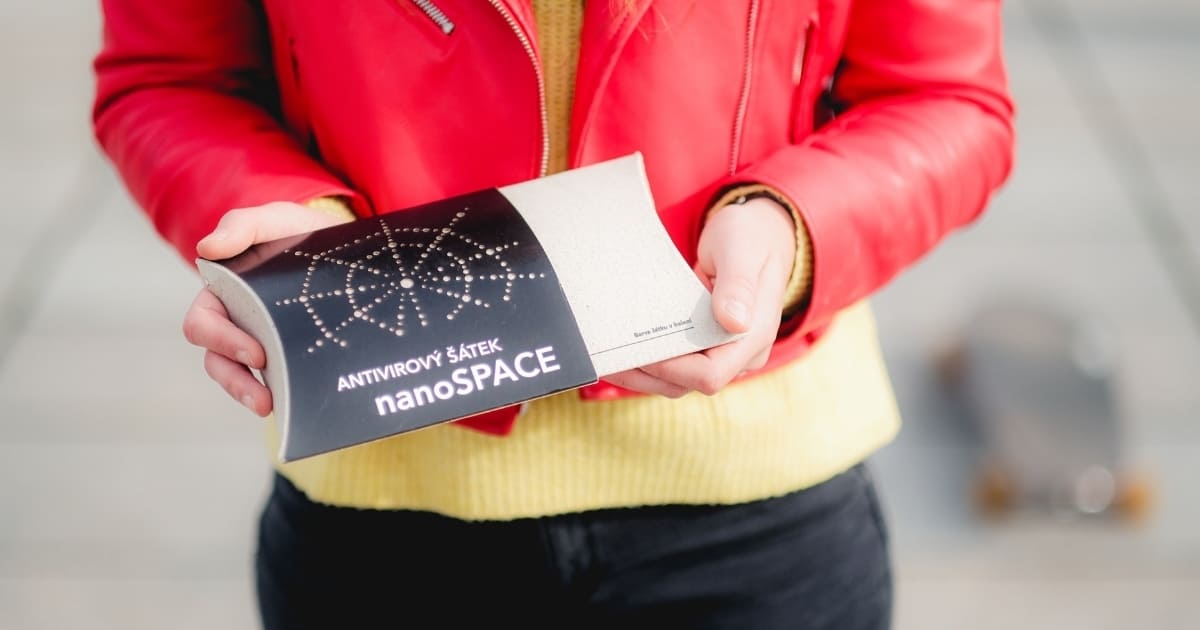 Environment protection is a top priority at our company, which is why we have decided to invest in a more eco-friendly packaging solution. Our neck gaiters come in boxes made of grass paper, sourced from unused agricultural compensation areas. This paper is produced mechanically using grass pellets and recovered paper, and no fertilisers or chemicals are used in the process.
Warning:
Please note that this product is not suitable for children under the age of 3 or for those with clothing size 110.
Dimensions:
The neck gaiter measures approximately 32 x 27 cm (width may vary by up to 1 cm) and the filter dimensions are approximately 15 x 21 cm. These are handmade products, so dimensions may vary.
Composition:
The neck gaiter is made of 100% polyester knit material, and the filtering nanofiber material is composed of 95% polypropylene and 5% PA6.
Manufacturer:
This product is manufactured by nanoSPACE s.r.o. located at Rohova 98, Domažlice 344 01. It falls under the category of FFP2 neck gaiters.
ZK
Zuzana Krejčová
OK.
J
Juhele
I've had the scarf for the second week and I appreciate it. The respirator irritated the skin of my face - the wet paper is simply not beneficial... With the scarf, nothing sticks to my face and it makes it much easier to breathe. So a good buy for me.
MS
Michal Sedláček
Visually and functionally perfect product, I can recommend it.
BH
Bohuslav Hrdina
good
ČK
Čestmír Klivar
Quality goods at a favorable price, great communication, speed of delivery.
JT
Jiří Tomek
I don't know what to write, I already have the third one, that probably says it all
BK
Barbara Klepalová
Excellent
I don't like writing reviews
perfektní
the scarf is easy to put on and fasten with an elastic band at the back; the wire for fixing the scarf on the nose is easily removable (and therefore replaceable); only the filter itself is sewn into a pocket that does not open, so it is, as it were, non-replaceable, which, in my opinion, is a shame; because the scarf itself will certainly last more than the declared number of washes, so an easily replaceable filter would certainly greatly extend the life of the whole set
The only protection that can be pulled over the beard. It's just a shame that it wasn't exported to Israel in time, they would have appreciated it there.
Quality Product.
All right. Comfortable respiratory protection and you don't have to suffocate with a respirator.
Česká firma
I'm glad that the scarf can be washed, that's the biggest advantage for me..
Nowadays, anything made of nanomaterials should have more advertising so that the salesmen don't kick you out of the store because you don't have a respirator
The liner has torn after 5 washes...there is a hole in the liner across the entire width of the liner (it's a shame I can't add a photo)....the washing program was a 30-minute cycle at a temperature of 30 degrees, washed without washing powder.. .......now I have to somehow get a new filter in my pocket, which will also cost something again...........after great enthusiasm and the support of the Czech seller, there was quite a big disappointment
better than a respirator and doesn't burden the earth like disposable respirators
It wears well, only the fastening clip on the nose breaks.
comfortable and providing safety
Super výrobek
We wear glasses and that's why we chose this product and we are satisfied :)
pohodlný
Je mozno dat do kapsy s sebou

I like that after use it is enough to spray with ethanol and wash once a week. It's hard to breathe through it. It's still possible for a shorter public transport journey, but I wouldn't be able to do it all day. It's hard to say how well spraying with an ethanol solution will really clean it. Before the first wash, I took out the nose pad and since I was too lazy to put it back in the tunnel, I wear it without it and it still holds up well, I would almost say better. The package also included spare plates, they say they crack, which didn't happen to me that week. And where they end up now, I don't know. So as something that a person always has available outside and can be put on quickly, it is not for long-term wear. There is enough space in front of my mouth and nose, it doesn't constrict in any way, but I feel like I'm just breathing in what I've exhaled underneath, that the air doesn't get through much.
Quality sewn anti-virus scarf, wears well, reusable. I recommend.
So far it seems to be very effective in defending against covid infection.
comfortable to wear thanks to the super material, easy maintenance, I appreciate the exchangeability of the nose strip
I am an active member of KČT - a neck warmer and a mask in one - an advantage I RECOMMEND to all people
I ordered the scarf for the second time. With the first one, my nose clip broke after a week, but I somehow fixed that. That's why I now ordered a scarf with a replaceable clip. The main thing for me was that my glasses didn't fog up when I used the scarf, like with masks. In addition, I like the maintenance of the scarf thanks to the disinfection. The scarf does not constrict anywhere, does not cut and is easy to put on.
změnila se ku prospěchu kvalita "nosního úponu", jen ta strašná cena.
Velká spokojenost.
Same rating as the blue scarf.
The scarf is great, you can breathe normally in it, but the wire that holds the scarf on the nose broke on the first day :(
Velmi praktické
prodyšná a věřím jí
Výrobek splnil moje představy jsem spokojená
Skvělé sedí, Dobře se udrzuje

A scarf is more comfortable to wear than a mask. Especially if the wearer has a beard. They basically make it impossible to wear masks safely. Everything is hidden under the scarf and thanks to the freer space it breathes better.
It's comfortable to wear and maybe even works against bacteria

I am overall satisfied with the scarf, only minor details bother me. The cut could be more ergonomic in the nose area, when I fasten the scarf so that it doesn't slip, the fabric pushes a bit over the nose (and I don't have a nose). Maybe a stronger and longer nose clip would help so that the string doesn't have to be tightened so much.
+ pleasant and comfortable to wear, quick handling, I recommend!

scarf it fits well thanks to the molding
.
The advantage over a mask is that it can be used as scarf if it's cold. It keeps well. The biggest advantage: reuse.
v pořádku
practical for sports activities, always at hand, actually around the neck :-)
outside in colder weather fine, but when it's warmer (or e.g. in the store) I sweat under it and it's harder to breathe
Nebyl pro mne, ale můj modrý je skvělý.
MH
Miloš Václav Haták
I bought the scarf for my 87-year-old mother. It arrived today, and as soon as mom put it on, it was clear that it was fine. It fits well and is easy to put on and take off. Exactly what a person of her age needs, not to pull or look for a mask anywhere and to always have mouth and nose protection ready. And the second added value in this nasty weather, it doesn't blow on your neck. I rate it as positive as possible and I'm very glad that I ordered my mother and I know that she is really protected even against those "bearers" who will never understand it and will wear masks under their noses. I also ordered the F*CK COVID version for myself today. Thanks.

I recommend it to everyone who likes comfort and single-mindedness
The scarf is worn by the daughter, who rates it four and a half stars.
Výhoda - možnost opakovaného využití po vyprání šátku
It breathes well when worn around the neck and is easy to put on and take off when entering and leaving.
Light, pleasant on the face, tried once so far, wears well.
Stoprocentní spokojenost.
Super virus protection. For the coming autumn perfect days
pohodlnost nošení, spolehlivá ochrana

Probably my most favorite protective antibacterial device. Please try to improve the nose clip
soft, breathable, pleasant material, the scarf complements the parts in which there is fabric with nanofibres
Nice material.
comfortable to wear, it's a shame that the filter can't be replaced
velikost je tak mezi M-L
JT
Jiří Tomek
I am very satisfied, no less the first thing that broke was the inserted aluminum strip, even though I followed the instructions.
Kvalita.
The product description corresponds to reality. A good scarf/filter. Satisfaction!
Zatim jsem nevyzkoysela
Light, airy and larger nano filter.
LB
Ladislav Banya
I AM SATISFIED. ONLY THE PRICE COULD BE CHEAPER
Only registered users may post articles. Please log in or register.
PJ
Antivirový šátek
Petr Janů
V návodu píšete, že šátek s nanomembránou můžete používat donekonečna, mnohokrát prát apod. Stránky výrobce nanomembrány mluví pouze o několika ( 5 až 10 vyprání ) a to maximálně. Pokud je mi známo, žádný z výrobců nanomembrány neuvádí více jak 14ti denní použití. Nanomembrána je křehká a rozhodně ji nelze používat stále při garanci zachycení max. počtu viru COVID-19.
K
Šatek nano space
Kristyna
Zklamani....hned pri prvnim pouziti praskla,dotahovaci gumicka To by se za tuto cenu opravdu stat nemelo.
L
Lucie z nanoSPACE
Dobrý den, souhlasíme s vámi, prosím vyplňte reklamační formulář a zašlete nám fotografii. Obratem vám pošleme nový šátek a budeme řešit situaci se švadlenkami. Rozhodně neplatíme za kvantitu ale za kvalitu. Hluboce se vám omlouvám! Lucie z nanoSPACE
K
Šatek nano space
Kristyna
Zklamani....hned pri prvnim pouziti praskla,dotahovaci gumicka To by se za tuto cenu opravdu stat nemelo.
PZ
Petra Zlámaná
Šátek je velmi příjemný a praktický. Dobře sedí na obličeji, dobře se v něm dýchá. Bohužel, "univerzální" velikost je vhodná spíše pro drobnější obličeje. Mužské části rodiny je šátek malý - úzký, takže ho bohužel pánové nemohou používat. Možná by stála za úvahu nabídka šátků ve větších velikostech.
O
Náhradní drátek
Olga
Dobrý den, je součásti šátku i náhradní drátek? Děkuji.
D
schnutí
Denis
Dobrý den, překvapilo mě, jak pomalu šátek po ručním praní schne. Po 9 hodinách na sušáku byl mokrý jako po umytí. 1/ Vadí, když to po ručním praní dám odstředit samotné do pračky? 2/ Píšete, že lze nechat schnout na topení, ale předpokládam, že musí být vypnuté, když šátek nesmí jít ani do sušičky. 3/ Pro ujištění: když po použití večer nevyperu ručně, ale jen vydesinfikuji alkoholovou desinfekci zvenku i zevnitř, je to ok v kontextu antivirové ochrany? Pral bych to třeba co 3-4 dny? Moc Vám děkuji za radu. :)
PP
Vlak
Přemysl Pavka
Nedoporučuju se šátkem dobíhat na vlak. Nanomembrána je zřejmě docela funkční, protože jsem doběhl na vlak a uvnitř jsem málem zkolaboval, dýchal jsem jak na osmitisícovce, a to jsem zdravý relativně mladý člověk. Ergo, domnívám se, že pro rizikové lidi s problémy s dýcháním není tenhle šátek úplně nejvhodnější. Je to pro ně vlastně takový neřešitelný problém - přes respirátor, který je ochrání, se špatně dýchá ... dobře se dýchá přes obyčejné roušky - ty je ale zase neochrání.
M
Rozměry šátku
Mirka
Dobrý den, zajímaly by mne rozměry šátku ve verzi pro dospělé. Tuto informaci jsem nenašla. Předem děkuji za odpověď.
N
Rozměry
nanoSPACE
Dobrý den, rozměry jsou uvedeny: Šátek: 32 x 27 cm, Filtr: 15 x 21,5 cm
KŘ
Kdy budou naskladněny černé šátky?
Karel Řežábek
Dobrý den, vím, že jste teď zahlceni, ale určitě je nás víc, koho by to zajímalo :-) Díky za to, co děláte, K.
OR
Olga Rohánková
Dobrý den mohu se zeptat zda budou vyráběny šátky i jiných barvách než v černé. Předem děkuji Olina
LK
Barvy
Lucie Konečná
Dobrý den, v současné době nabízíme šátky v barvě šedé, modré, růžové a černé a s nápisem. Další barvy momentálně neplánujeme.
P
Rozdíl mezi rouškou a šátkem
Petr
Přeji dobrý den, prosím, jaký je rozdíl mezi filtrem v nano šátku a v nano roušce? Narážím na to, že rouška je jednorázová a šátek ne. Děkuji
LK
Rozdíl mezi rouškou a šátkem
Lucie Konečná
Dobrý den, v šátku je jiná membrána než ve všech rouškách, které nabízíme. Jedná se o pratelnou membránu, kterou najdete například v nano filtrech BreaSAFE.
P
Rozdíl mezi rouškou a šátkem
Petr
Přeji dobrý den, prosím, jaký je rozdíl mezi filtrem v nano šátku a v nano roušce? Narážím na to, že rouška je jednorázová a šátek ne. Děkuji
LK
Rozdíl membrány
Lucie Konečná
Dobrý den, jedná se o jiného výrobce membrány.
K
Velkost satku
Kathi
Dobry den, aky je prosim obvod satku resp. maximalny obvod? Samozrejme chapem, ze prilnavost sa upravi stiahnutim, ale ide mi o to, aby som ho vobec pretiahla cez hlavu ;-) Cize max. obvod satku ako celku pri zrolovani (podla navodu zrolovat - pretiahnut cez hlavu) Dakujem
M
dotaz na dostupnost
Miroslav
Dobrý den, v poslední době jsou dostupné šátky a filtry "nastřídačku" nejde tedy realizovat jako jednu objednávku. Není možná forma předobjednávky, nebo objednávky jako celku a expedice až po neskladnění všeho požadovaného?
LK
dotaz na dostupnost
Lucie Konečná
Dobrý den, bohužel možnost předobjednávky není, v úterý by snad měly být k dispozici všechny barvy :-)
DM
zdravotní nezávadnost
Daniel Milde
Dobrý den, podstoupili prosím šátky nějaké testy zdravotní nezávadnosti? Kožní dráždivost, cytotoxicita apod. Děkuji DM
LK
zdravotní nezávadnost
Lucie Konečná
Dobrý den, antivirové šátky se vyrábějí z materiálu coolmax, který je standardním textilním materiálem na výrobu oblečení do extrémních teplot, tudíž je již testován a splňuje vše pro bezpečný kontakt s pokožkou. Membránu používáme stejnou, která se používá na respirátory BreaSAFE a samozřejmě veškerými testy musela být podrobena, aby prošla certifikacemi.
K
Dostupnost?
Katarína
Dobrý deň, budete naskladňovať teraz niekedy čierne šátky? Ďakujem
N
Dostupnost?
nanoSPACE
Dobrý den, ano, snad během příštího týdne.
PD
Pocet pracich cyklu
Petra Doksanská
Dobry den, pri jemne peci dle navodu, kolik prosim doporucujete pracich cyklu nez satek ztrati svoji ucinnost? Dekuji Petra Doksanska
N
Pocet pracich cyklu
nanoSPACE
Po 30-50 pracích cyklech pomalu začne ztrácet filtrační schopnosti o pár procent.
J
Velikost filtru
Josef
Chápu dobře. že, nanofitrační vrstva není v celé látce, ze které je šátek ušitý, ale jenom někde před nosem a ústy?
N
Velikost filtru
nanoSPACE
Dobrý den, nanovlákenný filtr je pouze v oblasti nosu a úst.
M
nanofiltr
Marcela
Dobrý den, jak velký je nanovlákenný filtr v roušce a je zaručena těsnost, aby vir nepronikl kolem filtru? A jak to, že je je nanovlákenný filtr pratelný, když jinak jsou nanovlákenné roušky jednorázové a nesmí se promočit?
L
nanofiltr
Lucie z nanoSPACE
Dobrý den, filtr je veliký 20x10cm. Šátek je potřeba dobře vytvarovat pomocí drátku a zajistit gumičkou. Jedná se o rozdílné provedení, nanovlákenná membrána v šátku je chráněna látkou, zatímco nano rouška je z netkané textilie, pokud ji vyperete, zničí se celá rouška.
The Czech company nanoSPACE has been operating on the market since 2012 and focuses primarily on products where nanofiber textiles are used. In 2012, it became the first manufacturer to use a nanofibrous membrane in barrier covers for allergy sufferers. Since then, it has expanded its portfolio to include nano duvets and nano pillows, which are especially suitable for people with dust allergies.
In 2016, it was the first in the world to present functional bed linen that can fully replace barrier coatings. This product line, which bears the name Nanocotton®, was able to combine the functionality of the material with organic cotton and is suitable not only for allergy sufferers, but also for atopic patients.
During the coronavirus epidemic in 2020, nanoSPACE used its long-term knowledge in the field of nanofiber materials and started the production of anti-virus neck gaiters and protective masks made of nanofiber. From 2021, it also produces designer washable nano masks.
In 2021, the nanoSPACE company founded the subsidiary nanoSPACE Technology, which is dedicated to development, research and innovation in the field of nanofiber textiles.