Women's Pink FFP2 Nanofiber Neck Gaiter|nanoSPACE
for winter sports
Code:
AM.77.779

The largest seller of nano products
More than 400 nanotechnology products under one roof.

Czech production
We manufacture nanoSPACE brand products in the Czech Republic
Related products
Product detailed description
Most dust, smog, pollen, mould spores, viruses, infections and airborne allergens will not pass through the membrane. The gaiter is therefore suitable for allergy sufferers, asthmatics and all immunocompromised individuals who need to protect themselves better. It is not suitable for children under 3 years of age - if necessary, the child must be supervised by a responsible adult at all times.
Key Benefits of Cutting-Edge FFP2 Nanofiber Neck Warmer
Proven Filtration Efficiency: The nanofiber membrane provides a filtration efficiency of 97-99.9% against bacteria, viruses, pollen, and other submicron particles.
Comfortable Wear: Made with Coolmax material, the neck warmer efficiently pulls sweat away from the skin, ensuring you stay cool and dry all day.
Convenient Design: With a washable and replaceable nose clip, you can use this neck warmer daily without any hassle. The one-size-fits-all design makes it suitable for all.
Eco-Friendly Packaging: The environment-friendly packaging adds to the product's sustainability.
Antimicrobial Protection: Nanoparticles of silver provide added antimicrobial effect for extra protection.
Quality Assurance: The manufacturer's declaration of conformity ensures you receive a high-quality product.
Member of Czech Nanotechnology Industries Association: The manufacturers of the product and the nanomembrane are proud members of this association, ensuring you receive the best in nanotechnology protection.
Universal Fit Neck Warmer: Breathable, Adjustable, and Secure
One size fits all face shapes
Adjustable and replaceable aluminum nose clip
Specially designed cut for complete face and neck coverage
Adjustable elastic band for a secure fit
Double-spring brake for a snug and secure hold
High breathability for comfortable wear during physical activities.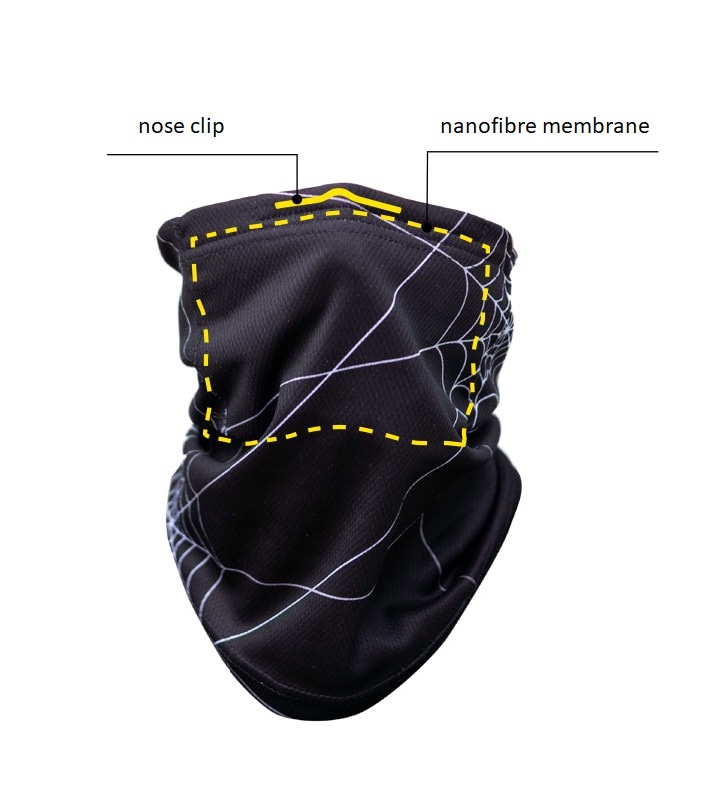 Enhanced Protection with Silver-Infused Nanofiber Membrane
NanoSPACE Neck Warmer features a state-of-the-art nanofiber membrane infused with silver nanoparticles (Nanosilver®). This unique combination provides unparalleled protection against microorganisms, preventing their growth and survival within the structure of the gaiter. The membrane is strategically placed in the nose and mouth area, offering complete coverage and peace of mind.
How the Nanofiber Membrane Technology in the FFP2 Nanofiber Neck Warmer Works"
The nanofiber membrane technology in the FFP2 Nanofiber Neck Warmer works by using nanofibers that are spun into a very dense mesh or filter. This membrane has microscopic holes that are so small that air molecules can pass through, but viruses, bacteria, and allergens are trapped with 97-99% efficiency. The nanofiber membrane from PARDAM NANO4FIBERS has been tested to trap particles between 0.1-0.3 um (100-300 nanometers), which includes the sizes of most bacteria (200-1000 nanometers) and viruses (20-400 nanometers).
In addition, the membrane's ability to trap particles is not limited to the sizes that have been tested. The nanoscale of the fibers allows for atomic forces to come into play, making particles smaller than 200-300 nm even easier to trap. This is because smaller particles are affected by Van der Waals forces, while larger particles, like bacteria and viruses, are often attached to other aerosol or dust particles in the air. The FFP2 Nanofiber Neck Warmer also contains silver nanoparticles, adding an extra layer of protection against microorganisms.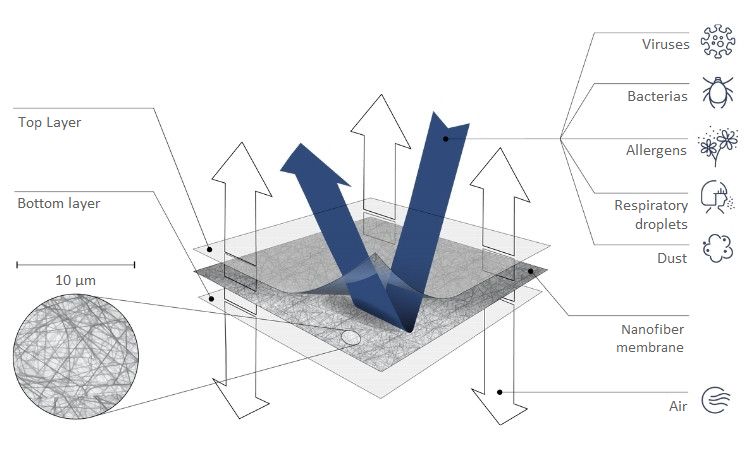 Unmatched Durability and Hygiene: The nanoSPACE Gaiter's Nanofiber Membrane Explained
The nanoSPACE Gaiter sets itself apart from other face coverings with its cutting-edge nanofiber membrane. Unlike other membranes that lose their effectiveness after just one wash, the nanoSPACE Gaiter's membrane has been tested and proven to maintain 95% efficiency even after 15 washing cycles. Additionally, the membrane is infused with silver nanoparticles that keep microorganisms at bay, ensuring maximum hygiene. Experience the difference of a truly durable and hygienic face covering with the nanoSPACE Gaiter.
Protect Yourself from More Than Just Epidemics: The Multipurpose Neck Warmer
With smog linked to over 5.5 million deaths annually, it's important to protect ourselves from polluted air. The effects of inhaling smog for extended periods of time can lead to serious health issues such as headaches, skin irritation, eye irritation, liver failure, asthma, and even cancer. That's why a neck gaiter can serve as a versatile solution for not just epidemics and pollen season, but for shielding against polluted air as well. Here are some of the key scenarios where wearing a neck gaiter can make a difference:
In smog-ridden cities, particularly during outdoor activities and exercise
During allergy season for those with allergies and asthma
When traveling, especially to highly polluted Asian cities like Bangkok
During outdoor sports where airways are fully open and vulnerable to absorption of harmful particles
In public transportation where the risk of transmitting infections and viruses is high
In various outdoor activities where protection from external factors is necessary (fishing, shooting, climbing, motorcycling, etc.).
Why Choose Micro-Mesh® for Our Neck Warmers?
Our gaiters are made from premium Italian Micro-Mesh® which combines the perfect blend of 90% polyester and 10% elastane, resulting in a lightweight material with a weight of 115 g/m-2. This advanced microfiber material is crafted using state-of-the-art fine knitting machines, producing a knit with 42 stitches per inch (2.54 cm), providing a smooth, soft and comfortable texture that conforms perfectly to the contours of the face. The micro-holes in the knit ensure optimal breathability during even the warmest summer months. With Micro-Mesh® as our material of choice, you can be assured of a neck gaiter that not only looks great, but feels great too!
How to Properly Wear the FFP2 Nanofiber Neck Gaiter for Optimal Protection
Start with Clean Hands: Wash your hands thoroughly with soap and water or use an antibacterial gel before putting on the gaiter. Repeat after removing it.
Roll and Slip Over Head: Roll the gaiter up and carefully pull it over your head.
Secure Nose Clip: Press the nose clip to the root of the nose and shape it gently.
Adjust Fit: Use the adjustable elastic cord at the back to tighten the gaiter, ensuring a secure and snug fit.


Instructions for Removing the FFP2 Nanofiber Neck Gaiter:
Start by loosening the nose clip and elastic cord to gently remove the gaiter.
Ensure to wash your hands with soap and water or use hand sanitizer.
Properly clean or sterilize the gaiter.
Note: FFP2 Nanofiber Neck Gaiter should fit properly without covering the ears for adults. Avoid folding the nose clip while wearing, maintaining or storing the gaiter.

Care of the Wire
Before washing


Always remove the wire before washing. It is made of aluminium and could be damaged in the washing machine.

Do not fold


Never fold the gaiter in half at the wire area. The wire is made of aluminum and can break under extreme stress.
Instructions for Caring for the nanoSPACE Nanofiber Neck Gaiter
To maintain the effectiveness of the Nanofiber Neck Gaiter, it's essential to follow proper care instructions.
Wash: Clean the gaiter using a chlorine and phosphorus-free washing gel or powder, core soap is recommended. Avoid tumble drying and opt for hand washing or a gentle cycle in the washing machine.
Disinfect: After each use, sterilize the gaiter with a disinfectant suitable for nanofiber products.
Drying: Allow the washed gaiter to air dry for 12 to 24 hours, spreading it out on a drying rack or on a heater. Avoid using clothespins in the filter area.
Caution: Do not use bleach, fabric softeners or other harsh products, and avoid ironing or tumble drying the gaiter.
Replacement: Over time, the nanofiber filter in the gaiter may lose its effectiveness and the entire neck warmer will need to be replaced.
Eco-friendly Packaging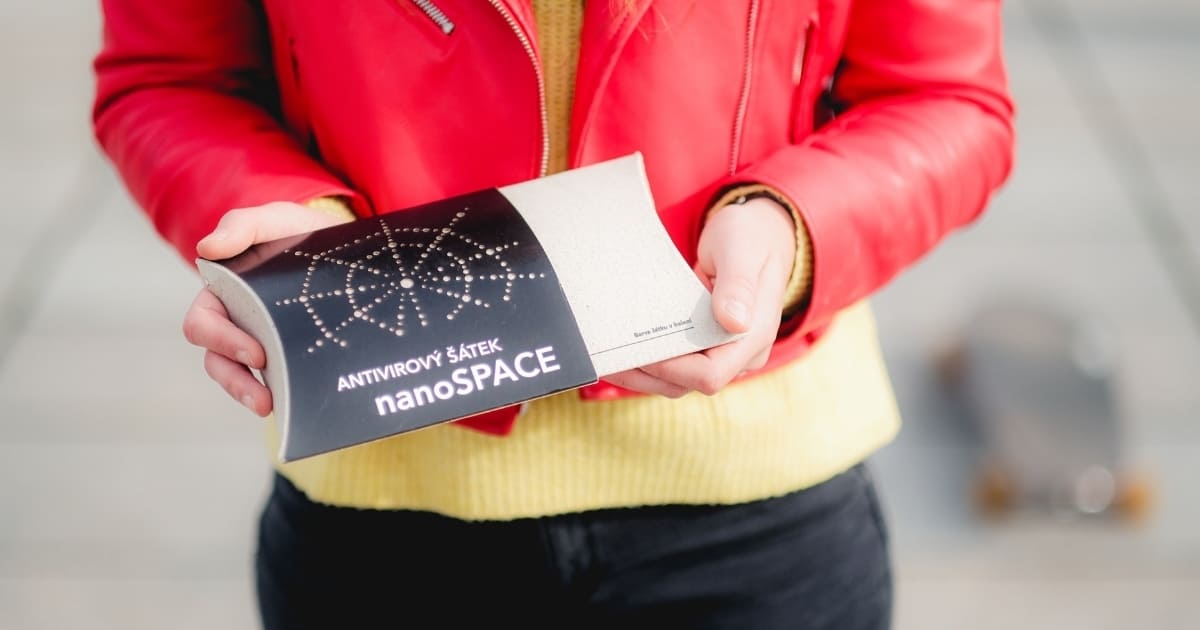 Environment protection is a top priority at our company, which is why we have decided to invest in a more eco-friendly packaging solution. Our neck gaiters come in boxes made of grass paper, sourced from unused agricultural compensation areas. This paper is produced mechanically using grass pellets and recovered paper, and no fertilisers or chemicals are used in the process.
Warning:
Please note that this product is not suitable for children under the age of 3 or for those with clothing size 110.
Dimensions:
The neck gaiter measures approximately 32 x 27 cm (width may vary by up to 1 cm) and the filter dimensions are approximately 15 x 21 cm. These are handmade products, so dimensions may vary.
Composition:
The neck gaiter is made of 100% polyester knit material, and the filtering nanofiber material is composed of 95% polypropylene and 5% PA6.
Manufacturer:
This product is manufactured by nanoSPACE s.r.o. located at Rohova 98, Domažlice 344 01. It falls under the category of FFP2 neck gaiters.
MU
Martina Urbánková
At most.
M
Marcela
Although it's not quite the same for people with glasses, it's otherwise great. for short moments among people, I wouldn't risk it for a long time on a bus or train, after all, the metal noseband doesn't fit very well
EH
Eliška Hlavinková
It holds well, it breathes well, it is easy to put on, it can be washed.
KJ
Kristýna Ježková
Satisfaction ????
KM
Kateřina Müllerová
Satisfied, she breathes well through him
Fits well, we appreciate that the scarf is washable.
It holds perfectly, no drooping tab like with respirators. When walking faster, it's harder to breathe. Otherwise I highly recommend it.
Quality product, quick to put on, comfortable, breathes well in it. The advantage of the replaceable noseband.
Mainly functional!!!
It is always ready, easy to maintain.
dárek-nevím
This scarf has everything that was advertised. It also has 2 spare clips and an opening for possible replacement. It will probably only be for the winter season. In the summer, one would probably "bake" in it.
The scarf is pleasant, wears well, fits well on my face (surprisingly, my glasses don't even fog up)
pohodlný
Purchase always without problems. Good quality goods.
Very popular with women.
Quality sewn anti-virus scarf, reusable, wears well, nice color. I recommend.
Very comfortable to wear, dries quickly after washing, I appreciate the replaceable nose strip.
easy to use, tasteful
Perfect protection
není nabídka více velikostí, doručený produkt je pro obvod mé hlavy příliš těsný
beautiful color, breathes better, glasses fog up less
Mám to zakoupeno jako dárek. Takže ještě nevím jak s ním uspěji. Mám skoro jistotu, že se bude líbit.
Elegantní, příjemné na nošení, dobře se udržují, díky Nana filtru doufám budou i účinné.
Je super, jen mi dcera přišla po jednom použití se zlomeným drátkem. Koupen ještě původní bez možnosti výměny. Vypreparovala jsem ho , obšila jsem malou dírku na výměnu a je vše ok.
Stejné hodnocení jako u modré varianty šátku.
Dobře se v něm dýchá,neškrtí za ušima.
+ very pleasant material for the skin, easy handling, I definitely recommend it!
Příjemný materiál, prima.
JF
Jiřina Friedlová
Perfect for the bike, practical, I can easily take it off and put it on easily, with the fact that it always stays on my neck like a scarf and doesn't flutter anywhere like a mask. It's a shame that the bright pink one is no longer available. Does not matter. I have five and rotate them. I wash and dry and go to work.....
Velmi praktický, elegantní šátek. Zájemců přibývá.
vysoká kvalita a velice hezké provedení
It fits well, it breathes relatively well and my glasses don't sweat either, they can be pulled off easily and left on my neck, maybe just a little bit that I have to pull it tighter so that it doesn't fall, so it puts a little pressure on the wire on my nose
- metal buckle
- only one size
< div class='heureka-rating-group minus'>
The scarf looks beautiful, breathes well through it , the only flaw in the beauty I see is the metal clasp, because of which you won't last long in the scarf. Otherwise, I appreciate that it is a Czech product and the choice of color. Another warning - if you are buying a scarf for someone with an atypically large head, it will most likely not fit them.
Pohodlne noseni..pekne reseni..
Ještě jsem nenosila. Po vyzkoušení, ale vypadá funkční a příjemný.
The anti-virus scarf is very practical, pleasant, just a little reminder, the ends of the nose clip are quite sharp, I will have to remove it so that my scarf does not tear
Quality workmanship. Breathable, wears well. The only beauty flaw I can see is that the wire (nose clip) broke after a few days of wear (shaping), even though it wasn't folded in half. I replaced it with another reinforcement. Maybe I'm wrong and only this piece was defective, but it seems to me that the material of this brace may not have been chosen in the best way. Otherwise satisfaction.
Ještě jsem ho nenosila, až se trochu ochladí:-)
a replaceable filter would be preferable
Advantage: excellent breathability

Advantages: - it is washable, i.e. reusable - has a sewn nano layer - it's beautiful weather Disadvantages: I would slightly increase the size of the nano layer so that it covers all the way under the mouth
We haven't used them yet, we have them in stock.
We haven't used them yet, we have them in stock.
Only registered users may post articles. Please log in or register.
HC
Antivirový šátek
Hana Cherni
Dobrý den, dá se tento šátek dobře používat i při brýlích? Ve vlhku venku, chladu a následně v teple autobusu při rouškách se mi brýle věčné zamlžují a i v práci . Děkuji za odpověď
L
Antivirový šátek
Lucie
Dobrý den, mnozí zákazníci si pochvalují šátek právě z důvodů, že se brýle nemlží.
MM
Michal Mikoláš
Dobrý den, šátek má nano-materiál po celé ploše? Nebo jen v části bezprostředně před ústy a nosem? Pokud druhá možnost, jak si můžu být jistý, že většina vdechovaného vzduchu nevniká pod šátek částí, která před viry nechrání? Děkuji za odpověď.
JL
Jana Lysická
Šátek je kvalitně ušitý, doufám, že splňuje co má. Co mne trošku překvapilo je barva, která není tak jasně růžová jako na obrázku, ale spíše starorůžová, ale to není na závadu. Jinak jsem spokojená.
The Czech company nanoSPACE has been operating on the market since 2012 and focuses primarily on products where nanofiber textiles are used. In 2012, it became the first manufacturer to use a nanofibrous membrane in barrier covers for allergy sufferers. Since then, it has expanded its portfolio to include nano duvets and nano pillows, which are especially suitable for people with dust allergies.
In 2016, it was the first in the world to present functional bed linen that can fully replace barrier coatings. This product line, which bears the name Nanocotton®, was able to combine the functionality of the material with organic cotton and is suitable not only for allergy sufferers, but also for atopic patients.
During the coronavirus epidemic in 2020, nanoSPACE used its long-term knowledge in the field of nanofiber materials and started the production of anti-virus neck gaiters and protective masks made of nanofiber. From 2021, it also produces designer washable nano masks.
In 2021, the nanoSPACE company founded the subsidiary nanoSPACE Technology, which is dedicated to development, research and innovation in the field of nanofiber textiles.